Interview: Elizabeth Rose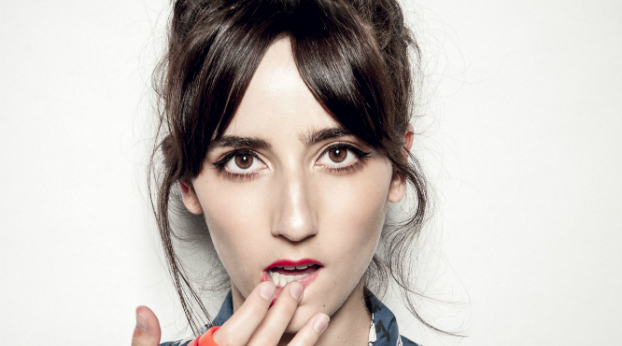 Producer, singer, songwriter, and all around dream girl Elizabeth Rose is set to drop her debut album 'Intra', out Friday 4th March. From what we've heard so far, 'Intra' is shimmery electronic bliss with personal and political undertones. We talked with Rose about marriage equality, space, and her upcoming national tour.
Congratulations on your album 'Intra'. Why did you choose 'Intra' as the title because it means "on the inside" right?
'Intra' means within and intra-flective and that's literally what the whole album is about. Every song is quite different in topic but in the end they are all personal and about my views on everything, so it made sense. I changed the name of the album a few times but in the end I felt like 'Intra' was perfect – it sounds good and it looks good on paper.
On your album you write about really significant political topics like marriage equality, guns, and social media. Do you think it's important to make music that is politically charged?
I think it is as long as people don't take it too far. It can ruffle feathers but it's important to have your views out there because you are expressing yourself and everyone has a voice. I think music is a really strong way to get your message across because it's universal.
Division is about marriage equality can you tell me a bit more about that?
It's an issue that I've wanted to write about for a while. One of my best friends is in a same-sex relationship and hearing him talk about how upset he is over it, it resonated with me. Australia is pretty backwards in a lot of ways. It's really stupid and I just felt like I wanted to say something and make a comment about it. I mean it will eventually happen, the law will eventually pass.
It's taking its time though!
I know it's so stupid.
Do you think the sound of the album is different from your EPs?
It's similar in that the hooks are still quite poppy, pop-R&B but the production is definitely different. I worked with a few different producers on this one. I worked with M-Phazes on two tracks, George from Seekae, Dennis who produces as Dutch Duke, Chrome Sparks who is a New York-based producer. He's amazing. So all these different people brought different sounds to the table and the rest of the album I produced myself. So it's a progression and it's different in sound from the last EP.
You have a song on the album Another Earth, is that in reference to the Brit Marling movie 'Another Earth'?
Yeah it's about that movie! I actually watched it about a year and a bit ago. Someone mentioned it to me and I just loved the sound of the plot. After watching it I just thought, "Oh my god I want to write a song about this".
So is space something you're interested in?
I am. I love to think about how things were made and where things came from. It just baffles me. It kind of hurts my head when I think about space too much but it's totally interesting to me.
You know how there is the Mars Mission to settle humans on Mars, would you go?
Haha I don't have enough information on that.
Basically you have to leave your whole life behind and go live on Mars.
Yeah that's pretty stressful, but I'd say probably.
You've just announced a tour around Australia, what can we expect because from watching your video clips you're a very skilled dancer?
Yeah I'm going to be dancing and I'm going to be playing a lot of new album tracks, costumes will be fun as well and that's about it – lots of new stuff and lots of dancing.
Elizabeth Rose Tour Dates 
SAT 4 JUN
Jack Rabbit Slims, Perth
FRI 10 JUN
Elsewhere, Gold Coast
SAT 11 JUN
The Foundry, Brisbane
FRI 17 JUN
Howler, Melbourne
SAT 18 JUN
Fat Controller, Adelaide
FRI 24 JUN
Oxford Art Factory, Sydney
SAT 25 JUN
Argyle House, Newcastle
Get Tickets HERE