Interview: Fvneral Chat About Their New EP, 'When I Get Sober'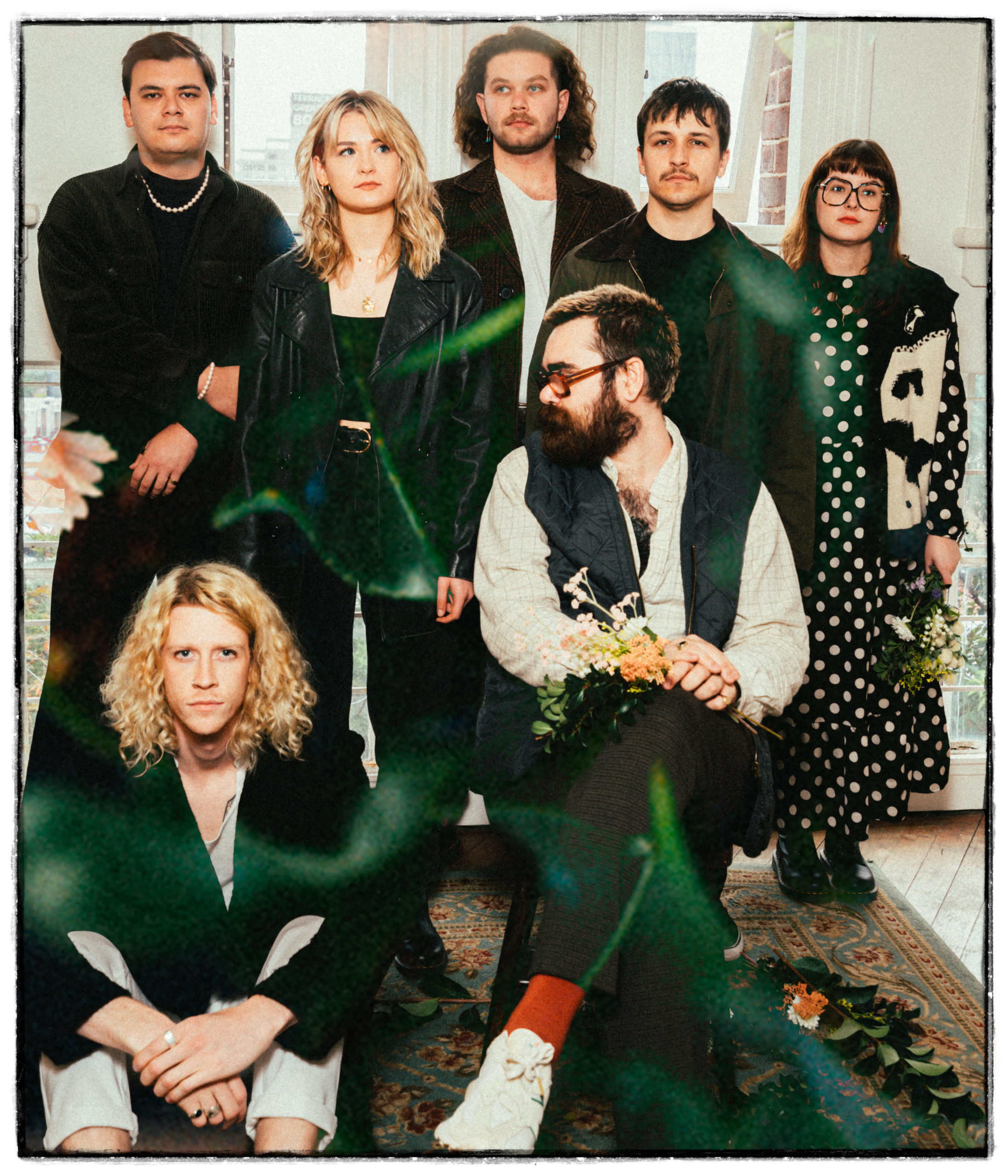 Eora/Sydney-based indie-rock band FVNERAL have just revealed their long-awaited moving debut EP 'WHEN I GET SOBER' – co-produced by band member Tim Blunt, and Phan Sjarif (Middle Kids, Cry Club, Velvet Trip). We caught up with Tim and Ally from the band to find out more about the EP.
Congratulations on the release of your debut EP 'WHEN I GET SOBER'. Can you tell us a bit about what these songs mean to you, and what message you hope to pass on to listeners?
Tim: Thank you! The EP is really a collection of songs about self-discovery and growth, with each of the songs representing a key moment on this journey. It opens with 'SOBER', which is about the growing recognition that perhaps I can't be my best self, particularly in how I treat those closest to me and how I treat myself, if I'm fucked up all the time. It then takes a happier turn, with 'GOODB(i)YE' speaking to the freedom felt in moving beyond the gender binary and celebrating your true self, and 'CALIFORNIA STREET' describing the semi-delusional optimism felt when falling in love and building a life with somebody. It quiets down with 'EVER KNOWN', which is a sort of meditation on grief and loss, but also the beauty that can be found in those moments of profound and life altering sadness, before rounding out with 'GOD DAMN LEDs', which expresses gratitude for the relationships that truly make you feel carried through hard times and mental ill-health.
Ally: In terms of what we hope to pass on, I think that we want people listening to these songs to feel us actively trying to work through some shit. I hope people can get a glimpse into the way that by processing difficult stuff alongside your best friends, you can do so with a real warmth and sense of hope that is often so hard to create by yourself. In making this EP we've managed to create a safe space for each other – one that's gentle and wholesome and full of love – and we honestly just want to invite the world in, to become part of this community with us. 
How important is collaboration to you, whether it be with artists or with friends or fans?
Ally: Collaboration is really at the centre of all that we do. Making this first collection of songs together honestly saw us move from being friends to being chosen family. Collaborating on music, videos, artwork, merch, and everything else taught us how to show up for each other in the rough times and, maybe more importantly, how to find a shared joy in working through the heavy shit together. There's something terrifying about opening to people about how you're feeling or even just what you want to do melodically or rhythmically but, almost always, as soon as you do there's this whole world that opens up in front of you that you wouldn't have access to on your own.
Was there a particular moment in your life that you could tell FVNERAL had truly come into its own as an inclusive outlet for what you hope to express?
Tim: Just speaking for myself, lots of the things I've written about in song form are things that I'm still trying to process and not yet ready to verbalise in another way. I remember when we were fleshing out 'GOODB(i)YE', Zac was writing the beautiful keys part in the outro, and it was the first time that I really confronted the idea that perhaps the song was about more than recognising my pansexuality, but about trying to see myself entirely outside of the gender binary. I didn't even articulate it at that point but I remember in the lead up to shooting the video for it, just having a moment where I kind of off-handedly mentioned to Ally that whole thought process and we ended up having a really beautiful conversation about it, which itself has been such a catalyst for being able to talk through and work through not only that stuff specifically, but a whole bunch of things I find difficult or confusing in navigating this weird little world we live in.
With your collective experiences in the music industry, what's been the most important lesson you've learnt that you've carried on into this project?
Tim: Honestly, it's probably a little boring but the idea that song-is-queen/king/they-monarch probably takes the cake. I remember not really understanding what people meant when they would say it, but from the time we started working on what would end up becoming the first FVNERAL songs, that was the attitude we had. I truly can't believe that I get to create music with people that have the voice and melodic instinct of Ally and the ridiculous musicianship and voice-leading ideas of Zac, so I think we've somehow created a situation where the song is always what we are trying to serve, taking away the egos or the want to feel most ownership over it.
What would you say are some imperative characteristics for today's artistic world? How does being a transparent artist in 2022 look like for you?
Ally: God, this answer is going to be very uncool but I see responsibility as a huge thing for artists right now – or at least the kind of artists we want to be. I think there's a responsibility to be really considered and careful in the kinds of stories we tell and how we tell them. I think part of being transparent is to tell stories that are expansive, that don't glamorise or oversimplify complex issues, and to be inclusive and inviting in the kinds of language we use. I don't know that there's a way to get it perfect, but it's something I'd always like to be thoughtful of in the way we create and engage with people. I also see a huge amount of responsibility to not make the world a worse place through our art. Again, it's an ongoing process but we're always looking at ways to minimise the negative environmental and social impacts that can come out of things like merch and touring, and to maximise the social value that we can contribute to for all kinds of marginalised communities.
How's the next chapter for FVNERAL shaping up after this?
Tim: Well, we've got our first ever live show happening a couple days after the EP drops, which we're all very excited for! We're in the process of lining up some dates over summer with one of our very fave bands, so we'll announce that a little closer to the end of the year. We've also got a stupidly large pile of more songs just kind of ready to go… We're not sure exactly how we want to present them as a body of work, so all I'll say is that your little ears won't be having much of a break from FVNERAL any time soon 🙂