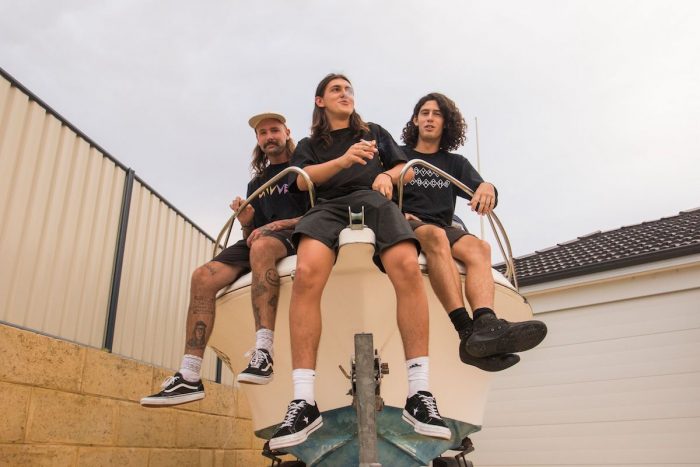 Mandurah trio Good Doogs is a band you're going to want to get familiar with—if you haven't already done so already. 2018 has seen their singles, Nothing To Do and So Dumb, absolutely blow up and receive a huge amount of attention around the country. They also managed to score themselves a spot on the Bunbury leg of the Groovin The Moo tour and have just wrapped up touring the country with Tired Lion.
They put on a killer live show and ooze an infectiously gritty, surf-rock vibe, that they will be now bringing around the country once again for their own headline tour a little later this year. I had a chat with the band's drummer, Michael "Grudge" Grainger, about home job tattoos, the new video for their single So Dumb, how they're trying to kick-start the live music scene in their hometown of Mandurah and what we can expect from their upcoming tour.
How was the tour with Tired Lion?
It was really cool, we all had so much fun. We got to play in some pretty big rooms, some of them were the biggest we've actually played. It was such a great tour though; we made friends with all the Tired Lion guys and all the support bands were super cool too. Every show of the tour was sold out too, and because we were playing right before Tired Lion the rooms were already packed, so we were really psyched to have really good sized crowds for our sets.
And for one of the Sydney shows you guys got to headline it because Tired Lion had to pull out.
Yeah, after the Thursday show at The Lansdowne, Sophie (Tired Lion) wrecked her voice so we got to step up and headline it. It actually ended up being really fun. And it still got pretty busy considering it was a bit of a last minute call to have the show go ahead.
Tell us about the tattoos you all gave each other before that show.
Well we actually had control of the Pilerats Instagram so we wanted to give them some pretty good content to put up, so we decided to get hold of a tattoo gun. I already have a Good Doogs tattoo, so Asher and Dyl had to get their Good Doogs tattoos off me, and then I got them to tattoo their names on me.
That's commitment right there.
Yeah, they're home job tattoos, I'll put it that way.
They looked decent though, didn't look too shabby for home jobs.
They're alright. We'll see how they look in a couple weeks.
You guys have pretty much blown up this year. You've had a couple singles that have gone pretty nuts on Unearthed, and how was it playing at Groovin The Moo?
That was honestly the best day of my life. Super grateful to get that opportunity. A lot of things had gone our way at the start of this year, and then we got that opportunity. The crowd all got in really early, so it was a super busy day, and then we were just buzzing off our set for the rest of the day. It was surreal getting to rub shoulders with everyone and getting to have fun with all your peers and other people in the music industry.
Have you guys played any festivals before or was that one of the first?
That was our first proper festival. We've played some small ones but that was the first national run festival we've been part of.
So you've had two singles out this year, and you've got the video coming out this week for So Dumb?
Yeah, so triple j Unearthed are actually premiering that, so we're real psyched to get that one out and show everyone. We've been holding onto it for a while now so it's good to finally get it out there.
Who came up with the concept for it and who did you work on it with?
We came up with it as a band; like the name suggests it's really dumb. We're from a town called Mandurah in WA, so we like to keep everything local and give everyone locally that's doing things in the music industry a shot, so we've been working pretty closely with a girl Emma Smart who has done all our videography. So she shot the whole things for us, and it came out really good actually, I'm really happy with it.
You mentioned you're from Mandurah. What's the music scene like there?
Growing up in Mandurah we didn't really have much of a music scene. Right now, as it stands we don't actually have a live music venue at all. So there's 150,000 people that live here, and no live music venue. We get asked a lot if we'll move into Perth or move interstate, but we have had other bands start in Mandurah and then move away, so that's not really doing anything to help the music scene here. Everyone gets that we had it tough growing up with no music scene here, but then no one really does anything about it. So we're trying to get Mandurah on the map so the kids growing up now can have venues to go to and play at. If there's enough demand for live music, then hopefully something will eventually happen.
Yeah absolutely. Where's the closest music venue to Mandurah at the moment?
Well we're playing our hometown shows in Fremantle in Perth, which would be the closest to us. It's about 45 minutes to an hour away.
That's a pretty decent trek. It's super cool that you guys are staying there and trying to get something going for the music scene instead of just packing up and moving to a main city.
Yeah, exactly. We could do that, but I'd rather fight the good fight for Mandurah; I've lived here my whole life and love it so why not?
Yeah nice! And you guys have managed to pick up a sponsorship deal with Rusty. How did that come about?
So Rusty jumped on board at the very start of this year, they're really big on trying to help the Western Australia music scene. We played a show for them and they got on board, and they're being really supportive of what we're trying to do. They're helping us out in any way they can, which is so awesome because we probably wouldn't have had any of the opportunities we've had without them.
What was the show you played for them?
They do a Coast Care fundraiser in WA, which is basically an organisation that looks after the beaches over here, so every year at the fundraiser they get a couple bands to play, so we played at that last year with Boat Show.
Have you guys got new music or anything else you're working on for the rest of the year?
We've got another single we're working on, but we won't go and record that until the start of August; we've got some other stuff coming up before that which will probably take precedent. But we've definitely got more songs coming don't worry about that.
And you've got your own headline tour coming up yeah?
Yeah, we're doing another national tour of our own, and we'll probably add some more dates to that when we find out some more information about a couple other things. But we're psyched for that one, it will be an August/September run.
That's pretty soon actually, not too far away at all. Are you playing all cities?
Yeah couple months away. We're playing all the main ones, we're not going to make it up Darwin or down to Tassie, but we'll be going everywhere else. So hopefully they get a bit of traction and we can keep the ball rolling.
So you'll be playing a mix of new and older music at the shows?
Yeah, we'll be playing a few of the songs we've had for a while and we'll try and juice the new ones a bit and get them out there for everyone to hear too.
I actually noticed at the Sydney show the other night how many people knew so many of the words to your songs.
Yeah, that's weird. It's still such a surreal feeling coming from being a band for only about a year, to being on the other side of the country with people knowing words to songs we wrote as a bit of a piss take. That won't ever get old I don't reckon.
Good Doogs head out on tour starting today. Scope the full dates below.