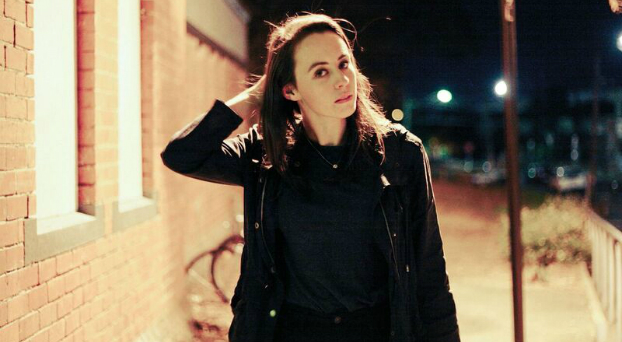 At only 22 years of age, Sophie Payten a.k.a. GORDI and her unique genre-crossing tunes are making waves in the music industry. We caught up with GORDI just before she finished off a string of Australian shows to pick her brains about rowdy crowds, the strange experience of filming a music video, and her forthcoming EP 'Clever Disguise'.
You're just about to finish a string of Australian tour dates; how has the tour been so far?
It's been amazing! I mean, I'm such a fan of Of Monsters And Men. I've seen them live in concert a couple of times, [and] when we originally got the call to do the support spot, I was so excited. The places we've played are the biggest shows that I've ever played. Yeah, it's been really amazing. The Brisbane shows were great, and they were quite different – the ones at the Tivoli were a bit…rowdy's probably a strong word, but the crowd were all jovial, whereas the Palais [Theatre] has a more intimate, sit-down kind of vibe. It's been a great experience, to kind of get both sides of that.
Definitely. Crowds can get a bit wild at the Tivoli, I was just there last night!
Oh yeah, cool! It's such a cool space, and it's amazing…at the Palais it's kind of hard to gauge how many people are there because it's sort of very dark, but at the Tivoli you can see everybody, so it's pretty exciting to play to a packed room there!
Do you get nervous when you can see all the people in the crowd?
Yeah, a little bit! A little bit. I prefer it when I can't totally make out their faces because I still feel weird looking someone in the eye when I'm singing (laughs) so I prefer if I can just generally kind of scan a blurry audience in half-darkness.
You're set to release 'Clever Disguise' on Friday 13 May. How long have you been working on the EP?
It's been a long time coming. A bunch of [the songs on the EP] have already come out in Australia. The first one, I actually recorded in July 2014, so it's been a considerable process, and that's been for a variety of reasons. Initially it was because I was a poor musician and couldn't record more than one song at a time, and it became more about drip-feeding singles, which seems to be a pretty popular way these days for artists to release music. We feel like hopefully it hasn't been too much of a drawn-out process, and it feels like a good time to be releasing it because these shows are happening and we're heading overseas soon. A lot of the label and booking agency aspects of it have fallen into place, so it feels like all the pieces are there. Now we just need to put them together.
It must be a good feeling! Your single Work It Out blends your signature country-folk vibe with electronic influence. Can we expect more similar tracks from your upcoming EP?
Yeah, definitely. That's sort of the style that we've gone for. I write songs on the acoustic guitar, so it automatically gives it a bit of a folk feel. The production influences we've gone for are ones that really blend that electronic sound, so it's still not [really] electronic music, but I guess really modern folk music. A lot of the tracks are in that same vein. There is one on [the EP] that hasn't been released yet called So Here We Are that actually doesn't have any acoustic guitar so I'm excited for that track to come out because it'll show a different [style to] the way these tracks have been produced, but still stay true to the way in which I write songs. [It'll be] something  a little different.
Your music has been described as "a collection that spans from wistful aching to spirited celebration". What does your writing process involve?
It's kind of different every time, to be honest. I don't have a set formula, but it's sort of a feeling…I don't know how this sounds, a feeling that I get, you know? It feels like something's almost trying to get out of you, like [an ache in your chest]. It's the kind of sensation you feel when you're about to cry, I think (laughs)  and I just have to try and differentiate [between] the two. It's when something's really affected me – whether it's a relationship, something that someone I know is going through, a movie I've watched, or a book I've read or something…and it's a bit of a meditative process because you've got to really hone in on this thing that you're kind of trying to get out. It's never obvious to me exactly what I'm trying to write about when I start writing, so [there's] this process of really trying to figure out what I want to say, kind of like [putting together] a puzzle piece by piece.
You're definitely allowed to cry while you're going through that process. Who are your biggest musical inspirations?
I guess when I started out trying to decide what sort of sound I wanted to make, at the time and still [to this day] my two biggest influences [have been] the Icelandic artist Asgeir and also The Tallest Man On Earth. The Tallest Man is pretty folky – I would still say that it's not traditional folk, but he has this really low-fi sound and his acoustic guitar is amazing, and then you've got Asgeir who similarly writes what people would call folk songs, but it's done in a really modern way with this beautiful production. He has [much] more of a hi-fi approach, so we wanted to combine the lo-fi and the hi-fi, both those artists. I think it came out with the effect that we wanted – the vocals and the tracks were [much] more polished, whereas with the other instrumentation we wanted it to sound a bit more acoustic and homemade. In terms of the actual songwriting, I think it goes way back to listening to people like Carol King, Billy Joel, and James Taylor, and I loved Missy Higgins growing up. People who basically just write really good songs have always been what has inspired me.
You released a music video for Can We Work It Out in March, how did you find the production process?
(Laughs) Yeah, it was interesting. I'll admit it's not my favourite thing to do, to be on camera all the time, but it was a really interesting experience for me. It was shot just over the course of one day. A lot of the clip is basically me sitting on a chair singing to the camera, and I would have been sitting there for over four hours, just doing take after take with different lighting and makeup artists touching it up, and I just had to sit there and let all these experts do their thing. I think they did really well, but yeah, it was sort of like a real exercise of patience for me. It was a really cool experience as well. In terms of coming up with ideas for it, I had a couple of meetings with Yvette Paxi who directed it. She's really great, and really thinks outside the box. It was an idea that I had to get used to, that the message of the film clip doesn't always have to be the same as the message of the song, but there's definitely parallels in the essential message. Obviously you're trying to work out whatever needs to be worked out in your life. With regards to the song, I guess it pertains more to the relationship, whereas the clip pertains more to your place in the world, your future – those kind of ideas. I guess it's more of an expansive look at the same theme.
Your performance of Courtney Barnett's Avant Gardener earned a lot of positive attention – how did you feel about the performance and covering someone like Courtney?
I wanted to do it for Like A Version, but we ended up just releasing it independently through a blog. We're hoping to do Like A Version sometime soon but I'll unfortunately have to pick another track. I was a little bit apprehensive to cover Courtney because she's such an icon now in Australia. She has a real idiosyncratic sound and I think sometimes when you mess with the sound of an artist [who] is that idiosyncratic, it can rub people the wrong way, but I think hopefully it was different enough that it almost became like a new song. [We sort of] turned it into a ballad, and I think for some people who maybe hadn't appreciated the lyricism of Courtney, hopefully it was stripped back enough that people could really take a good look at it. I love the song and I love her work, so I hoped that [the cover] would be enough of a tribute to her, but also something different enough that it would sound like something that I created.
What's your favourite cover song to perform?
I've now started playing [Avant Gardener] in my live set, but up until then I'd been playing Is This How You Feel by the Preatures, which is a favourite song of mine. I'd just play it on the keys and sing it, and in the same way as [Avant Gardener], [Is This How You Feel] is a really upbeat, bassline-driven kind of track, but it's a really beautiful song. I didn't change it as much as [Avant Gardener] – I kept the same melody and the same chords. I think doing covers, it's always a really nice moment for me to play a solo song in the set. It provides a real contrast for people and gives them a point of reference, because often I'm getting up and playing eight songs that they've never heard, so it's kind of a break for them, to be like, "Oh, I actually know this song."
When you play live, do you prefer playing solo or with the band? 
At this stage I prefer to play in a band, which I do – we play in a three piece set at the moment – but I think there's definitely opportunities where acoustic and solo performances are more appropriate. I saw The Tallest Man play a solo show at the Opera House, I've seen Josh Pyke play solo, I've seen Missy [Higgins] do some solo stuff, and I think if you're branding yourself as a songwriter people expect to see you in a solo capacity, but for the moment we're focussing on the band format and really getting across to the audience the way the songs sound on the record. I think down the track there'll be more opportunities to play solo.
You were a triple j feature artist in March last year and also won the Josh Pyke Partnership award – what's next on the agenda for you?
Yeah, that was all really wonderful stuff, and it's nice as a young artist because it's hard to get tangible signs of progress, but those things felt really tangible.  The Unearthed support has been great and the mentorship with Josh Pyke has been too, but in terms of [what's] coming up at the moment, I guess it's all eyes on the EP coming out. Then I'm touring for a month overseas in the UK and the US, and I'll be announcing an album at the end of the year, which will hopefully come out next year. At the moment I'm focussing on getting the songs ready for that, but also really focussing on finishing this EP campaign strongly and maintaining the progress we've [made] here in Australia but also trying to catch up [in] the US and UK so that the music is being heard there.
They are big markets to tap into over there!
(Laughs) Yeah, much easier said than done!
For the fans who haven't seen you perform, what can people expect from your live show?
We've put a lot of work into the live show because it's been a process of trying to translate what's on the record into a live setting, and some things that are on the record don't always work in a live capacity. I think something I've always tried to have in the set is real peaks and dips so that there's softer, nicer moments, solo moments where I can have a chat to the audience and engage with them – play the Courtney cover, or play something where it's just me and the audience. Then we really build to a big finish [with] the more upbeat songs -the live drums add a lot to that – and in these recent Melbourne shows, I've actually had a live brass section on stage for the last two or three songs, so that seemed to connect with the audience really well last night. Where possible in future, we'll definitely try to keep the set nice and varied and keep people engaged.
Well, we're looking forward to seeing you the next time you tour around Australia!
Absolutely.
Grab a copy of GORDI's EP 'Clever Disguise' when it releases on Friday 13 May.