Interview: Hannah Hooper from Grouplove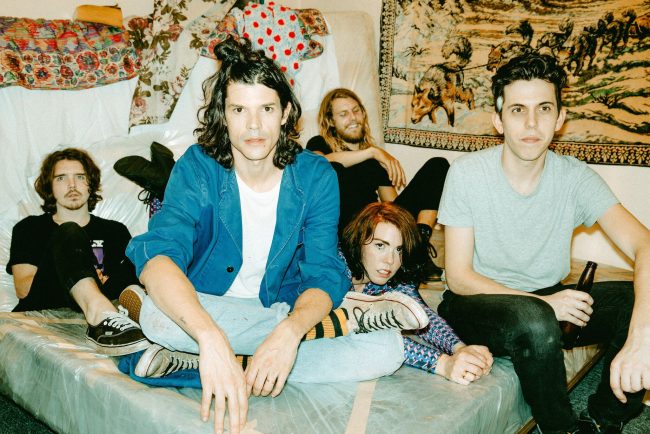 California natives Grouplove have been Aussie fan-favourites since 2009, amassing an impressive 548,000 likes on Facebook and countless live shows, and now they're preparing for their 2018 tour Down Under! We caught up with frontwoman Hannah Hooper for a chat about their new single, the Grouplove family, and becoming a mum.
Congratulations on your single Remember That Night!
Thank you!
Can you remember where you were when the inspiration struck for that tune?
I can, I'd just got my daughter down for a nap…I walked outside, I had a melody in my head, and Christian was like, "What's going on?" and I honestly just started singing that song almost exactly like that, and we recorded it right there.
Just like that?
We went in and played it on the piano, but honestly when I'm writing a song – and it's so weird that I do this because I have all of these characters inside of me as I think most people do – I was writing it really from a male perspective. My friend had just told me about a break up and I was writing it from a male perspective, and all of a sudden I realised, like, "Wait, I'm a woman singing this, and how much more powerful is the song from a woman's perspective?" Yeah, that's sort of my song ritual.
Did you feel weird taking on that sort of male persona when you were writing it?
No, I think I'm just kind of outspoken, loud when I want to be, opinionated woman, and I think more often than not, that personality type isn't really represented in song writing. With female singers, it's just this strength all the time. I don't think of women waiting patiently at home for their man. This is more like, "Wait a minute, I'm a woman. This is a song about a woman who had a one night stand and it didn't work out, and that's okay." I think women get uncomfortable about that, and I'm just like, "I'm not".
There's something powerful about that kind of feminist stance. You've just put out your album 'Big Mess' this year, we'd love to know what the writing process and dynamic has been like for you guys as a band?
Christian and I write a lot of the songs, but there really is no method to the madness, so I think that's part of the reason our songs all stand on their own and have their own sound. It's because when you're doing everything in a studio, during a couple months' stay, a lot of songs are written on tour, started by one band member…honestly each song is so different, how comes to be. Everything is written by the band. Even though it seems ridiculous for me to say, I've been learning more and more that a lot of people don't write their own music anymore. We're just really surprised, I guess, and we just want people to know that the words and the melodies they're hearing are coming from us. They are our story.
How do you find the time to write while you're on tour?
You know, there's surprisingly a lot of downtime. I think after two years of the tour we got a bit bored with bar-hopping and shopping and stuff like that (laughs). It's what we do, we just write.
You say all the tracks are different; how do you work out which ones are going to make it onto the album?
That's a good question. We have five members and five very different personalities, and we're all influenced by totally different music too, so we all collectively vote on which songs we think should make the album after we've written a lot of them, and I think that's part of the reason we ended up putting out [the] 'Little Mess' [EP]. We felt like some songs that just didn't make the album, wanted to be played live and wanted people to sing along with them and for people to have them in their lives, you know? It's a hard thing. When you're making an album, you're so in it, and the final pick is heartbreaking. It's like saying goodbye, because maybe we'll never hear these moments…they do just go away, and that's sort of hard to deal with. I feel like I can't even answer that question (laughs).
What's changed for you between your previous album and this one?
Well, we just had a baby!
Yeah, that's pretty huge!
I feel like the thing about having a baby is that I've changed. I feel so much more comfortable in my body, in my head, in my space, in my band, on stage, as a person, and I feel like I just had this a-ha moment when I realised I don't have to grow up to be a mum, I just have to love my child and be there and protect her, you know? I can still be a wild artist, and that was a huge thing for me to learn, it took me the first year of her life to start finding a balance between loving her and being in a rock and roll band.
You're sounding a lot like P!nk.
(Laughs) I think anyone who is a mum and also an artist… it's amazing and hopefully it enhances your work. It's amazing.
You'll probably have a lot of late nights and interesting inspiration for your next album.
Totally.
Meanwhile, you've got your Australian tour coming up and we're excited! What are you most looking forward to about this upcoming tour?
Oh man, first of all I'm just excited to come back to Australia. They're playing our new album there, which is wild, and Australia is just our favourite place to tour.
Do you say that to every country?
Honestly, triple j is unbelievable. It's the only radio station that plays your album and not just your single. It got behind us so early on as a band. We go to Australia and we feel like we're coming home, in kind of a weird way. We played our first festivals there, we had our first real success in Australia, so it's really a place of comfort and fun, and there's no one that parties harder than Australia (laughs). We're just so pumped up.
We hope you can bring the party for you when you play your Australian shows, especially here in Brisbane.
That would be awesome.
What can we expect from your set list for your upcoming Australian shows? Maybe a few old favourites?
Oh, yeah. I think we'll be likely to pull a song from every album. We just sort of go on the vibe, you know? The feeling. On a quieter night, we might be able to play some more acoustic songs and tone it down, but most of the time people come to party. We've also been writing a lot of new material – we're always writing, so we're definitely going to throw in one or two new bangers in the mix.
Nice, we love new bangers! That kind of changeable set plan must make things more difficult since you have to know your entire catalogue so well! What's the rehearsal schedule like?
Honestly, we play so many shows that it's… you know, you soundcheck, and probably 90% of them you can remember [well enough] to tap into those songs. We've been playing for so long together, most of the time it's kind of second nature. These songs came from us, they're part of us, we've played them for almost nine years now, you know? It just becomes second nature.
Very true. Nine years is almost half my life, so you're making me feel very young.
That's amazing! (Laughs)
You do have a few festival appearances on the schedule for your 2018 tour over here, and we all know festivals can be a bit rough sometimes. How do you plan on keeping the energy up for those shows?
It's all about a give-and-take between the audience and us. We get out there and just
Even if we're jetlagged and hungover…it's just unbelievable. We give it, we take it, we give it back – it's an amazing exchange.
What's the best thing about playing to a new crowd every night?
Getting there and making them part of the Grouplove family (laughs). We're on this tour right now where we're literally playing to an audience that's not ours every single night and the audience is 20,000 people. We always get about four songs into our set while they're like, "Who is this weird band of crazy kids…" and all of a sudden they get into it. The energy just shifts in the room, and it's the most incredible feeling.
For those Aussie fans who have never been lucky enough to score a ticket to one of your shows before, what can we expect from your upcoming tours?
They can expect an honest, raw, passionate, aggressive, emotional evening of chaos and really good songs.
You can catch Grouplove on their Australian Tour early next year, and while you're waiting, check out their latest single Remember That Night and tour dates below! 
GROUPLOVE 2018 Tour Dates 
FRI 9 FEB
The Triffid, Brisbane
SAT 10 FEB
Party in the Paddock, Launceston TAS
TUE 13 FEB
Croxton Bandroom, Melbourne
THU 15 FEB
Metro Theatre, Sydney
SAT 17 FEB
Mountain Sounds, Gosford NSW
Get Tickets HERE