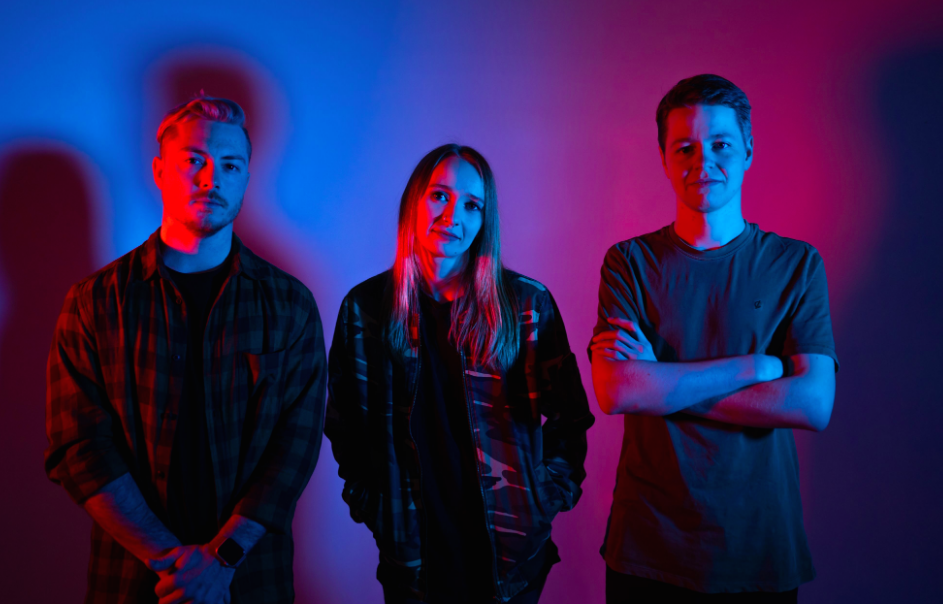 For fans of Dreamstate, Tonight Alive and Stand Atlantic, alt rock trio from the Gold Coast, In Eyes are set to release their latest track 'The Dreamer' on September 3rd following the success of previous singles 'Silver Lining' and 'Time Won't Wait'. With 'The Dreamer, they've amped up the volume, bringing bigger guitars, a more ambitious approach and highlighting the bands growth lyrically through Jacobson's strive to find a place in the heavy and alternative music world, not only as an individual, but as a woman.  Although this will only be their 3rd single under their belt, collectively Rosie Jacobson, Dylan Quigg and Kris Unwin all have an abundance of experience musically and it definitely shows through their work.
Ahead of its release, we got to sit down and have a chat with vocalist Rosie Jacobson about the new track.
Hey Rosie, so nice to speak to you again! The last time we spoke you were gearing up for the release of 'Time Won't Wait' and this time around we're approaching the release of your 3rd single 'The Dreamer', can you tell us about this track and why we should be getting excited about it?
'The Dreamer' is really cool. Musically it feels like a natural step up for us and our sound, it's a little bit heavier, a bit more technical in that we added extra parts to it, some synth lines and extra guitar lines and stuff like that. Lyrically, it's about me being in bands for 10 years and still having the same dreams and fighting for those dreams and that there's parts of me that wishes that it was as fun as it was 10 years ago when I didn't know the truths about the industry and me fighting for my place in not only just the heavy music scene but as a female in the heavy music scene. Its definitely a lot harder, I'm addressing my fears but also acknowledging that I still have the drive to keep going.
What was the creative process like for this track?
The music was actually written by our previous bass player Daniel and he's just got such a great ear for heavy music and everything. He sent us this demo like "Hey what do you think of this?" and I was like "Its perfect, change nothing." Then I wrote the top line just one day over about an hour just sitting at my boyfriend's dining table, worked on it and then just over the last year we've just been refining it, changing and adding parts and nuances that make it really special. 
Comparing your other two singles with this new one, what is the key differences that have been made?
I think one of the biggest differences with this one, is that our drummer Kris had a hand in writing the drum parts for this one because we already had 'Silver Lining' and 'Time Won't Wait' – he had a little bit of input on 'Time Won't Wait, but we had those songs done before he joined and he has such a great ear for rhythm so that was really exciting for me and I love him so I'm just gonna keep talking about him forever. But like I said, it feels like this is where we're supposed to go, it feels more rooted in how I pictured this band from the very beginning and what we sound like and you can hear our influences in this one more so than the other two. 
Speaking of influences, what kinds of bands or artists have you been listening to or drawing your inspiration from?
One of the biggest influences for us is actually Northlane! It sounds kinda crazy because we'll never be as good as Northlane and I'm perfectly happy to admit that. It's just the way they write. Their album, 'Alien'came out a year ago and every time I write anything or hear anything, I'm always like "What would Northlane do?!"
Dreamstate as well have been massive, I've loved every Dreamstate song that's come out since they signed with UNFD. A couple of people that we played the new song to have said "We can hear Dreamstatein this." So, it's been really cool!
Since we're still kinda in this isolation situation, what have you been doing? Have you picked up any new hobbies or started watching any trashy Tv?
I actually started streaming video games on Twitch, and I try to do that four night a week and then on Sundays I do music related streams. I'll either do a chill acoustic jam session or I actually did a song writing challenge a couple of weeks ago where I wrote three brand new songs in 90 minutes on the stream which was insane. I've also been making sure to get back into the gyms since they've been opened, trying to take care of my brain as well as my physical health.
Where do you hope the band will be headed in the near future, do you have big plans?
Always big plans, there's too many! My always goal, which has been for 10 years which is all addressed in the song, to be respected in the heavy scene and have people to be like "Yeah that girls got gusto and deserves to be here!" I know that isolation is going to make it a little bit harder so I think any growth is good growth at a time like this.
'The Dreamer' will be available on all good streaming sites on September 3rd.