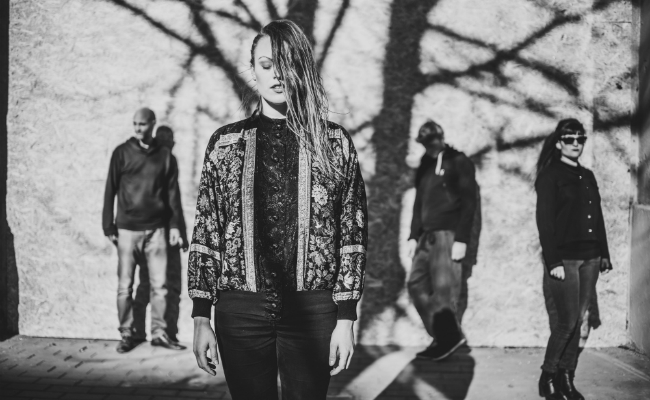 Multi-instrumentalist and composer Ingrid Lukas has been turning plenty of heads in her home country and now she's making global impressions with the release of her third studio album 'We Are'. We asked the Estonian-born songstress about how her environment inspires her music, the importance of body movement in music, and who she'd be over the moon to collaborate with on one of her songs.
You moved out of home at the age of 15 to pursue a music career, how did you know you wanted to be a musician at such a young age? 
I always had a longing for a home in my heart. So I made music to my home. I started to write songs and express myself through music. Music became my home window to the world.
Your music blends the Estonian Regilaul tradition with modern song forms, what's your favourite thing about Estonian music?  
I think, the fact that we are born in a certain place with a certain vibration and in certain circumstances matters. I was born in Estonia, surrounded by nature and a long singing and choir tradition. With five years, I was part of the singing revolution in 1989, holding hands with more than a million other people and singing for love and freedom. This all had a deep influence on me. I feel home when I can sing in the Estonian language. When I sing and process Regilaul songs, I feel the power, love and protection of my forefathers and foremothers.
What's your favourite track from your latest album 'We Are'?  
Right now it is Joys of Sea. It is a symbol for [my] music and includes the Regilaul tradition, but this time in English. One can dive deep down into a wide and dark ocean full of different colourful creatures such as night angels, goblins, unicorns, and manticores. Through that song you can discover our musical universe.
What does your compositional process involve when you're writing new music? 
My compositional process always includes the themes and questions that are important for me at that time. I let these parts flow through my musical prism and I am often surprised myself about the hidden colours that suddenly come to the surface. Through this musical process I often discover the answers to my questions.
What was your biggest musical influence as you were making the album? 
Movement, especially body movement. After the first two albums 'We Need To Repeat' and 'Silver Secrets' I felt the need to stand up from the grand piano and start to move. I started to play synthesisers and to search for a language through my body. Through that process Patrik Zosso's, my drummer, beats also developed to a more urban and electronic character.
You've worked with some big names including renowned Swiss pianist Nik Bartsch. If you could choose anyone in the world, who would you most like to collaborate with on song? 
I am a big admirer of Radiohead. A song with Thom Yorke would be the cream!
You've been nominated "Best Female Artist" at the Estonian Music Awards, played at the 2012 Olympic Games, and performed at Tallinn Music Week several times. What's been your biggest career highlight so far? 
My biggest career highlights have been the most silent ones. When I sit together with my piano in my studio or in nature and let the sound flow through my cells and teach me the mysteries of the universe, and just be naked in the very moment.
Lastly, if you could pick any song on the album to remix, which one would you choose and who would you get to remix it? 
I love the remixes of 'We Are' by Manuel Tur! Besides him, I would love to collaborate with Dixon or DJ Spooky. I don`t mind which song. I think it is important, that the song inspires the DJ for a remix!
If you're liking what you're reading add AAA Backstage on Snapchat [aaa-backstage] and follow us on Instagram [@aaabackstage]