Interview: Jake Webb from 'Methyl Ethel'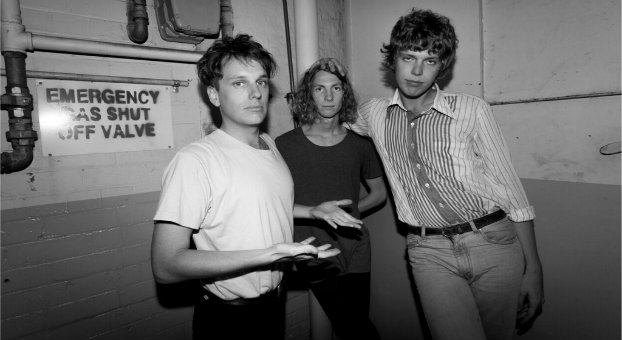 Methyl Ethel are back in the country after appearing at SXSW for their almost sold-out national tour. The trio from Perth had a huge 2015 which included their single Twilight Driving placing #98 in triple j's Hottest 100, receiving an Australian Music Prize (AMP) nomination for album 'Oh Inhuman Spectacle', and a US tour! We caught up with the band's frontman Jake Webb about their national tour, song writing rituals, and Shame Impalas.
'Oh Inhuman Spectacle' has so many great tracks and has had a super positive response, do you feel you've stepped up since 'Teeth'?
Ahh, more songs! (laughs). It's kind of just, I always feel like I wanna do everything or things in a different way. So the next one after 'Oh Inhuman' will be the next evolution.
You guys were nominated for the Australian Music Prize, congratulations! How did that feel?
It's pretty crazy for our record to be put in the same category as some of the crazy good music this country has put out, so yeah it was quite nice!
My personal favourite from the album is Idee Fixe, the lyrics are really cryptic. Can you tell us what it's about?
Kind of…I guess you can kind of make up your own mind about what it's about. I'm being very direct to certain people, it's about a certain feeling you have after a certain situation. Like, a precise thing that happened that's written kind of like a fever dream, it's like a little surreal. I won't tell you what it is because that's pretty boring!
Yeah, the really weird lyrics definitely make it! You guys have kicked off your Australian tour now, is it good to be back home?
Yeah it's nice to be back home, it's always good to come back home.
What were some of the highlights from your US tour?
It was good fun all across the board, we did stuff like South by South West, that was pretty crazy. But just driving around the US is pretty fun, seeing the wonderful land, y'know!
Were the audiences kind to you? Did you expect the response you received?
It was…you never know what to expect when you're playing in new places. So we were very pleased that people turned out to come and watch us play!
Yeah for sure, have you found much of a difference between performing internationally compared to back home?
Ahh, you know every city kind of has a different mentality towards shows. Say the difference between Melbourne, Perth, and Brisbane is mostly the same as the differences between San Francisco and Melbourne or Denver and Perth. Each city's a little different…
You did most of the writing on the last album, do you have any cool writing rituals?
Yeah I've got a few little things that I do. Mostly for song writing, I kind of have to do it in complete solitude so I can go a little crazy and run around and sort of get into my own musical headspace…which is a little weird to do if people are around. Having a routine helps to get into the work, almost like it's a job. You start out in the morning doing things as you'd normally do it, but then it's the stuff that happens as a by-product that's the good stuff. The ritualistic stuff doesn't get used often.
How do you go about it, is it a whole week in solitude or just "okay, today's my day"?
Whatever I can get, wherever I can sneak in some solo time, yeah.
So do the boys come in for the process later on?
Ah, they do a bit of stuff early on. I'll write with whoever, I'm happy to do whatever, but I'm just happy to do it on my own so I can get a picture of a song early on.
Yeah cool! So you guys did triple j's Like a Version last month, what made you pick Justin Timberlake's Cry Me a River?
It's a really good song, it's nice to do something you wouldn't ordinarily really do. I don't know, we really like pop music, weird music too. Triple j is kind of a pop music radio station in a lot of ways, so we thought it was a fun thing. Check out the Like A Version HERE
You guys have been compared to Tame Impala heaps lately, what's that like?
Ah, it's a shame, it's a shame Impala. I feel like it's a bit lazy.
Do you feel like it's an easy comparison cause you're both in that psych-rock genre?
Yeah probably. We're both from Perth, there's a lot of similarities for sure, as far as the process and where I'm from. But hey, there's always gonna be someone – with every band you can play the game of 'pick who they're like'. We're not influenced by Kevin's music per say, but we started playing music around the same time.
So who are you guys influenced by?
I've been listening to heaps of electronic music lately, and film soundtracks. I try to listen to everything to get a full picture of what music is.
We can't wait to catch you guys at the Blurst of Times Festival this weekend, are you guys prepping for it?
Yeah, we'll play a few shows beforehand and hopefully be all greased up before we get there!
Get more info on Brisbane's Blurst of Times Festival HERE
Methyl Ethel Live Dates
THURS 14 APRIL
Northcote Social Club, Melbourne
FRI 15 APRIL
JIVE, Adelaide
SAT 16 APRIL
Blurst of Times Festival, Brisbane
FRI 22 APRIL
The Rosemount, Perth
SAT 30 APRIL
Plan B Small Club (previously Good God), Sydney
Get Tickets HERE