Interview: Jon Foreman from Switchfoot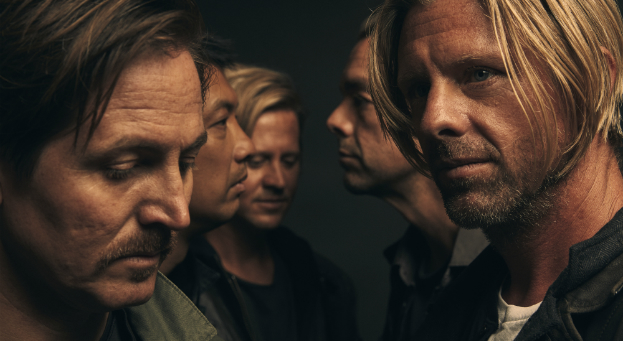 San Diego Grammy-award winning rockers Switchfoot are doing their part to make 2019 an amazing year with the release of their 11th studio-album on 18 January. Described as a "rock & roll love letter to their fans," 'Native Tongue' features the hope-empowering hits Native Tongue and Voices, along with the soaring new single, All I Need. We were fortunate to catch up with the creative genius behind the catchy hooks frontman, Jon Foreman, to discuss brotherly bonding in a band, collaborating with OneRepublic and the quintet's next visit to Oz.
Congratulations on the new album! Was there a pre-conceived concept of what you wanted for 'Native Tongue?' 
That's a great question and no. There was no album; we were actually not trying to make an album. We thought we were just having fun in the studio—my brother and I and a few of the fellas just chasing joy. We were actually on hiatus from the band after ten albums. We were finally taking a break and spending time at home. We felt like these songs chased us down—instead of us chasing them, they were chasing us. There was absolutely no plan.
The album grew organically into what it is and it feels like it was certainly birthed out of awareness of where we are as a nation and to the rest of the world. We wanted to remind people that hatred and fear are not our native tongue but love is our native tongue.
How did the hiatus impact the writing and overall sound of 'Native Tongue'?  
Another good question. The hiatus allowed us to simple chase joy—that was the motto and it affected a lot of things. It was unconventional, the fact there were so many different types of songs: 14 songs, guitar solos and the variety. It's not a smart way to make an album but we weren't trying to make an album. You could thank the joy of guitar solos for every one of those moments. 
You previously stated that your last album in 2016, 'Where The Light Shines Through' was created in a time of personal darkness, whereas 'Native Tongue' is a love letter of hope. Have you found your own perspectives and outlooks changed significantly? 
Yeah, this has been a really beautiful season. It's been the first time home for this amount of time in twenty years so there is a kind of purpose and identity that we have arrived at as a band. My son was born about half a year ago now and I think that new life is always a reminder of what's worth pursuing on the planet. It's life or death moments where you are aware of a much bigger narrative than your own personal successes and failures of the day. I think this was the season of becoming and being aware of a much larger story than ourselves. 
I noticed Native Tongue and Voices were both co-written by members of OneRepublic. Can you walk me through the collaboration and writing process? 
We have talked about making music with those guys for years and it finally happened on this album. It was a really strange, kind of organic way where I hit up Brent [Kutzle] on text and said, "I've got the songs. Do you want to take a listen, maybe produce one or two?"
There were a bunch of other people we were talking with, like one of the guys that mixes the songs for The Chainsmokers but Brent was the obvious choice. He understood where we wanted to take the songs and everything we got back from him was exactly where we were hoping to take it. So yeah, it was this long distance relationship where he was working on songs while on tour and sent them back to us.
Ironically, he was working on Native Tongue in India and the first time we ever played the song happened to be while we were passing through India so it feels like that song definitely has a little bit of India in it. It might not be as exotic for Australia but it feels like a long way from home for San Diego Kids (laughs). 
What were some of your favourite moments making this album? 
Looking back, I think it brought my brother and I together in a big way. I think making music with your brother, especially after so long, has given us plenty of chances to fight over things and disagree. We're passionate about life and music and we have different opinions but I think we've come to terms on how each of us works best and made our peace with each other. I think it's amazing when something's right under your nose and you realise it for the first time. It was kind of one of those experiences for me.
Which track on the album is your current go-to song when you need a 'pick-me-up'? 
(Laughs) Oh man, once the record's done—because I've listened to it a thousand times making it—I usually don't listen to it for a little while. I will say that making the music videos were so enjoyable. We've got another one about to come out at Switchfoot.com called All I Need and that song might qualify for the role of being uplifting and a breath of fresh air.
In your latest press release you mentioned, "clarity is found in silence." Where do you like to go to find quiet? 
Every night I walk down to the beach near my house—it's like a fifteen-minute walk—and I walk to this one rock and sit on that rock and look out at the Pacific. That is my favourite space to find solitude, solace, and to meditate and pray, look for answers and ask the big questions.
Have you got any exciting plans for Christmas?
I will be travelling. My in-laws live in Detroit, which is a cold winter wonderland of car manufacturers in the United States of America. It is the opposite—as far as climate and personality types—as the city of San Diego, where I live. It is a beautiful juxtaposition of a San Diego surfer up in Detroit celebrating Christmas. I love it! My in-laws are amazing and Detroit has an amazing, really gruff working-class heart.
Will you be returning to Australia in the next year? 
I sure hope so! It's one of my favourite places. I have had some of my favourite memories in the ocean and out of the ocean in Australia so let's do it!
To pre-order your copy of 'Native Tongue' click HERE