Interview: Josh Todd from 'Buckcherry'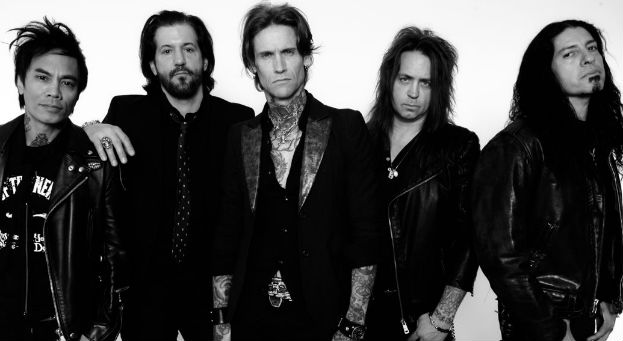 Californian hard-rock outfit Buckcherry are not the type to reign in their words, and you sure as hell won't find them near a programmed instrument with a 20-foot mic stand. Even after 20 years together these rockers are sticking to their guns with their Aerosmith-influenced rock and their controversial repertoire featuring hits 'Crazy Bitch, I Love Cocaine, Too Drunk, and their profane cover of Icona Pop's I Love It – Say Fuck It.
Last year the boys released their newest work 'Rock & Roll,' a record simply about having a good time. Now the boys are just about to go on a world tour in support of their album and one of their first stops is Australia. We caught up with lead singer Josh Todd to discuss everything from touring and rock & roll to One Direction and Go-Kart racing.
You're coming here for your tour in March. Are you excited to come back to Australia?
Yeah. We've been there a few times and we're looking forward to doing a headline show. Last time we were opening up so it's going to be fun to do our own shows.
What can we expect from your live shows this time round?
High energy, low IQ. 
Do you have any treats lined up? 
We've got seven records and a lot of songs to formulate a set and that's always a challenge. It depends on where we're at and what we did the night before. We always do the usual suspects as far as singles go and then we'll rotate the other songs.
What has been some of your performance highlights throughout your time in Buckcherry?
There's so many. We brought in the millennium New Year in Osaka Japan with Aerosmith. That was pretty incredible. We got to play four shows in the States with our heroes AC/DC and meet them. That was the best rock and roll experience ever. Keith (guitarist) and I got to meet James Brown backstage before he died at Woodstock '99. We got to play with KISS in Europe for a whole month and that was such an amazing time because we were a young band and learned a lot. We got to play with Iggy Pop at the state theatre in Detroit Michigan. And the first time we went to Australia and New Zealand was just nuts.
 How would your sum up your latest album 'Rock and Roll'?
We wanted to get back to making a good-time rock & roll record. We've always wanted to make a 10-song record but because of contracts and labels we've had to make longer records than we wanted. I just feel like a 10-song record is a perfect length of time because it leads you wanting more.
Do you have a favourite track on 'Rock & Roll' that you especially connect with?
 Yeah, I've gone through another James Brown phase so I really like Tight Pants. And Rain's Falling. They're my two favourite songs.
Your song Bring It Back is about rock & roll still alive and thriving in this day and age. Why do you think there are some who believe rock & roll is dead?
You know they have been saying that since our first record. Our first record was right at the end of all the rap-rock craze and the shoegazer bands. They've said rock and roll is dead every time we put out a record. That's really why we titled the record 'Rock & Roll'. It's a title we threw around over the years and it was just the right time to do it.
Do you think it's essential that everyone has a little rock and roll in their lives? 
Yeah, I think there's a huge void in music right now. You watch all the award shows and it's like rock & roll isn't even present anymore. It's getting burnt-out on pop and singer-songwriter type stuff. New rock music is very muddy and bland and cut to a grid on a computer. I just feel like every band kind of runs into the other one and there's no originality and separation, no real story. Plus the information now is so vast, it's so accessible to so many people. Back in the day you couldn't really control the market place because you didn't hear a new band until you heard it on the radio but now you can basically just go and inform the whole world. It makes nothing too much of a shock anymore. I think that's always going to be forever changed as far as big movements of rock music. 
What was the story behind your new single The Feeling Never Dies?
I was at home with my daughter. I wanted to teach her how to sing an original song so I wrote this chorus. We played it every day in the house and sang it together. Pretty soon I was like "wow, this is a good chorus, I should probably play it for Keith." I played it for Keith and he came up with some great verse music. I finished the lyrics and melodies and the song came about. It was great.
 How did you end up collaborating with Gretchen Wilson?
We've wanted to do a duet with a country artist forever. We've tried so hard to get somebody and finally the stars aligned and Gretchen was a perfect fit. We live in LA and she lives in Nashville so she went into the studio there and banged it out. She sent it back and I said, "This is awesome". We got a cool video together pretty quickly. Hopefully we will get to perform the song live someday.
Are you a closet fan of any music that may surprise fans?
I really like pop music and oh, what's that boyband that's happening right now? They have some really great songs. One Direction. You know the song Night Changes? I really like them.
You've been performing for over 20 years. How do you keep your voice in such good shape?
I take really good care of myself. I work out everyday, I drink a lot of water and everything is room temperature. I don't drink cold beverages of soft drinks. I don't drink or use drugs anymore so it really helps.
There are a lot of musicians who struggle with their voice after a while so it's great yours is in great condition.
When you age you're voice gets weaker, it just does. You have to really stay on top of it and use it in order to keep it strong, just like anything. I think some singers sit on their voice, then they go back on tour and expect it to be the same as the last time but it's just not. Just like anything you've gotta use the muscle, you've gotta work it.
I hear one of your hobbies is Go-Cart racing. How did that come about?
 We played at the Daytona 400 one time and I'd never been to a professional racecar race. I was like wow this is incredible! I'm a really competitive guy so I started going to these indoor K-1 tracks and we would just drive. I was really enjoying it and one of the employees came up to me and said "hey man, if you like this you can go race at these bigger tracks, you can go faster in these things." So I started going to these outdoor tracks where every racer goes to learn before they get into the cars. It's a huge sub-culture of people who are doing it, like ages 5-65. It's incredible and worldwide and awesome. I've been doing it for five years now. There's actually an Australian driver I really want to meet. His name is David Sera and he comes to the states for the big go-kart race in Las Vegas every November. He made pole position in the senior class last year. I'd really like to meet him.
I really hope you get the chance. So going back to the band, what would you say is essentially the heart of Buckcherry?
Passion. We really love being Buckcherry. We love what the band represents and we love rock & roll. Sometimes it's really worked against us but we've always stuck to our guns and overcome a lot of adversity. It's super special. When people really get that, I can see it in their eyes when I meet them. A lot of people have come to our shows twenty or thirty times and it means so much to us.
What are your plans after your massive tour?
We've been home for two months, which is an eternity for us so we're going to be out there really promoting 'Rock & Roll.' Since we've been home we also made a new EP, which we really love. We already did a Fuck EP and this other one is going to be another themed one. The goal was always to do 3 of them. We're aiming to release the second one towards the end of the year.
Buckcherry 'Rock & Roll' Tour Dates
MON 14 MARCH
170 Russell, Melbourne
TUES 15 MARCH
Max Watts, Brisbane
FRI 18 MARCH
Metro, Sydney
SAT 19 MARCH
Metropolis, Perth
Get Tickets HERE