Interview: Justin Keenan From 'The Go Set'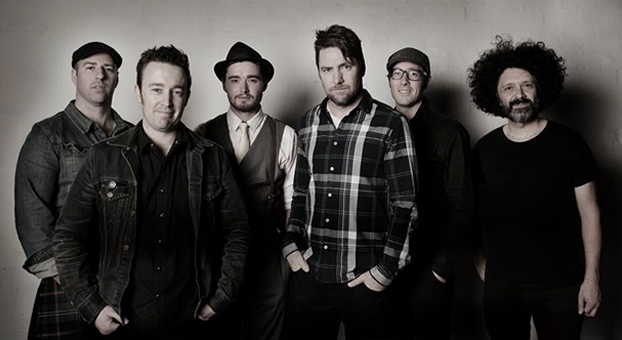 The Go Set formed in 2002 and have released six albums and toured relentlessly – at last count they've played over 1,200 shows in pubs, clubs, and festivals in over 22 countries. Now the folk-rockers have unleashed their video for Rolling Sound that creats a sense of nostalgia that can't be beat. We talked with frontman Justin Keenan to discuss their sound, their genre, and their unique take on the music industry.
You guys have a really interesting sound, smashing together elements of rock and folk, especially in your song Bones. What compelled you put those to together?
Basically, I grew up listing to folk music and 70s punk music. The folk part of the genre is reasonably popular now, but when we started this band 12 years ago no one had really heard of it. There was no one around, with the exception of Drop Kick Murphys, that had merged those two styles. In the formation of The Go Set it was the combination of those sounds that came really naturally. When we formed the band we wanted to do something that sounded honest. We wanted Australian accents, we wanted folk instruments but we also wanted to play with the intensity of a punk band.
To be honest, at the time, we wanted to make a band that had no ambition or desire to get airplay or get famous. We'd been in bands before where we'd been really trying to play the music we thought our friends wanted to hear. The Go Set was a bit of a backlash to that. We wanted to play music that was a bit ugly and a bit unpopular. 12 years ago folk-punk wasn't really popular at all.
Do you think the rise of Drop Kick Murphys, back in the day, and Mumford & Sons more recently, have really helped you guys out?
To be honest, I don't think it has at all. Mumford & Sons have made a much more palatable, harmony driven version of high energy folk. I think Mumford and Sons has actually made it harder for bands that are not quite as sweet sounding to get any assistance from radio what so ever. Prior to Mumford and Sons I think triple j would have been open to a more ugly folk sound. After them the folk movement has taken a turn towards people playing ukuleles, singing in falsetto, wearing sandals and beards. Its taken a whole different, hipster type direction.
Five years ago there was a large under current of ugly folk and gypsy music that was brilliant but didn't get a lot of attention from radio. It was about to break open, bands like Gogol Bordell and Flogging Molly were just about to get air play when something more palatable came along. Something much smoother, slicker, guys that were dressed nice, well marketed and then all the uglier bands just got shut right out. As a result of Mumford & Sons becoming more popular there's now hundreds of copy cat type acts. Drop Kick Murphys have never been a radio band, they've always been an ugly punk band. So, I think they have definitely paved the way for folk tendencies in punk music, for sure.
How did you bring together so many musicians from different instrumental backgrounds?
The Go Set's always been a sort of melting pot. It's like an inner suburban block. It's change over the years but its always maintained its grittiness. A lot of the guys in the band are multi-instrumentalists, the guy who plays guitar also plays upright bass and mandolin, the guy who plays bass also plays the banjo. They're very talented guys who all play multiple instruments. I guess, we push each other a lot to make new sounds, to get better on new instruments and to bring things to recordings. It's quite organic the way the instrumentation for the band has unfolded.
In your latest single Rolling Sound you really channel the rock side of your act. Do you find it hard jumping between the rock and folk sides of your act?
Not really, I think that as a songwriter I sit on the fence with stuff that I experienced a lot through my colleges years like Social Distortion right through to Rhe Lemonheads. I always really liked indie rock, even though The Go Set is predominantly folk driven punk, I've always really enjoyed those bands like The Descendants – a lot of that is what you would call indie rock. Every few albums we have throw backs to that influence.
In the past you've gone with some incredible producers like Paul McKersher who's responsible for albums from Something for Kate and Silverchair. What drove you to go it alone this time around?
We wanted to recreate a similar vibe to our first album. It feels like the bands come full circle in our approach to making a record but obviously we've got 12 more years experience. We were really confident to be able to find a place that had great acoustics. We just hired out a surf club, got three cases of beer, set up the mics and played our entire album live. We've always been of the belief that if you can't play the song properly live, then maybe it's best not to record it.
A record is a capturing of a take. The idea of layering, we just weren't into it. We just wanted to make a record of a take. We even played them all in order. Then we tidied it up and put it out as the album with minimal overdub. We were really confident to go in and be our own producers. I'm really proud of the album, I think its just as good if not better than anything we've done before because it has that real punk aesthetic about it.
The Music labeled you guys as Celtic Punk, which I thought was really cool. How did you feel about that label?
Celtic Punk? I dunno, I've seen a lot of things lately, all sorts of titles like folk-punk and folk-rock. I've seen a few lately that have really been pushing the semantics of the word play. The nature of the branding is really just to get people to understand which box the listener would put it into. If you want to call it Celtic Punk I'm happy with that, it's definitely got that punk energy and definitely those Celtic sounds.
As well as putting out your sixth album, you're also releasing a DVD titled 'These Are The Days' – a documentary following your 16 years as a band – was that always the plan?
No, we just filmed all the way around then we realised we had 150 hours of footage from touring all over the world, all the up's and downs; crashing the van, having keys stolen, and sleeping on the floor. All the realities of being in a touring band. There were nights we would wrap ourselves in the backdrop banner of the band while its snowing. There's a lot of hard times we wanted to document because people only see that one hour on stage.
These days most of the time there's people at shows, the band's somewhat established. People assume that when they go and see you for that hour, that's what it is but there's 12 – 15 years behind that, all those miles in the band and hurdles that had to be overcome. We wanted to make a film about following your dreams and sticking to it in the face of adversary.
What can we expect from your upcoming tour?
More of the same. These days when we tour in Australia its a little more like a party because we don't tour that often – we probably only do one or two tours a year. When we do the people who come out and see us have been coming out to see us for a few years. There's a real culture around those gigs that are much more like a party. Everyone knows each other and gets to catch up. They're really special events and as the years tick over I'm realising how special they are. The shows will be sweaty, there'll be beer, stage diving, laughter, and crazy antics. It'll be like catching up with family.
The Go Set 'In The Streets' Tour Dates
FRI 22 April
Barwon Club, Geelong
SAT 23 April
Grace Emily, Adelaide
SUN 24 April
The Tote, Melbourne
Get Tickets HERE