Interview: Lizzy Plapinger from 'MS MR'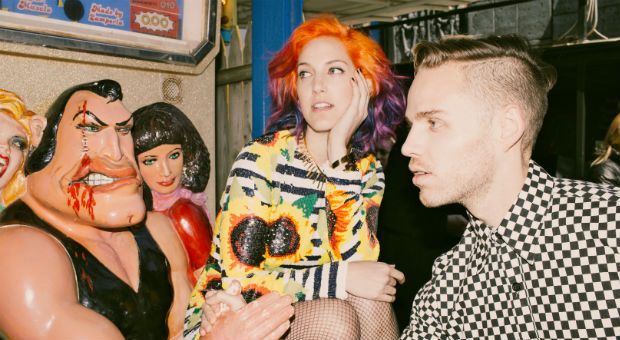 MS MR have glistened over the Aussie airways for several years now. Their kaleidoscopic wonderland and impassioned lyrics have become the duo's calling cards. Now veteran performers, MS MR has spent the better half of the last four years on the road, playing stages around the world, including our very own Splendour In The Grass. They're now on the cusp of their return to Australia for their slot at Groovin The Moo. We chatted to front woman Lizzie Plapinger about their songwriting process, the bands uptempo shift, and the tricks to staying sane on the road.
So how did you and Max start working together?
We both went to Vassar College, which is quite a small liberal arts school in interstate New York, and we sort of knew who one another were, but we weren't exactly friends, or in the same group of people. He was studying to be a choreographer, and I had started by label while I was at school. When we graduated he emailed me looking for new artists to work with because he was interested in production, and I had just started writing music on my own. So I sent him some! And we were like oh it seems like we're both really green and excited to do this, so we should just get in a room together and see what happens. And that was really the start! Both of us just blindly jumping into it.
That's awesome! Did any of those songs you first wrote together make it onto the first album?
Yes actually! The first song we ever wrote was Bones. So it was clear there was something between us.
The new album is much more uptempo and movement based, what drew you towards this new style?
Well when 'Secondhand Rapture' was released we'd never been in a band before. So for us it was about being in the studio, seeing what we were capable of, and writing music that just felt really good. We hadn't even thought about how it would translate to the stage. Then after touring 'Secondhand Rapture' for three years we sort of had a new relationship with the music that we liked, and the music that we performed, so we wanted to bring that into the second record. When we were making 'How Does It Feel,' we were thinking about who we wanted to be on stage, how we wanted to interact with our audience and what kind of show we wanted to put on. That led to a much more energetic and danceable record because really that's just what we wanted to be performing. It's been really validating to be performing this record and seeing how well it translates on stage, because that was really the intention!
Does one track in particular go off with the audience, or do you have a favourite to perform?
It's funny my favourite to sing is Leave Me Alone, which isn't necessarily the most dancey of them all, but it feels so good to perform. But I think my favourite in terms of audience reaction is How Does It Feel. That chorus is a big singalong moment, and it feels so good to get everyone involved.
Did you have any dance music influences for the record?
We had a few core touchstones on both records. Definitely Robyn, Miike Snow, and Mark Ronson, which sort of bled its way onto the record a little bit.
The album features collaborations with several incredible artists like Tove Lo. Do you have any collaborations in mind for the future?
There are tonnes of people we would love to work with. You know again because we'd never been a band before this project it's so exciting every time we sort of get to step outside of ourselves. It's so exciting working with someone new because it's something we don't have much experience in. One of our favourite bands in the world is Tame Impala, I would love to get in the room with Kevin Parker and sing a song together. I have never done any duets, but that would be a dream come true.
Yes! Have you heard their remix of Miguel's waves? I'm obsessed.
I know! I can't believe they've just done that remix. It's so good.
There's quite a powerful visual component to your music, particularly in your videos, how do you come up with those?
Honestly it's a really natural extension of how we see the project working together as a whole. We've always sort of announced ourselves as musicians first and foremost, but it's a great opportunity especially within pop to sort of create a whole world for people to enter when they listen to your music. The artists we admire are the ones who have an alternate sphere to everything they do. We've basically been writing those alongside the music as we've been creating it, and for us it's such as sense of ownership of all the visuals. We're just sort of obsessed with these kinds of psychedelic, surreal and colourful worlds and it's nice to transform your routine experience by extending it into this other worldly area. It's something we've always wanted to do from day one with the band.
Your songs are deeply personal, what is it like to have a music partner to share that with?
It's really organic with Max, at this point we're like the other half of each other's brain. We spend so much time together, we live together on the road, we're each other's best friend. There was something sort of safe when we were doing the first record where we didn't know each other that well, so he didn't know what I was singing about and there was a sort of comfort in that. It definitely became a little more stressful for me on the second record, you know really diving into things that were really personal with him, and him understanding the context for the first time. But I think we're a good team, and he's helped me get through some of the lowest points in my life and then we poured that into the music. It's really lucky that our relationship can stand from artistic, to creative, to professional, to friendship. It makes us a better band, and better people because of it for sure.
Yeah, it's amazing that it all started from an email and transformed into what it has today! So when you're writing the lyrics do you write from both your points of view?
Mostly the lyrics and the melodies come from me, and Max is the production. We're heavily involved in each other's writing process he'll edit a melody or tell me if a single lyric is better than another, and vice versa. I'll come up with production details that I like, and don't like. But for the most part it mostly just comes from my perspective. It's interesting that you ask that though, it would be interesting to write a song from someone else's perspective and see through it my own eyes. I haven't done that to date, but that would be an interesting challenge!
Maybe something for the next album! So how do you go about the writing process, do the lyrics just come to you?
Actually on the first record it was very much when it came to me and that would sometimes be in the middle of the night at 2 AM. This record we created a challenge for ourselves to write a song every day. So there were three or four months where we would go to the studio every day and write a song. It meant that were a lot of songs written (not all of them good). But, then we got really good at pushing through the moments in songwriting where all of a sudden you reach a block and you don't know how to get to the next point. In the end it made us much better songwriters and also pushed me to be more articulate, more honest, and straightforward with what I was trying to say because when you're trying to write a song in a day you really don't want to waste time with sort of maneuvering around things. So I think we learnt a lot from this writing experience.
So you're about to hit the road once again, have you worked out little tricks that help keep you sane while you're on tour?
Honestly it was really hard getting used to being on the road when we first started the band, total change of environment and scenery from our lives. To go from running a business and living in a city like New York, seeing your friends every day and constantly being on the move, with no two days being alike to living in a car with the same five people, to having the same routine, to never getting sleep – it was really challenging. And I think after several years of going out on the road we sort of figured out how to make it work for ourselves and a lot of that was making a little more money, making ourselves a bit more comfortable. But, also really building our team around us so that everyone we surround ourselves with is a friend. Now I love being out on the road, and I'm sad when I'm not because my best friends are the people that we work with. It's really really wonderful now to have this experience, so I'm glad to say now yeah we have figured out how to enjoy being on the road.
So this will be the second visit you've had to Australia in the last twelve months! What's your favourite part of visiting here?
The fans for sure! You know Australia was really the first place to support and find us as a band. Definitely the first place we success, and so I think Max and I feel like we owe Australia and our fans a lot. There's just a certain fervent energy that is unlike anywhere else in the world, and it keeps us wanting to come back as much as we do because they're so amazing and so now to be able to go deeper into the country and play in places we've never been before is so excited. We're so so excited about coming back.
Check out the 9 emerging acts playing GTM you can't miss HERE
MS MR Groovin The Moo Sideshows 
THURS 28 APRIL
Metro Theatre, Sydney
FRI 29 APRIL
Prince Bandroom, Melbourne
TUES 3 MAY
The Triffid, Brisbane
THURS 5 MAY
Rosemount Hotel, Perth
Get Tickets HERE