Interview: Matt Gravolin from Hellions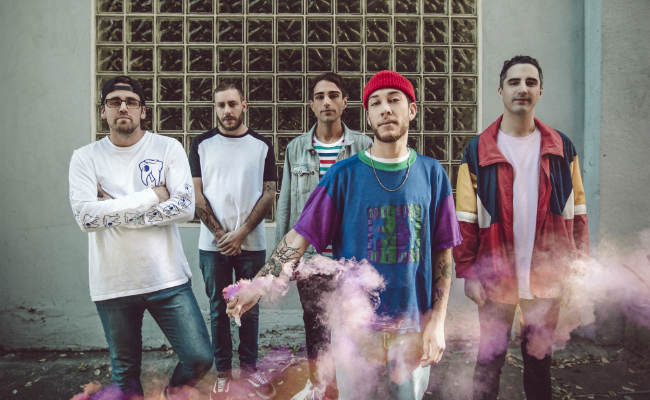 Sydney hardcore outfit Hellions are currently the talk of the heavy scene ahead of the release of their third studio album 'Opera Oblivia', a "glorious celebration and forensic examination of everything that makes being alive worthwhile". We chatted to Hellions' guitarist Matt Gravolin about their highly anticipated new album and national tour kicking off this week!
How did you guys come up with the band name Hellions?
It came from the Eminem song With Out Me, from the second verse "Little hellions/kids feeling rebellious". We have a cheeky nature about ourselves as a unit, and we always felt that line represented ourselves. Hellions commonly gets misspelt all the time. People usually say it like "hell-aliens" or "hell-lions", But its pronounced "Healy-Anns".
How long have you guys been a band?
Its coming up to four years, shortly.
Has it been the same band members through all four years?
We've had a few of lineup changes, but have always kept same core. Myself playing guitar, Dre singing, and Anthony on drums. We've had our fair share of lineup changes over the past four years, but are sure the lineup we have now will stay in tact for many years to come.
How has it been as a band from the beginning of your career to now, gaining heaps of attention and kicking off a headline tour?
Back when we played Sydney Warped Tour, Hellions was in its infancy, starting off playing for just a couple hundred people. Now only a year or so later our songs are playing on the radio, which is the coolest feeling in the world. Quality of Life has had this unprecedented support from top radio stations, which has seem to really take off. The support has done wonders for our band!
Tell us about the new album and the meaning behind the name 'Opera Oblivion'.
Oblivia is a latin world for a passive state of forgetfulness, which is the essential theme to our record. We wanted our record to feel very grand, operatic, hence the title 'Opera Oblivia'. The album's message is based around a lot of themes that discuss, a celebration of consciousness. It discusses the good and bad parts of existence. We're really proud of the record. We've put so much into it and is a much more mature record, we're excited for the world to hear it!
Your national tour kicks off the same day as your album release, July 29. How is Hellions preparing for such a big moment in its career?
This will be our biggest undertaking so far, we are really antsy for this one! We usually get up there and let the chemistry flow, but this time around with this record we put a huge amount of practice into preparing for our 'Quality Of Life' tour. We've made it to point to practice a few days a week to be ready for the live shows, especially focusing on the singing aspect since its a huge part of the album.
What kind of rigs does a hardcore rock band use to get that edgy, aggressive sound?
Most of us use simplistic rigs, we're not too fond of drifting from the punk side of things. We still want to remain a "punk" band, so I run a Fender evh 100 watt head, I use ESP Eclispe. As far as pedals go I use a simple four pedal setup. A Chromatic tuner, a compressor, a delay pedal, and a reverb pedal. Thats the lot of it!
Lastly, anything you'd like to say to your fans or new listeners?
Thank you so much for listening and all the support, we hope 'Opera Oblivia' stays with you for a long time!
Hellions' new studio album 'Opera Oblivia' is out Friday, 29th July.
Hellions 'Quality Of Life' National Tour
FRI 29 JUL
Evelyn Hotel, Melbourne
SAT 30 JUL
Arrow On Swanson, Melbourne (All Ages)
FRI 5 AUG
Enigma Bar, Adelaide (LIC/AA)
FRI 12 AUG
Bald Faced Stag, Sydney (LIC/AA)
SAT 13 AUG
The Brightside, Brisbane
Get Tickets HERE