Interview: Matt Schrader from 'ROI'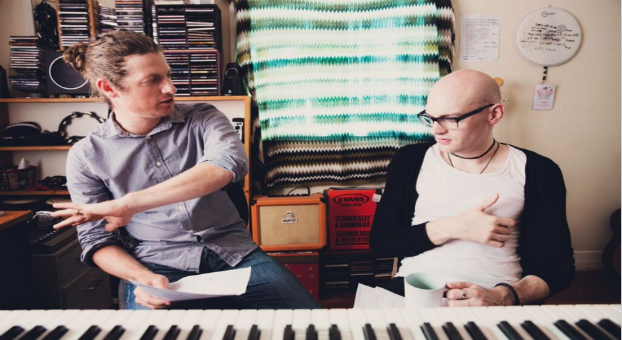 Between Brisbane percussionist Matt Schrader and bassist Barnaby Gickel the two musicians have over 25 years of experience in the music industry. Over the years the pair have formed an incredible partnership with a number of musical projects together including their latest bass & drum inspired outfit 'ROI'. We were lucky enough to speak to Schrader to talk about the creation of their new project, their upcoming album, and why it's going to be different to anything else you'll hear this year!
ROI is your latest project, how did that begin and what is your vision for it?
Well it kind of started because…well 80 per cent of the bands I have been in have had the same bass player (Gickel). We just seemed to be playing in the same band and we always hang out together, so we were kind of not doing much at the time and we just started jamming. Most of the bands we have been in we only supply the rhythm section, so a lot of the songs are already written. ROI is essentially Barnaby and I just being ourselves. It really started as just a bit of fun and then after about four sessions we realised we had a whole bunch of songs. So then we started working on our production skills, doing a little bit of keyboard, and started working on melodies, things that we really had never done before. We really had a ball, we had about 20-songs written so we thought, well lets actually call this something and lets actually do it!
We don't sing, so that was always going to be the hard part. But then we just thought, why don't we just write a whole bunch of songs. I was reading Tracey Thornes autobiography, from Everything But the Girl, and she did that Massive Attack (2001) collaboration. [Massive Attack] just sent her the songs and she ended up writing all her melodies and lyrics over the top, so we just ended up doing that. We picked a bunch of singers that we had never worked with as we wanted to work with people we had never worked with before just so that we could broaden ourselves musically, but to also get a good friends list happening around town.
So the big thing about this project is that you have completely avoided any guitar, what's the reason behind this?
I mean we can both play a little bit of guitar, but not so much. I guess when we were writing we were thinking we would get to those parts later. But then we really liked the songs without the guitar and thought it would be an added challenge to the record, to only write just drums and bass. We then filled it out with keyboard, nothing too major! The whole idea is the bass and drums and we're playing rock 'n' roll without a guitar, which is kind of unheard of. We played a bunch of demos to some people and they all liked it, and then at the end of the session I asked anybody if there was anything particularly missing and nobody picked it up so we were pretty stoked!
Second Skin features Alan Boyle and he's pretty much just vocalist on the track even though he's also known as a guitarist. How did you get him to work on your project given that it doesn't feature any guitar?
That was one of the added bonuses when we were looking for singers and who would normally play guitar as well. We told them to leave their guitar at home and to come in and to really branch outside of themselves as well so that they could do something a bit different to what they would release under their own name. That was really half the fun, trying to work outside the parameters of a six-string guitar, which is the base for everything! I had met Alan a couple of times at gigs, so when I messaged him with the demos he was really happy to help, and he ended up doing Second Skin. He really enjoyed the process so we sent him another one and he's actually got another song so he's going to be on the record twice.
Well it's an infectious tune, how does the rest of the album stack up against Second Skin? I read that the album is hard to categorise?
Yeah completely different and that was another real challenge that we tried to do, to have a whole bunch of different songs but still have an underlying continuity so it all still sounds like its off the same record. We have some funky stuff and some pulled back stuff, and we have some songs based around a piano predominantly so its very eclectic. It was very difficult trying to pick a single as well because you don't want to be categorised in that one genre when you hand out one song off a record. That was probably the hardest part of the whole process, trying to pick a bloody single (laughs). In the end we let other people pick it because it was just too hard for us.
So when did you actually start this project?
Well we recorded it a year ago, which sounds crazy, but its taken us a year…that's when we recorded it so it would have been maybe six months before that, so it's coming up on two years I would say!
Why are you releasing it now, after all this time?
We had to save up first I guess, we had to do it in blocks. We wrote a whole bunch of stuff over six months or so and then we recorded it in two weeks and we sort mixed things as we went. Barnaby went overseas for a little bit playing for another band mid last year and my wife had a baby so I had a couple of months off then. It's basically just trying to get all together and pay for stuff you know, the bills add up when you do it yourself.
I saw you like Interpol, they're one of my favourite bands! Do you draw inspiration from them?
Yeah, Barnaby would rate them in his five favourite bands. We even had one of the songs on the record named after them. We have working title names and one of them was called Interpol because we had a riff that sort of sounded 'interpolish'…without trying to rip them off of course!
So what other genres are there in the album?
There are a bit of jazzy sounds with Alan (Boyle), a bit of spoken word, kind of Nick Cave songs I don't know what you call that noir rock or something. We've got a two-minute punk song with the Smoking Martha's, we've got a funk song, and we've got a couple of slow ballads. Probably 90 per cent of it you can class it as some kind of rock…
When you release this album will you be touring?
Yeah that's the plan! It's also tough for us financially because there are two of us. We're planning to have a massive launch in Brisbane where we get every single person who was on the record to play, but it's just organising the logistics of all that. We'd like to do a few shows around [Brisbane] and then obviously we'd love to get down to Melbourne and Sydney and do gigs like that for the album. So hopefully around May at this point!
You guys also put out a film clip for your single 'Second Skin'. I found it quite funny, because I kind of pictured the film clip to be an RACQ advertisement because you are sitting in the car singing, "Please stop breaking down, but if you do, that's OK"…
(Laughs) I never thought of it that way,  that's funny!
What was the inspiration behind the film clip?
Well we approached a guy to do the clip and he listened to the song a whole bunch of times and he came up with the idea of how it's really tough for musicians and how they have to leave their life to go and do their art. He wanted to film us looking out at the start showing what we are normally doing. Then we hop in our car and we spend a lot of time wondering where we are going to go and what we are going to do, and how much time we have got in the car. So he basically drove around and gave us a whole bunch of light effects and filmed us essentially driving to a gig or band practice. At the end we then return to what we normally do. So that was his vision and we really liked it, so we just went along with it.
Finally, what's next for you guys?
I think we would like to really push ROI. Barnaby just has so many ideas and so much life in him musically that we're always writing. So I think there is still so much more in us that we'd really like to keep going and connect and work with new people. That has always been a great part of ROI, working with new people and making new relationships.