Interview: Mitch Ansell from Northeast Party House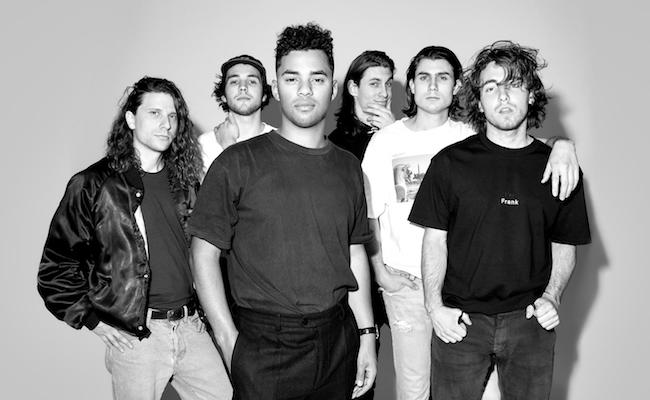 Northeast Party House are back! The lads who brought us the crazy antics of Youth Allowance and Sick Boy have returned with 'Dare', the big brother to their 2014 album 'Any Given Weekend'. We had a chat with guitarist Mitch Ansell about putting synths through bass amps for fun, getting confetti in weird places, and eating dog biscuits!
The new album is finally out, how are you guys feeling about it?
It's a great feeling! It's been a pretty short amount of time between finishing the album and it getting released. It's been a couple of months, whereas I guess the standard thing is to have maybe four months prior. So, in terms of that, it's been a really quick transition. It's like "oh sh*t, it's out next week", which is kind of cool. We've teased a few songs…For You as a single, and we've had Dare and Your House put online. For us, it'll be good to see people's reaction to the whole product, but we're pretty into how it's all been received so far!
We've noticed the single For You is a lot slower and has a little bit less guitar work than your previous singles from 'Any Given Weekend'. What's inspired that shift?
That song started off with Zach (frontman). I think we were overseas, we might have been over in the States, and he had this little bittersweet synth line and synth cords and wrote the pre-chorus and chorus over that. But he didn't really want to show anyone, I guess [because] it was a little different and that little bit slower. But he showed us, we got it out of him, and we liked it…but we were like "how can make this a little bit more Northeast?"…
So if you think it's a little soft and slow now, it was a lot more. Guitar wise, with how the song started it was just adding too many other elements and would overpower the actual melodic vocal lines. We've got two guitarists, so we sometimes find it hard to add guitar for both. You've got to try and take the song as it is and not try to put something on just because you have two guitarists. So it's a bit minimal on this track, but that's just how that song came about.
Can we expect that to continue throughout 'Dare'?
There are definitely elements of For You that go through some other songs, like lyrical concepts and that bittersweet melancholic vibe. Then there's Your House, which we just put up on our Facebook. It's a good example of something a little more similar to the older stuff…more energetic, guitar-driven tracks. There's, in a way, a little bit of everything we like. We've got six members of the band, so we've got six different takes of what each person likes and we come to this middle ground where you have different sounding tracks that have these elements that are very 'Northeast.
Northeast Party House is quite the interesting band name. Since you guys have been doing the rounds overseas, have you had any interesting reactions to the name or anyone getting it wrong?
Yeah, a lot of people! I think we've been called Northeast Power House (laughs), I think that was in Hamburg. It's always pretty intriguing to see how people spell our name. A lot of people write Northeast as separate words, which indicates that they're directions…but Northeast is the last name of our mate who had a big party. So that's a little funny…
I guess for me, it's a goofy name but it's nice that if you Google it we're the only thing that's going to pop up. Real Estate are one of my favourite bands, but when I started getting into them and you'd Google "Real Estate march", and it would come up with Hocking Stuart (a Melbournian real estate agency).
You guys are just about to kick off the Australian album tour. What's going to be new, other than the music obviously?
Some of the venues we're playing are a little bit bigger, which is exciting! We really think our live show's probably our biggest strength, and we think it's been working pretty solidly so far. So we're going to continue that. We're approaching it in a similar way to how we usually do, though we are going to have some groovy lights that we haven't had before, which is always something to look forward to!
I remember we played this festival over New Year's, and we forgot that we had ordered confetti. You get booked for a festival like four months before and I think there was this box that you could tick off if you wanted confetti. Then three-quarters of the way through a song, when it really kicked in, all this confetti started and I totally forgot that we'd ordered it. It's quite loud as well and it's pretty obnoxious. That was pretty funny but it looked good!
We'd love to have that in a venue but the clean-up costs…it's like when you go to a party and maybe you're kissing someone who has glitter on their lips. You're still covered for a week later, you can't get rid of it and find it in weird spots…
(Laughs) So what can audiences expect from the album?
I think very similar things to the last album, but I'd say the story's a little more personal and we worked harder on making this album a little more melodic. Structurally the songs do something that we hadn't really done before. We just worked on really refining our synth tones and sounds. We definitely went in with the approach that if you just go for it and if you're doing something unconventional like plugging synth through a weird guitar pedal and putting it into a bass amp, just do it and if it sounds good, it sounds good!
It's just a smarter record. The first record is kind of youthful. It's just all the tracks that you come up with in the initial stages of creating the band and then [with a second album] you have stop and go "sh*t, we've got to step things up" in terms of the quality, but also not alienate any people that liked the first album. It's a fun record…it's off-kilter, groovy, and melodic. So it's going to be fun to see what people think of it!
Lastly, the album's named 'Dare', so I've got to ask: What's the funniest or the stupidest dare you've ever actually gone through with?
Ahh, alright…there would be something a lot better than this, but the first thing that comes to mind was eating dog biscuits at a party. I had the munchies and I was just looking through someone's cupboard at this party, and you know when people pour the dog biscuits or whatever into Tupperware…
Oh no!
I got them and they just looked like cool biscuits, and someone's like "man they're dog biscuits" and he says "just eat it". So I chomped them down. I mean, they're not the worst…they definitely didn't kill me, but didn't really suffice my appetite. I probably went and got a kebab or washed it down with something quickly. That's all I can think of for now, but I'm sure there's many more! That's a good question, I feel like it's going to pop up in other interviews. But I can't use the dog biscuit one again now…
Northeast Party House 'Dare' Australian Tour
FRI 9 SEP
170 Russell, Melbourne
SAT 10 SEP
Republic Bar, Hobart
THU 15 SEP
ANU Bar, Canberra
FRI 16 SEP
The Metro Theatre, Sydney
SAT 17 SEP
Small Ballroom, Newcastle
FRI 23 SEP
The Triffid, Brisbane
SAT 24 SEP
Solbar, Maroochydore QLD
FRI 30 SEP
Jack Rabbit Slims, Perth
SAT 1 OCT
The Gov, Adelaide
FRI 7 OCT
Karova Lounge, Ballarat
SAT 8 OCT
Wrangler Studios, Melbourne
Get Tickets HERE