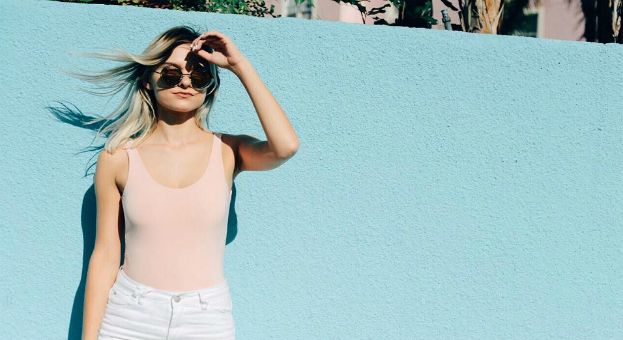 Nicole Millar is the Sydney-based electronic songstress taking Australia's music scene by storm. Straight off the back of releasing her energetic debut EP 'Tremble', the soulful sweetheart is touring the country coast-to-coast. We spoke to her about dance music, overcoming pre-show jitters, and writing songs in the car.
You've just released your debut EP 'Tremble' and have just to stepped out on tour with your new band. How are you feeling about the year ahead?
It's looking busy so far, which is always a good thing? So it's just me and my two band members we started the 'Tremble' last Friday. So it's still fresh and we've got maybe five or six shows left. Then I'm playing Curve Festival and I just got announce for Splendour, which is super exciting. I can't wait for that! And I'm joining the Troye Sivan tour as well.
How long have you been playing with your two band members?
We've only really been playing shows together since the start of the year. I've been playing with one of the guys for about two years, but I took a lot of time off to write and record songs. So we weren't really doing that many shows. I didn't have drums or synths or anything like that, so it's definitely more exciting playing with a band.
The EP is energetic and blends the ethereal tones of your voice with really contemporary electronic production. Was this the artistic aim from the beginning of the recording process?
I guess I just got thrown into it when I did the Peking Duk collaboration and Golden Features. I was a bit overwhelmed and I didn't really know who I was as an artist and what I wanted to be making. Like, I knew I wanted it to be electronic and I listen to a lot of pop music. But I just didn't know how to get there. Because I don't produce, I needed to find the right producers and be writing songs that I actually enjoyed. It took about a year to get a collection of songs and then narrow them down. I guess to begin with I didn't have a specific focus, but I think now I definitely know who I am as an artist and the kind of music I want to be creating.
Can you tell us a little bit about the inspiration behind Tremble?
Yeah, of course! I actually wrote that song in LA with a guy called Dan Farber. I was on a writing camp, which is really interesting because those can be quite camps can be quite hit-and-miss. But I was really lucky because Dan and I just really got along and understood who I was as an artist and let me lead the session and listened to my ideas. I guess we were quite influenced by Major Lazer, the Justin Bieber stuff hadn't yet come out but I really wanted something a bit more fun, something that would let me jump around and dance and get into it.
Dan was actually only at the camp for two of the six days that I was, so it was a total coincidence that we met. I was just really lucky to be in that session. And then lyrically, I wanted to make women feel more powerful. Just because I know in a lot of pop songs, and I mean I write songs like this all the time, where the girl's like "poor me! My heart's broken". So I just wanted to try something a bit different.
You mentioned in a press statement you can get quite shy during the recording process. How do you feel the recording of this EP has developed your studio confidence?
Yeah, I guess just with doing sessions all the time, you get more confidence. When you go into a session, if you're just going to sit in the corner and let people take over and not give ideas, then you're never really going to come out with a song that you like. And that's just pointless for everyone. So I definitely go into the studio with a lot more confidence now. But it's funny actually because I'm still really shy! But you have to just point on this persona and pretend that you've got the best ideas ever and everyone should listen to you! (Laughs)
Dan definitely helped with that because he's really chilled out. He's quite spiritual in a way. He'd be like, "just do it Nicole, do whatever you want to do!" and I'd always think "Yay!". He came to Australia for two weeks a little while ago to help me finish my EP, which was really cool.
You've been on tour with the likes of Peking Duk, RUFUS, and The Kite String Tangle. How do you prepare yourself mentally before a show?
Um, well my voice is really fragile before I perform. I think it's because I get nervous. So I kind of like to chill out by myself, have a glass of wine, listen to some music and just try to get into a fun, energetic kind of mood. Once you're on stage it's fine, it's just that initial few minutes before you get on stage that you have to prepare yourself for.
So what do you aside from being a musician? Is there anything you particularly enjoy that you think might have an influence your sound?
Well, I drive a lot. I know that doesn't sound that fun…I hate it most of the time! But that's where I come up with a lot of my song writing ideas. When I was a child I did dancing, so that would probably be incorporated into my songs. Yeah, like after performing for a little while now, I really want to make songs with a groove to them, so I can move around stage and dance. Even though I'm not a great dancer…I just kind of jump around (laughs).
What are you most looking forward to performing on your 'Tremble' tour?
Well, on this tour I'll be performing all the songs from the EP, and the Peking Duk track and Golden Features and a few that haven't even been released, and I'm not even sure if they will be released. They're just lots of fun to perform. One of them I did with Robert DeLong, which is just really dancey and a bit crazy! And then hopefully I get to play the songs I was working on in the States as well. So, it'll be lots of fun!
Nicole Millar 'Tremble' Tour Dates
WED 20 APR
Beach Road Hotel, Bondi
SAT 23 APR
Rocket Bar, Adelaide
SUN 24 APR
The Aviary, Perth
FRI 29 APR
Plan B, Sydney
SAT 30 APR
The Foundry, Brisbane
Get Tickets HERE