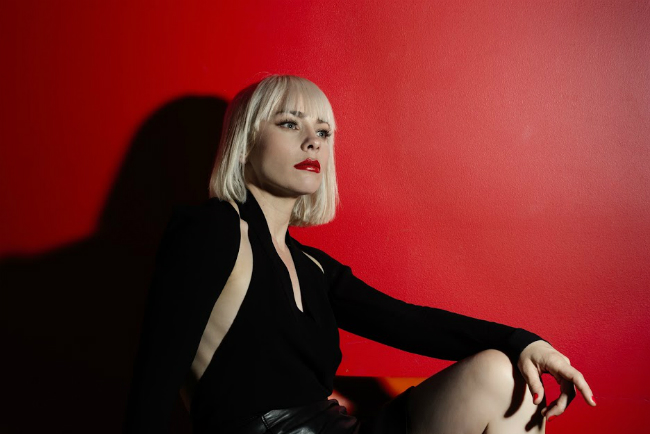 Melbourne singer-songwriter Olivia Bartley, probably more familiar to you and your ears as Olympia, is having a mammoth year. Off the back of the release of her debut album "Self Talk" and the stunning video to accompany lead single Smoke Signals, Olympia is heading out on the road.  We caught up with her to chat about the inspirations behind her songs and what fans can expect from her live shows.
First of all, congratulations on the album, it sounding awesome! "Self Talk" tackles some pretty heavy concepts, what were some of the stories behind the album?
Yes for sure! Smoke Signals is about someone's internal unseen chaos. It's interesting that we're coming up to Mental Health Week and I think its kind of the perfect song for that, cause people have these cosmos that they deal with. I gave the film maker, Alex Smith this brief. I was really enthralled by "Sweepstakes Live" this Japanese reality tv show. It was really really early on, in the 90s. This comedian, Nasubi, it was completely empty except for this pile of sweepstakes magazines.
He got asked to remove all his clothes, and he was told that it was just a pilot and they didn't know if it was going to air. He had to fill out the sweepstakes on the back of the magazines and win two million Yen worth of prizes to get out of the apartment. And he could only survive on complimentary prizes of food or clothing which would never arrive. Despite what they told him, it went live, and more Japanese people tune in to watch him than Americans tune in to watch 'Game of Thrones'. He was so big, and he had no idea.
For the first few weeks he had nothing to eat; people are just watching his increasingly emaciated frame, and he is going crazy with no one to talk to. One day a bag of rice arrives, and he's so animated and ecstatic, but then he realises 'Oh I have nothing to cook it with'. He realises that if he puts the rice in a cup by the window it congeals after about 12 hours and you can eat it. And people are just watching this as entertainment.
I gave this idea to Alex, and he is a good friend of mine. Creatively, he's just a genius; just on the top. He kind of laughed but liked the idea for a film clip. It was kinda fuel and all of the magic of that clip is kind of Alex's work.
It's certainly an amazing clip! Did you feel like it was a different experience trying to add a visual element to your music?
No, because that's how it works for me. Usually its very visual concepts that start songs. I write the music and the lyrics closely, and sometimes it can be a slower process to write. But the visual element is so important to me, and treating the project as a whole. That's the visual, the sonic and the conceptual.
Do you consider that visual element when you're writing, or does it just evolve all together?
Well both, really. Like the first thing that inspired me to write the song Honey was photographs of red honey coming out of Utah. This beekeeper thought 'planting native trees, what a pain' so he went and picked up a heap of candy canes in June when they're cheap, crushed them up and every bee in Utah came. All of these beekeepers around the state were just opening their hives and seeing all this ruined honey. It was that photograph that made me think of the song.
4. Did you have any changes to your writing process as opposed to some of your older releases?
They've each been different, and I think my next body of work I'll approach a bit differently too. I don't want to settle in my work, I don't want to get too comfortable. I think on this album I kept moving the goal posts on myself. At first I thought 'I really want to concentrate on the songwriting, I want the lyrics to stand out for themselves' and then halfway through the record I thought 'no I want the guitar work to be incredible, I want all the guitar lines to be on point'.
But the most important thing is that have all been a whole body or work. The first EP that we put out was a cohesive body of work. So I want to keep changing the output and make it a bit different however have it remain as a cohesive body of work.
As to the recording process, did it feel a bit different this time around with more material to work with?
Definitely. There are a lot more spinning plates. It was actually going to be an EP, but it was coming on so strong that we just kept developing it into the album. You do this thing where you build and build the songs in the studio and you're throwing mud at the wall and seeing what sticks and you end up with 12 or 15 songs at the end to keep in check. So there are a lot more spinning plates in an album.
You were working with Burke Reid as the producer on the album. What was he like to work with?
Burke is incredible to work with, professionally and personally. and he puts everything of himself into your work. Recording is so challenging and its the hardest thing you'll ever do. You come across so many personal things in the studio. For instance, you might think you're a really good drummer, but then you hear it isolated and you'll think 'oh my god, is that it?' Working with someone like Burke is great cause he's someone you can trust, and there aren't that many people that can afford that luxury.
Do you think you have a favourite song, or a song that particularly stands out from the album?
It changes. Honey, Blue Light Disco, Smoke Signals, Different Cities. And now I'm just listing every song on the album. Smoke Signals is great cause it just reminds me of how much fun Burke and I had in the studio. The backing vocals are ridiculous. They sound like school girls taunting you, and its a risk because it could come across badly, but that was the height of our collaborative relationship, and when I listen to it it reminds me of all the sonic paint that was around. And Honey, for me, is the best song writing on the record.
You're hitting the road in the next few days as well, what can fans expect when you hit the stage?
That's a good question and we get asked it a lot. Fans can expect us to bring life to the songs and the record. Some are going to be more dynamic, some are going to be reinterpreted. But the songs start to take on their own life when you play it with a band.
We're taking a 4-piece on the band on the road this time, which is an extra member. We've got Sarah Belkner who tours with Sarah Blasko, and Pat Burke who plays with Paul Dempsey, alongside myself and Tex Perkins and Rob Vasey of Owl Eyes.
You've also previously toured with some massive names like Josh Pyke and City and Colour. Has touring with those guys influenced how you perform live or how you look at performing live?
They were early on in my experience with performing. They taught me different things; they were an introduction to the industry. Dallas Green is an incredible performer. Paul Dempsey is also an amazing performer. He could have a 2,000 person venue just completely reverent, listening to him, and that's just something you can't take lightly. You can't just go up onstage and expect that your audience is going to be quiet for you. They've been incredible things to witness.
The higher up or more successful that you are, the more down-to-earth they are. Dallas Green was one of the most incredible, lovely people I've ever met. Paul Dempsey is the same; he's a generous, super talented person.
Your tour will be taking you all over the country from Maroochydore to Freemantle, what're three things that you can't be without when you're on the road?
Good music for the car! Our bass player messaged me last night to tell me that he's updated his phone, so that he can pair immediately to rental vehicles with his playlist. You don't get a lot of sleep and you're often worked and pressed a little thin, so I would say headphones to get a little big of time out, and refresh. The third thing, I would say showers. I love showers!
Olympia 'Self Talk' Tour 
THU 26 MAY
Newtown Social Club, Sydney
FRI 03 JUNE
Black Bear Lodge, Brisbane
SAT 04 JUNE
SOL BAR, Maroochydore
SAT 11 JUNE
Producers Bar, Adelaide
SAT 18 JUNE
Northcote Social Club, Melbourne
FRI 24 JUNE
Amplifier Bar, Perth
SAT 25 JUNE
Odd Fellow, Fremantle
Get Tickets HERE