Interview: Pacific Avenue Chat About The Story Behind Their New Single, 'Easy Love'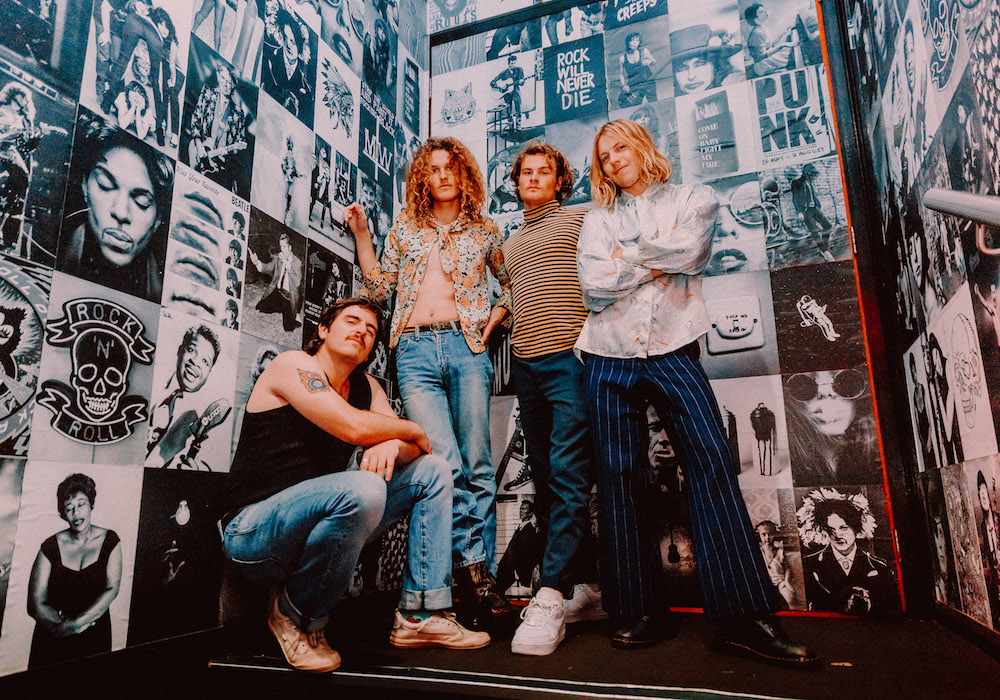 Following on from their well-received single 'My Hero', Kiama-based indie-rock quartet Pacific Avenue have just revealed their authentic new single 'Easy Love' – produced and mixed by Jack Nigro (TOTTY, The Sea Gypsies, Vacations), and mastered by Leon Zervos (The Jungle Giants, Amy Shark, Holy Holy). We sat down with the band to find out more around their inspiration, the story behind the Easy Love video and more!
Congratulations on the new track 'Easy Love'. Where did you draw inspiration from?
Thanks so much! 'Easy Love' drew inspiration from the feeling of falling for a lovely lady effortlessly. Whilst love can be an entirely complicated mess; it's also the easiest thing we do. Running into someone, unexpectedly at that, and finding that you don't need to try to be anyone but yourself is a very sweet thing and is something worth holding on to. "It's hard getting things right, but it's easy lovin' you". Regardless of who you are, your sexual preference, or who you identify as, love is love, and that's what we hope to convey through the song and the video clip.
You guys are from Kiama on the south coast of NSW. How did you all meet?
Living together in the small community, mutual friends and interests all drew us together to create a band that infused the sound of past rock and roll ballads with modern Indie rock tones. Dom and Ben lived 50 metres apart from each other growing up, and often they could hear each other jamming when the southerly blew. This union seemed to happen quite naturally, and soon after, Harry and Jack were recruited through chatting in the surf and bumping into each other at local gigs. When we all jammed together, it felt like we instantly gelled, and we booked some studio time as fast as we could to get our first singles as 'Pacific Avenue' (The name of the street down from Ben's place) out.
In the early days of forming Pacific Avenue in 2017, Harry, Dom and Jack all moved out for the first time into a little seaside shack in the Wollongong suburb of Woonona. During this time, the band created a strong bond and grew inspiration for their songwriting as they began to experience their 'coming of age' and the intense emotions that came along with it.
As we developed from these early days, so did our music, with themes touching more on worldly issues than partying and young love. Our sound has drawn greater influence from the rock classics with the aim to start a rock and roll revolution.
You will be releasing an accompanying music video with the track; what's the story behind the music video?
The clip is a series of videos shot in different settings which show love in different shapes and forms. 'Young love' is portrayed with a female couple of ours, frolicking and drinking by the pool. 'Brotherly love' is shown with four boys cruising around in our friends vintage Pontiac on an adventure. 'Friendship' is shown with all the boys performing a random act of kindness to different people in the local community. The whole aim of the clip was to show how love has no limits and can be found in many different ways.
With this clip, we linked up with a local videographer and creative Tasman Wilson (Bass player for Ruby Feild's and Adam Newling) to bring this idea to life. Tas filmed the whole clip on 16mm film, which gave a unique and special feel to the clip as most shots had to be done first. Therefore, a lot of thought and work would go into the shots as lighting and movement had to be spot on due to the limited amount of film. Although it was quite a meticulous process, we managed to film most of the clip in one day, starting at 5 am and ending at midnight. Safe to say, we were exhausted by the end.
Whereabouts was the video shot, and why did you choose this particular location?
The clip for this release was shot predominantly around our local area of Kiama. We tried to incorporate this area as it is special to us and where we all experienced love in such abundance growing up. The 'Prom' and pool scene in the clip was shot at filmmaker Tas' house in Stanwell Tops.
In the 'pool' scene, Tas improvised an in-water shoot by balancing his camera on an old boogie board. There were only 10 seconds of film left on the camera so there could be no mistakes. Fortunately, all went to plan, and the camera and roll of footage were not lost to the water.
You have some shows coming up starting next month. Where can we catch a Pacific Avenue show?
We are embarking on our first national tour to celebrate 'Easy Love', stopping in at Adelaide, Perth, Melbourne, Sydney and Brisbane.
We will be playing:
Grace Emily Hotel Adelaide on the 28th of May
The Naval Store Fremantle on the 29th of May
Northcote Social Club Melbourne on the 4th of June
The West Room Brisbane on the 18th of June
Oxford Art Factory Sydney on the 2nd of July
Come have a dance!
What has been your best memory as a band so far?
One of the best memories would have to be playing Lost Paradise festival on the Central Coast over new years 2018/2019. Throughout the festival, it was bloody hot, with temperatures reaching 40 degrees most days. When we played at around 2 pm on the festival's final day, some clouds came over, and it started to rain lightly. Everyone came out of the shade and began to dance in the rain, right as we played a cover of Powderfinger's 'My Happiness'. There was a moment I remember when we all looked at each other with huge beaming smiles. This was one of our first festivals too, which just made it such a memorable experience.
Can we expect some more music from Pacific Avenue soon?
We have been super busy in the studio through covid with producer Jack Nigro at The Grove Studios. We have managed to put together our first album, which we hope to have out entirely by the end of 2021! Stay tuned for lots more Pac Ave.
PACIFIC AVENUE
'EASY LOVE' AUSTRALIAN TOUR
FRI 28 MAY | GRAVE EMILY HOTEL, ADELAIDE SA
SAT 29 MAY | MOJO'S BAR, FREMANTLE WA
FRI 4 JUN | HOWLER, MELBOURNE VIC
FRI 18 JUN | WEST ROOM, BRISBANE QLD
FRI 2 JUL | OXFORD ARTS, SYDNEY NSW