Interview: Patty Walters from As It Is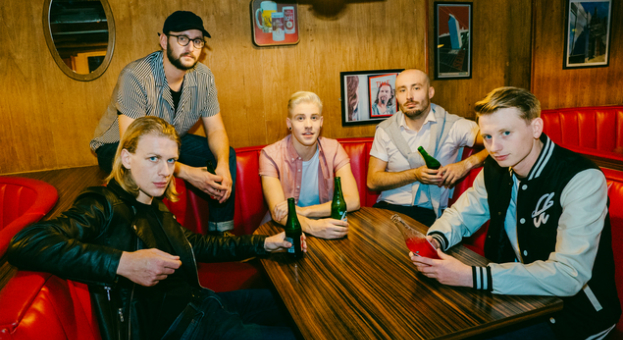 If New Found Glory and All Time Low had a love child the result would be transatlantic punk rockers As It Is. Since their conception in 2012, the quintet has gained an international posse of devout fans, won over by catchy electric-charged melodies and honest, relatable lyrics. As the release date of sophomore album 'Okay' draws near, we caught up with bleach-blonde, blue-eyed frontman Patty Walters who gave us a behind-the-scenes insight into their latest morsel and revealed why he can't wait for their Oz tour next year!
Hi Patty! What is the band up to at the moment? 
It's been magical! All five of us have been doing as much nothing as humanly possible. We've had a busy year writing the record, recording the record and then we did a pretty full on two-month tour of the UK and North America so now we have about two months off before the record comes out.
Then we tour Japan and Australia in January and February. From that moment on we pretty much tour indefinitely. We will be on the road and live in a van, all that kind of stuff, so we're just enjoying our beds and showers and being at home.
Congratulations on the new album 'Okay', did you make a conscious decision from the start to share more personal stories this time or did it just turn out that way? 
Yeah, we did. We did make a conscious effort to be a lot more honest, a lot more personal and a lot more vulnerable. As much as we are still proud of the lyrics of (debut album) 'Never Happy, Ever After,' we looked back on it and knew we could've been more personal and the only way to be more personal is to push beyond your comfort zone. To write something truly vulnerable, something you have to doubt whether you want the rest of the world to hear.
Sharing these experiences with each other and then in turn with the rest of the world was pretty nerve wracking. It made us feel like we were doing the right thing, to really push ourselves in that way and to write about our families, our lives, and ourselves in ways we never had before.
The overall message "it's okay not to be okay" is such a reassuring mantra, especially to teens still finding themselves. Have you had fans come up to you and expressed how these first singles have impacted them? 
Yes, certainly. We see it mostly on social media. On Twitter and Instagram we see all the comments about what the songs mean for people and how it's relevant to them individually, which is super humbling and exciting to see. I think the thing you always risk when you write more personally is they become less general. The songs are very unique to the five people in this band. People might not relate to them in the same way I do but that people are relating to these songs at all is super amazing to hear.
We think the message "it's okay to not be okay" is super important and something that doesn't get conveyed loudly and clearly enough. Especially when you're younger but also in any age, you have this spotlight on you and you're still acutely aware of your every insecurity and imperfection. From your perspective the rest of the world is so composed, confident and functional but nobody is perfect and nobody is okay one hundred percent of the time.
We're all feeling and we're all struggling and we're all getting better and getting worse and then getting better again. So yeah, we wanted to be as vulnerable and personal so you didn't have to wonder if we've got it all figured out. These songs are living proof that we're just like everybody else.
Musically, how does 'Okay' compare to 'Never Happy, Ever After'?
I think it's noticeably different but at the same time it will hopefully not leave people feeling like it's not an As It Is record. It's us still being true as musicians and as a band but a lot of these songs would sound hugely out of place in our last record. I think it's because we banned the phrase "that doesn't sound like an As It Is song". We've embraced writing differently and embraced our different influences.
What were some of the influences?
We five people have super different backgrounds. We didn't know each other before we started this band. Our common interest was "lets start a band" and "This is who we like".
I'm into stuff like Owl City, Lights, and CHVRCHES… all these kinds of bands that are super snyth-pop heavy. As much as you won't hear it on this record, a lot of the tracks and ideas were formed first as… not dance songs but as synth-pop songs and electro-pop songs.
Our bassist Ali is into bands like the Red Hot Chili Peppers. You may or may not hear these influences directly but it inspired a lot of the experimental stuff on the record. It's coming from all five of us, from what we were listening to when writing this record. It wasn't necessarily represented in our music previously.
How did the recording process compare to last time?
It was interesting. We worked with a producer named Mike Green, who was amazing. We've admired the records he's produced and the songs he's co-written for quite a long time so to work closely with him was hugely exciting and beneficial for us. I think we all felt like he better shaped the songs we brought into the studio.
We co-wrote three, maybe four songs in the studio with Mike and it was super new for us. We've never written in the studio and we've never torn apart a song to that extent. It was pretty nerve wracking at first but we also embraced it. I think a lot of the songs we wrote with Mike are going to be some of our favourites on the record. It was super different but really exciting to work that way.
Your latest single No Way Out is something we can all relate to. Was there a specific event or experience which inspired the song? 
I suppose, I mean I spent the majority of 2016 not feeling a lot like myself. Most days I was struggling and dealing with everything very internally. I wasn't letting a lot of people in so there was no escape from my head. It became this prison I was dwelling in. That's what inspired it but every person brought their own different background to what the song meant to them and it became this amalgamation of everybody's struggles. For me, I just felt like I couldn't escape because we were perpetually on tour and when we were home it wasn't long enough for me to figure myself out.
The bridge has a big spoken word section. We wrote that riff and we knew musically it was so dark and aggressive it needed a vocal to channel it and it was my idea but I didn't tell anybody. I went to my bedroom for the rest of the night and wrote these words and the first thing next morning I was just screaming into the microphone into my laptop and tracking it. Luckily everybody likes it and we thought yeah, this is bold, brave and something we'd never done before. It worked so we left it in. That's how that came to be.
The cover artwork is fantastic! What is the story behind it? 
The whole concept behind the 1960's imagery and aesthetic is a way of representing the music we've written not just for this record but have always written, which is positive, major and uplifting but our lyrics have always been sinister, pessimistic and quite dark.
In the 1950 there was this huge duality, polarising emotions and conflict where everybody walks around trying to sell you optimism and happiness because everybody was so afraid at the time. It's an interesting comedy correlation that generation has to this current generation with the politicians we have and social media being this mask, like a way of hiding who we really are. It's all very interesting how much it correlates to the modern day, but also the image and concept is just a way of representing our music we thought was interesting and cool.
We're all really excited to hear you're coming to Australia next year! What can fans expect from the shows? 
They can expect a whole lot of new songs, which is going to be extremely exciting. This tour is going to be the first time we've played some of these songs. We honestly can't wait! We're waiting to see what songs are the fan favourites and what we should play live. Equally, we love playing in Australia! The fans, the energy and the shows last time were so amazing. Honestly, we're hugely looking forward to coming back so we can have a very, very good time again. It's all super humbling and super surreal! 
Where would you like to take the band in the next few years?
What was extremely cool about how we wrote this record was really liberating ourselves to write anything, like anything to bring to the table. It kind of eliminates the need for any of us to have a side project at this point, I mean I certainly don't feel this way. I'm just looking forward to continuing this kind of work ethic and really just writing what fulfils us because we can't live and breathe pop punk music. We'd really like to embrace everything else too.
Of course when you're in a band you want to reach as many people as possible, but already we have so many more people behind us than we ever expected since Day 1. If this is where we peak I will also be okay with that as long as we can continue writing songs which mean something to us and perform them for people that equally mean something to them. It's all I care about. Hopefully we'll still be going strong in however many years time from now.
As It Is' sophomore album 'Okay' is set for release on 20th of January 2017.
As It Is 2017 Oz Tour Dates
TUE 31 JAN
YMCA HQ, Perth
WED 1 FEB
Rosemount Hotel, Perth
THU 2 FEB
The Brightside, Brisbane
FRI 3 FEB
The Lab, Brisbane
SAT 4 FEB
The Lair, Sydney
SUN 5 FEB
The Lair, Sydney
TUE 7 FEB
Drone, Newcastle
FRI 10 FEB
The Evelyn Hotel, Melbourne
SAT 11 FEB
The Evelyn Hotel, Melbourne
SUN 12 FEB
Fowler's Live, Adelaide
Get Tickets HERE