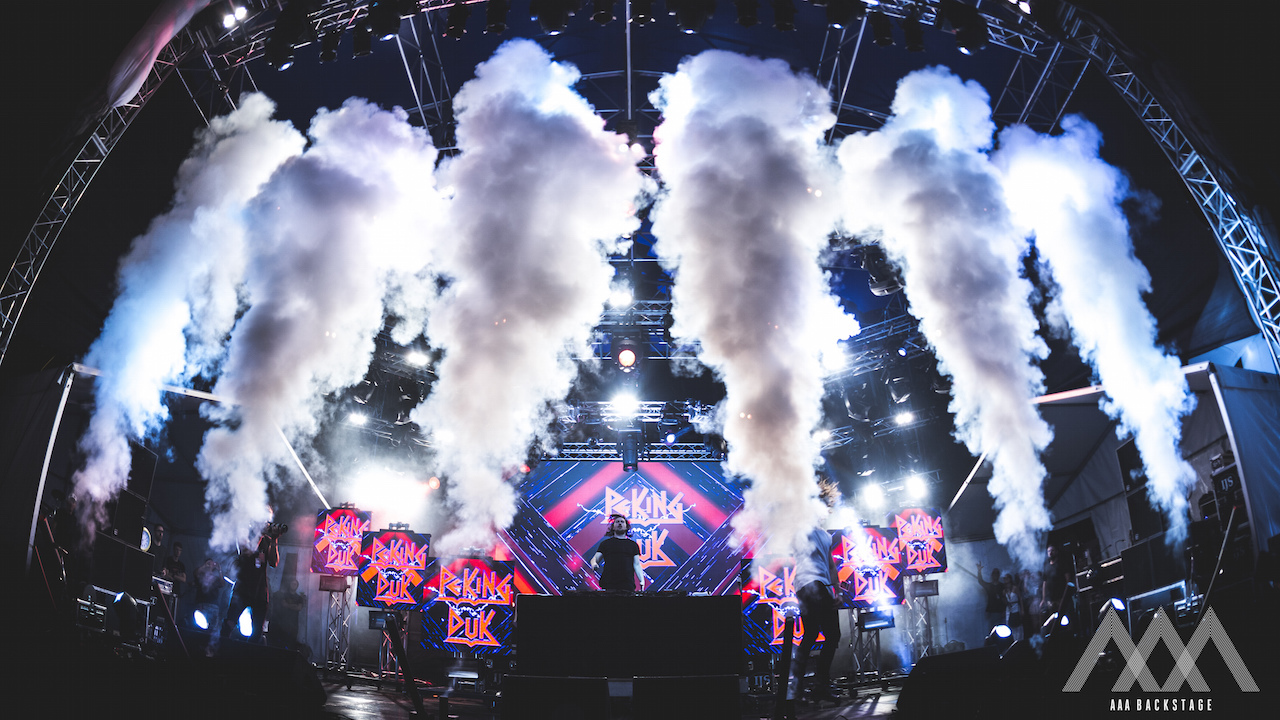 After blowing everyone away with their incredible new live set at Splendour In The Grass, there's been no slowing down Peking Duk. With their newly released single Let You Down, four ARIA nominations and an even bigger live set in the works, Adam and Ruben had a chat with us about spilling orange juice on Icona Pop's bags, writing on Pete Townsend's boat and taking a stab at singing on their own tracks.
It's been a busy few weeks for you guys, how has everything been going?
Ruben: It has, it's been pretty good though. We've just been rehearsing relentlessly because this live show we're putting together, so we're performing that at The Grass Is Greener shows in Cairns and Mackay. It's off the back of our Splendour show, trying to recreate that and add even more new music to the set. So that means we have to learn how to fully play everything that we've created in a live scenario. 
I saw your set at Splendour, and it was so different to what your old show, but it sounds like now it's going to be stepped up even more.
Ruben: Yeah, Splendour was the one to kick this all off. It was a great way to jump into the deep end and do something that we were super uncomfortable with. We thought we wouldn't be ready in time, and we the few days leading up to it we started really stressing; we really wish we had a few extra days of rehearsals, but it's the way to do it; just go out and give it a shot. But the reception has been amazing, and a lot of media and news articles were acknowledging it, which made us feel like we did the right thing. So we're going to continue to do that further and hopefully make it even better.
You've just put out your new single Let You Down with Icona Pop, how did the collaboration come about?
Adam: It started in London, we actually wrote the song on Pete Townsend's boat, and we write the tune, and then for the chorus and hook we wanted a really chanty vocal.
Ruben: The first thing we thought of was how cool it would be if Icona Pop was down to sing on this. We reached out, thinking it would be a stab in the dark, and they sent something back with their vocals for the chorus and it like putting the last piece of a jigsaw in place. It clicked and just felt perfect.
Had you guys ever had any contact with them before of was this the first time when you initially reached out?
Ruben: We had, at the Winter Music Conference in Miami in 2013 we played at a party, and when it was over we jumped on a flight to LA, and I ended up spiling orange juice all over the person sitting next to me; we didn't know who it was at this stage. It was the most embarrassing thing in the world. So I said, "I'm so sorry, we haven't slept, we're so salty from last night," and they just laughed and went, "it's ok we can see you're in the same boat as us." And they told us they were at this party the night before watching two DJ's play, and we were like, "that was us!" So we told them they kind of looked like they were in a band, and they told us they were Icona Pop, and my heart just sank, I was so embarrassed. I'd just spilled orange juice over Icona Pop's bags, but it was all good, we laughed it off. Then we bumped into them about a year ago in Sweden at Northbound Studios; we were working in a room next to them, so we went and said hey and they told us we should get them on one of our songs. Then a week later when we were on Pete Townsend's boat like Adam said, we made Let You Down and the rest is history.
What were you doing on his boat, were you just hanging out or were you specifically there to work?
Ruben: It's actually got a studio on it that you can rent out, and as soon as we heard about it we knew we had to spend a few days on it.
The song takes inspiration from the movie Candy, is that right?
Ruben: Yeah that's right. 
Was there any particular reason you took inspiration from that?
Ruben: Because the melodies we had were such happy, bubbly sounds we thought it would be a really cool contrast if the lyrics were quite dark and sad.
Adam: I think it can also be really open to interpretation. I'm sure there's so many people out there who have been in relationships where you know that it's not going to pan out too well, but you continue with it. It's kind of like a confession in the song, saying run away now if something's not good for you because it's just going to let you down.
Ruben: Even just with everyday life, like when Adam and I both worked in cafes, I remember my boss was like, "you should leave so you can do your own thing and pursue your music, because this job is just going to hold you back."
Adam you sing on this song too, when did you guys make the decision to use your own vocals?
Adam: Well I did a scratch vocal on the demo of the song just as kind of a place holder, then we were looking for feature vocalists to redo it, but searching for feature vocalists can be a real pain in the ass. So we were like why don't we just roll with what we've got there already, so I recut it and we stuck with it. It's not trying to be too sing-songy, I'm kind of more just saying the lyrics and I think that seems to have resonated with a few people, which is always a cool thing to hear.
Ruben: None of the feature options ended up being able to replicate the naturalness of the way Adam recorded the lyrics, kind of like you're being spoken to in a way, which he had in the bag to a tee.
Do you sing on any tracks Ruben?
Ruben: I've got some backing vocals in an upcoming song, but I'm trying not to think about that. I guess we've got a lot of our own scratch vocals on a bunch of demos, and it's always hard trying to find someone to sing something that's already written. A lot of the time we'll get carried away writing and we don't leave anything for the feature artist, but sometimes that's a good problem to have; sometimes it's not.
Does this mean you'll be singing in your live show now too?
Adam: It does indeed. I've been singing Let You Down live, and there's another song we've got coming up that I've got vocals on, then Ruben has the backing vocals which he spoke about that we've been performing live, which has been so much fun.
Is it a strange feeling singing on stage now?
Adam: It's kind of funny, at Splendour I shit myself when I walked out to tens of thousands of people with a guitar around my neck; it felt so weird. But as soon as I started playing it was all jiggy, and it was the exact same thing with singing last weekend, which was the first time I'd ever done it. It was so scary at first, but I got really into it and it was so much fun.
From the crowds perspective the show has such a different vibe now that you're adding in instruments and different elements.
Adam: Yeah we're pretty much doing the whole show live now. Ruben's on bass and keys and samplers, then I'm on guitar, a drum machine and samplers. We've got a live drummer too and now that we're doing vocals we'll have more guest vocalists. So pretty much all that's on the backing track is just little blip and blobs that are in the songs that can't be done love because we don't have ten arms.
Ruben: Yeah just stuff like white noise and a bunch of random little noises.
You've been nominated for four ARIAs; it must feel pretty good to get that recognition.
Adam: Yeah, we're so stoked.
Ruben: It's the best feeling ever. The most nominations we've had before is two, so this year we've doubled it, so it is just crazy.