Interview: Phil Knight from Shihad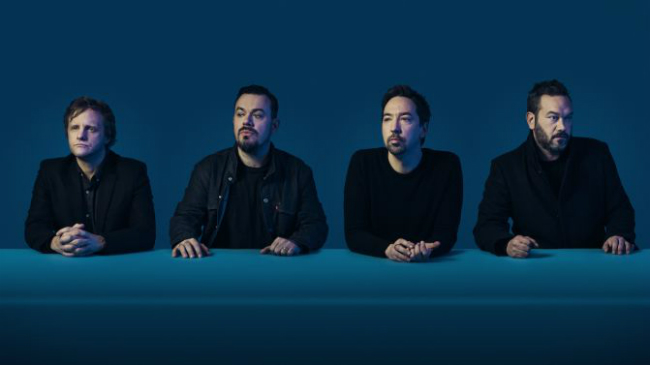 One of New Zealand's greatest exports (along with lamb and Lord Of The Rings), Shihad are celebrating the 20th anniversary of their killer breakthrough self-titled album with an Aussie tour and a remastered version of the album. Despite rocking hard around the globe since 1988 Shihad are still kicking on strong. We had a yarn to the band's guitarist Phil Knight about their history, modern issues in society, and kids being addicted to iPads!
So it's the 20th anniversary of your hit self-titled album (also known as 'The Fish Album'). Over the past 20 years what's been your favourite release?
That's a hard one, it's sort of like trying to pick your favourite child! I think different albums for different reasons. Well 'The Fish Album' has Home Again on it which is such a big song for us, in Australia to a certain extent and definitely in New Zealand. That's a very important song for the band, we play that at every show. In New Zealand it's almost like the unofficial national anthem!
I think 'General Electric' is when we really hit a solid body of songs, it's when we had our first big North American producer and studio and professionals involved, and that was a big step for us. And then 'The Fish Album' being the third album, like the first two 'Churn' and 'Killjoy' were both very heavy albums and we recorded them quite quickly, just one or two weeks for each album. So we had a bit more support from record labels and there was a bit more cash flowing around, so we managed to stay in the studio for five to six weeks. It was the first album where we had an official marijuana budget!
So we sort of wrote half of the album before we got in there, but we were allowed to lounge around the studio and write the other half of the album. So it allowed us to do more experimenting and I think in a lot of ways it's a bit of a softer, more indie sounding production and album than the previous two. We tried some things on it that worked, and some other things that didn't work so well, so it was an important step for us. It had some great seminal songs like La La Land and Ghost From The Past and Home Again, and an important step to get to the fourth album 'The General Electric'.
Over the years your songs and albums they've focused on political issues and social injustices. What's your thoughts on the world's state at the moment?
Oh goodness (laughs), that's a big question! Well we've got this election coming up and there's apathy out there as far as the politicians and voting for these politicians is concerned. I mean, there's a lot of shit going down, we're human beings and our human nature is flawed to a certain extent. There's always been war and there's always been injustice. But when you look at the big picture of this, I know it's getting tough for people and the economy is contracting a bit here and people in the lower segments of the socioeconomics are really starting to suffer.
We just had some new crime statistics here in Victoria, and domestic violence is on the rise. Certain benefits are being cancelled for the lower income families, and it starts to hurt people and things can start getting ugly at home for these people that are struggling. But if you look at the overall picture, less people have died in wars, even when you factor in Syria and all these terrorist attacks and everything that makes the headlines. It's horrible when people are directly affected by this stuff, but we haven't had a major world war this century and it's actually less violent then it was.
You have the news cycle and their motto is "If it bleeds, it leads", so of course all the attacks are going to lead the news and it plays into the political agenda as well. And they're going to use this stuff and nationalism for their own economics pursuits. That's sort of my view on it.
On to a lighter note, you guys hold the spot for the most #1 albums for a New Zealand artist. How does it feel to be so iconic for your nation?
I mean I'm very honoured, very blessed, very humbled and personally I feel very lucky to be part of this band, very lucky that I met up with John and Tom and then Karl Joined later on. They're three amazingly talented musicians and writers, John's an amazing writer and everything.
But also we've just stuck at it through thick and thin, through managers dying and divorces and long term relationships dissolving because we've been on the road, and we've made all those sacrifices and just stuck at it. There's talent there but the other side of the coin is that we've just kept going and we've really put everything into it. I mean, I feel that we deserve it, but I also feel very lucky and very blessed.
You guys in early May did three shows in one day, how did that go?
(Laughs) Oh that was excellent! I mean, it was a massive logistical affair and it was a real team effort for everyone involved, not just the four of us in the band. Our agent (Peter Campbell) had planned it, and the road crew had to do just as much work, if not more work than us really. They had to get to the airport before us and get all the gear on the plane and get to the next place and set up the gear, and we just sort of lounged in after having a few coffees and played the show. Then they'd have to pack up everything and rush off to the plane and check everything in, then we'd come later.
It was hard, I didn't have to sing, well a little bit, but I didn't have to sing lead vocals. I think John did very well, Tom did very well as the drummer, having to play drums three times a day like that, but he's really fit at the moment which is really good. I loved it, really enjoyed it. I'd love to do something like that, maybe if it was possible, to do it in Australia, that would be excellent. Just need to find someone to pay for it (laughs).
Yeah that's be cool! Are you looking forward to coming back to Australia with a milestone tour like this?
Yeah totally! Three of us live in Australia, in Melbourne. The day before we leave before we leave for WA we'll probably run through the set a couple of times. But we've been in the rehearsal studio for the last week and we've just been writing, just jamming new riffs and stuff which has been really cool. We're really excited!
We're sort of going to do the set we did in New Zealand on those three shows in one day, but then just add heaps more hits into it. We're playing a lot of the stuff off 'The Fish Album' and then stuff off 'FVEY' and then all the other hits off the other seven albums.
Sounds good! So there's heaps of bands at the moment that are trying to break through, especially in your genre. What's some advice you can give as a successful long term band?
Well you've just gotta stick at it and everyone in the band's gotta be fully committed to the lifestyle. If not then you should try and do something else, and find people that are more appropriate. You just gotta keep working, just get out there and play as much as you can, get on the road as much as you can to play. You can sit in the practice room as much as you like and rehearse, but the real way that you learn to become a kick ass live band is by getting out there and playing. Just play everywhere that you can, even if it's just house parties and shit, just get out there and do it!
As far as writing music and stuff just make sure you record everything you do when you're jamming, just whatever recording set-up you have even if it's your iPhone, just record everything so you can come back to it. If you're not so hot at the time, you might come back and hear something different. We just make sure we leave the recording light on all the time when we're jamming. And you just jam and get it out and move on, come back to it later and listen to it and you might go "wow that was great!"
You just gotta stick at it. It's so different to when we started, you can get your shit out there on Facebook, YouTube, everything. You can just get it out there and if it connects with people then its gonna take off. You don't really make money from CD sales these days, there's everything else if you've got a song that's taken off. There's publishing synchronisation, merchandise, and when you do get a decent crowd to your shows, making money from touring, that's where we make most of our money from.
Lastly, I found out you have a podcast called 'What's Phil Worried About Today'. So on this day, what are you worried about?
What am I worried about today? Let's see (laughs), my son's a little bit sick but he's getting better, he's on antibiotics at the moment. I'm worried about going back inside, I'm sitting in my car because it's nice and quiet in here. When I walked out of the house earlier my two little boys were fighting over the iPod (laughs), because the two iPads that they use are charging. I'm worried about them getting addicted to iPad's and iPhone's because it's just like crack to them (laughs).
I know we're all addicted to our computer's and iPhone's and iPad's but with kids it's hard to keep it off them because it just keeps the nice and quiet and you can do and do what you want with your time. But really it's like crack or speed, because you take it away from them and they just explode. So that's what I'm worried about today.
Shihad 2016 Australian Tour
Supported by Grenadiers & Storyside
THUR 23 JUNE
Settlers Tavern, Margaret River
FRI 24 JUNE
Rosemount Hotel, Perth
SAT 25 JUNE
Rosemount Hotel, Perth
SUN 26 JUNE
Newport Hotel, Fremantle
FRI 1 JULY
The Triffid, Brisbane
SAT 2 JULY
Pigsty In July, Hunter Valley
FRI 15 JULY
The Factory, Sydney
SAT 16 JULY
The Croxton, Melbourne
Get Tickets HERE