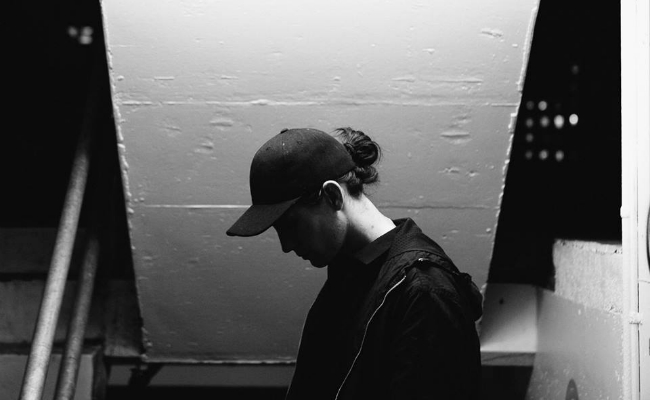 Mysterious Melbourne beat-maker Running Touch is turning plenty of heads with the deep booming production in his latest single Levitate (It's All Too Perfect). We asked the rising producer about the inspirations behind his music and why you should catch him live on his upcoming tour!
For the uninitiated, how would you describe Running Touch's sound and live shows?
Manic and getting ever more so, and sound wise I'd say progressive.
We're loving your new single, Levitate (It's All Too Perfect), what's the story behind the track?
It's about obsession. I've written a lot more graphic, experimental and sexual material along the same lines that nearly filtered into this. But this seemed like the appropriate amount of explicitness for the time being.
People talk about the glossy cover of love and wanting to be in love. People talk about sex, but you don't really hear about the subjective weirdness of people's obsession in between. That interests me. Weirdness is fascinating.
Both Courtesy Of and Levitate (It's All Too Perfect) bring together very interesting and diverse sounds. Who are your biggest musical influences, both within the electronic music world, and in the broader musical sphere?
Thanks! I like to think of it like conveying my live set. It's ever changing. Anyone who's introduced or added to a chapter in music. So many inspire me electronically, it's just too hard to narrow down. Caribou, Chrome sparks, Disclosure, SG Lewis, and Jamie xx are a few that come to mind.
But on a more relevant note for me, artists like Michael Jackson, Kendrick, Death Grips, and Nirvana are people who have completely altered the way I approach music.
You're heading out on tour along the east coast to celebrate the new track, how will you be bringing you music to life in your sets?
I'm constantly building my set, continuously introducing more abstract and creative elements. So expect more instruments, hopefully using those instruments in ways there not supposed to be used and a lot of dancing.
You're playing a set at Splendour In The Grass, as well as having played Groovin The Moo and Beyond the Valley. How do the festival sets differ from your smaller club shows?

It's more of a showcase I think, for where I'm at the moment anyway. A lot of people aren't familiar with my project, so when you're gifted with a festival opportunity it's more so about conveying your best and most
reliable performance. Where as at clubs, I tend to be a lot more interpretive and improvisational.
If you weren't a producer, what career path would you see yourself going down?
I would probably still be in the band I was in before this (and still am). Otherwise, I probably would have done something in the medical field. I was in that vein of study in university.
Which other musician would you swap identity with for one day, remembering that they get to run around as you, too?

It would have to be Kanye right? Try and digest how the f*ck he perceives life. I could post myself a sh*t tonne of Yeezy gear and also airdrop all the private West household Kimmy K nudes to myself.
What are three things that your fans should know before they catch you live?
1. No, I'm not having seizure, I just dance weird.
2. I usually jump 20 BPM from start to finish.
3. There's never been a show where I don't try and outdo myself. If you're there, know you're getting my best!
Running Touch East Coast Tour
THURS 8 SEP
*Secret Location*, Brisbane
FRI 9 SEP
Oxford Art Factory, Sydney
SAT 10 SEP
The Workers Club, Melbourne