Interview: Ryan Nebauer from Neighbour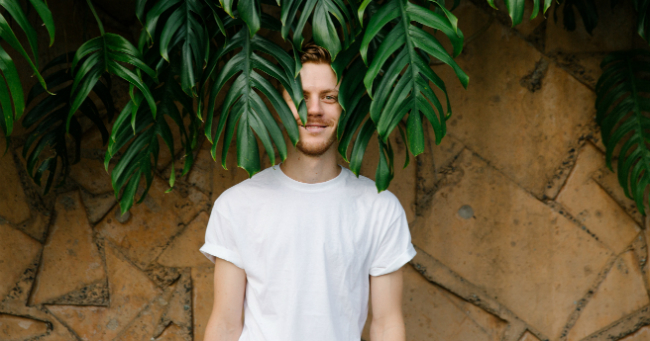 The charismatic frontman of pop-folk band Neighbour, Brisbane native Ryan Nebauer has been busy playing shows around his hometown and experimenting with new music. We got to pick his brain about his plans for a new musical project, pushing the boundaries, and filming music videos in laundromats.
How long were you working on your new single Space Camp, and what was the recording process like?
I had it as a piano ballad for three months with intentions to release it that way. I came across a few synth patches I really liked with the song and it was then a process of several weeks to allow myself to use them on the track.
When you're writing new music, what's your creative process?
I'll usually start off with a chord progression that I'll put through the wash, meaning I'll try it on every instrument I can in different time signatures and tempos until I eventually come back to realise the original idea was the best. Then I'll patiently wait around for some kind of crisis to happen in my life so I can round it off with some genuinely despairing lyrics. I wish I was better at writing memorable happy songs, I have great respect for people who can.
You started Neighbour so that you could have "flexibility beyond being put into a genre box". What influenced you to want to escape genre definition?
I don't like the idea that an artist's first release or the type of lineup the band is will forever set the premise of the content that is released. I was in a rock band for seven years, I loved it but I hated how that was pretty much all we could ever do. I want to be able to play solo and band shows. Write acoustic, rock and electronic tunes. Give me all the options, dammit!
Which other artists have inspired you musically?
Paul Dempsey, Metronomy and Big Scary mainly, but right now I'm really into Hein Cooper and Brisbane band Zefereli.  
How long did it take for you to develop your own sound and style?
We're still working on it. Every now and then I hear little hints of what is our "sound". They are becoming more frequent and defined but to get it down to a truly recognisable trademark will take a little longer.
How would you describe the music, like Space Camp, that you're releasing now?
I think at the heart of it all, new songs need to be able to be played from start to finish on acoustic guitar and still have me interested, so that makes all the songs fairly progressive pop songs. The newest four tunes I've penned are much more band-focused though, so I feel like that will make a positive addition to the live show.
How does playing solo as Neighbour compare to with playing with a band, and what do you prefer?
I actually enjoy them as much as each other. It's two completely different purchase products that an audience can get. I feel it makes for more of an [incentive] to catch a show, and hopefully catches the eyes of a wider target audience.
You've played some intimate house shows as well as performance venues, what prompted the decision to do that?
Like any performer, I love the energy of a packed venue, but playing intimate and unconventional spaces can break down so many barriers between the performer and the audience. They are suddenly a part of the performance rather than just being witnesses.
What's on the set list for the single launch? Can we still expect to hear some old-school, acoustic Neighbour songs?
Yeah, definitely! I still love playing those songs as much as I ever have. There's a couple of new mellow acoustic tunes I'm keen to test out too.
You shot a live performance video for Harmonic  in Brisbane's Orange Sky Laundry facilities. How did the idea for that combination come about?
Orange Sky have released a couple of live videos as part of their promo and it's a great arrangement for both parties. They can deliver their audience with fresh content containing local artists performing original material and the artists get exposed to a new group of people who are excited to support humble people using their talents for positive change.
What should people know about Orange Sky Laundry?
Orange Sky deliver an innovative laundry service for the homeless and people in need. They've seen a need in our local community and filled the gap with a load of love, creativity and hard work. Truly inspirational people!
Catch Ryan on his Space Camp single launch tour in June! 
Space Camp Single Launch Tour Dates 
THU 2 JUN
Beach Hotel, Byron Bay
FRI 3 JUN
The Pier, Port Macquarie
SAT 4 JUN
Vic on the Park, Sydney
SAT 11 JUN
Nightquarter, Gold Coast
THU 16 JUN
Black Bear Lodge, Brisbane
Get Tickets HERE