Interview: Second Idol Chat About Their Latest Single, 'White Noise', Inspirations + MORE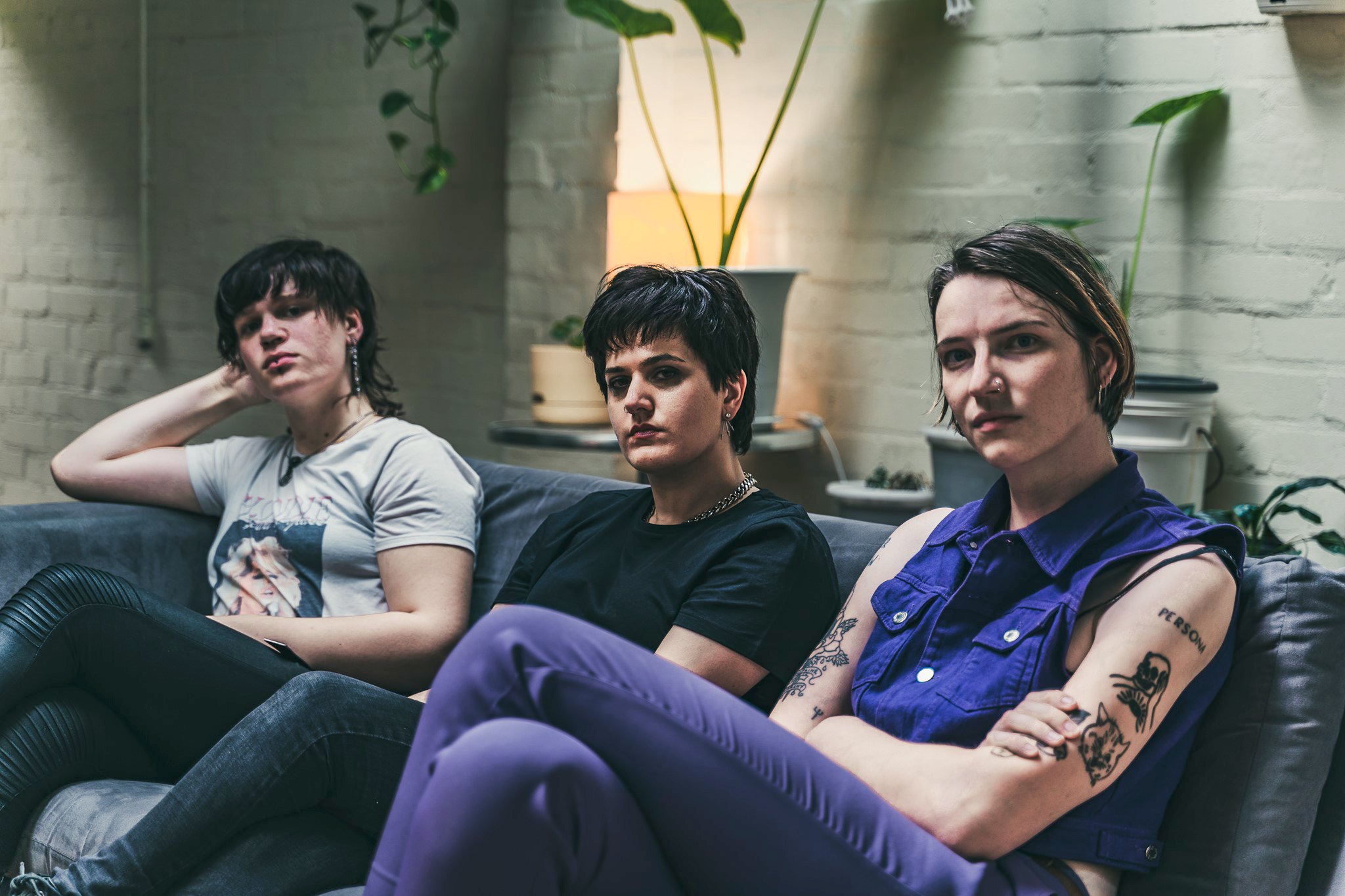 Sydney-based alternative-rock trio Second Idol have just revealed their fervent debut single 'White Noise' – mixed and mastered by Nick Franklin (Peking Duk, Polish Club, Clews). We sat down for a chat with Kate, Maxine and Theia to find out more about them and their sound.
Congratulations on the new release 'White Noise'! What's the story behind the track?
Kate: 'White Noise' is a contemplation of body politics, women's bodies and misogyny. It emerged out of my observations and feelings of frustration and anger when I kept coming across comments often made by cis men on social media regarding the policing of women and gender-non-conforming bodies.
It was born out of how I feel towards people who seemed to think that they have a better idea of what's right for an individual's body and wellbeing, despite it being none of their business. 'White Noise' is a reaction to this constant background noise that women and gender diverse individuals are faced with regarding their body autonomy.
The lyrics are written in a way that I imagine that I've been having a conversation with someone in a bar, and I'm calling them out on their misinformed views and telling them to step outside for a fistfight with me, but I just image myself sledgehammering them with guitar noise and leaving them with tinnitus.
Who are your biggest inspirations when it comes to creating your music?
Maxine: A lot of my inspirations as a lead guitarist are the more sort of abrasive discordant guitar heroes of the post-punk era; Keith Levene from Public Image Limited, Rowland S. Howard's work in The Birthday Party, Andy Gill from Gang of Four, John McGeoch etc.
Kate: My main influences stem from 80s-90s alt-rock. Brian Molko from Placebo was really formative to my singing and guitar playing, as well as encouraging power through vulnerability and otherness. I'm also inspired by powerful artists such as PJ Harvey, Alison Mosshart from The Kills and Chelsea Wolfe. Recently, bands like Fontaines DC, The Twilight Sad and Emma Ruth Rundle are really grabbing me through their combinations of poetic ruthlessness and barrages of noise balanced with delicacy.
Are you apart of any charity or community projects?
Kate: We're currently working with Sydney organisation Queer As Fvck who aim to support new and emerging queer musicians and artists. They're presenting our single launch at Frankie's Pizza, and we're also taking part in a Mardi Gras night they're putting on at MoshPit in Erskineville, with all profits going towards charity Twenty10 which supports LGBTQIA+ youth.
I've also been involved in supporting queer and mental health charity Baylin's Gift in my hometown of Kempsey on Dunghutti land on the Mid North Coast of NSW. Growing up queer in the country can be tough, and a couple of years ago I played a solo set for a pride event. It was an extremely special and significant event and to be visible in an environment that I struggled in as a teen.

How important is it to you to talk about issues facing women and the LGBTQIA community through your music?
Kate: Talking about women and queerness is always important as long as our bodies are political battlegrounds. Being queer is part of who I am, but that being said, when I sit down to write a song, it's not with the sole purpose of the subject matter and motivations for it coming into being due to being queer. I've experienced prejudice and negativity in relation to my gender, sexuality and cultural background, so I'm reflexively a supporter of minority groups and the pursuit of equality.
If anything, representation and the telling of positive stories are the most important and beneficial thing to the queer community and for women, which is why we're grateful to be supported by organisations such as Queer as Fvck and to bring some joy and catharsis into people's lives. Seeing people being their unapologetic and authentic selves is inspiring and empowering.
Maxine: We're all queer and outspoken about equality, empowerment and the prejudices we face both within the music scene and the world as a whole, but at the same time; we're just people who make music. It's not something that informs the way I play guitar or perform; I don't think about it at all. If anything, it just means I probably have more rage and anger to release than your average white bread straight boy band.
Theia: I've grown up with constant bad news about human rights and the environment and that's really galvanised a broadly intersectional set of beliefs. I think it's incredibly important that people learn to question their values on a regular basis and start realising we've got a lot of shit to do to keep this world healthy. Too many people fall through the cracks and we could be doing so much more to help them.
What can we expect from a Second Idol live show?                                  
Maxine: We have a reputation for our live shows being menacing and intense. I think the state of guitar-based music in the 21st century is pretty dire and blasé; soft twee indie or cookie-cut metal. I think if you're going to do "rock music" right now, when it's no longer a main part of the cultural zeitgeist, you really need to take it as far as it can go, as loud as it can go and really confront people with something that commands attention.
Kate: We're very unapologetic with our sound. We make music that we like and that is cathartic, and we tend to not follow trends and do our own thing. More challenging guitar-driven music isn't really in vogue right now so that could be seen as unpopular or unfashionable.
Our live sets are often described as being intense and very loud. I'm a self-confessed moody bitch and I will death stare you, but I still have a laugh and a lot of fun on stage, I'm not a total miserabilist! I'm pretty sure our guitars have been described as sounding like chainsaws and aeroplanes taking off. We'll take that as a compliment.