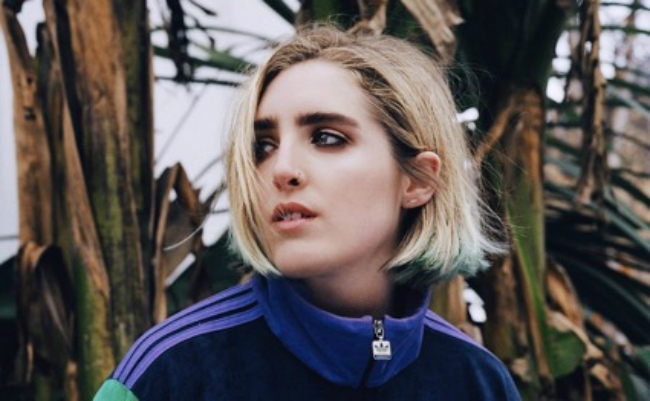 After playing support for CHVRCHES European tour, UK pop princess Shura is about to take to the stage at Glastonbury and Primavera Sound festivals. Shura has had a pretty massive year, with her debut single Touch earning over 25 million views on YouTube. She took some time out of her busy schedule to  chat about her upcoming debut album 'Nothing is Real', her longing to escape winter, and something very a-peeling!
Your single Touch has had over 30 millions plays, you've just played a sold-out hometown show at Shepards Bush Empire in London, and you were long listed for BBC's Sound Of 2015. How does it feel to have achieved something that amazing in such a short space of time?
It's really weird cause when you just listed it out like that I thought "Ooh, thats quite impressive", but when you're in it and you're living it, you don't really think about it like that. I don't think about it as a string of achievements. It's just figuring out what the next best step to take is.
So the next step would be your debut album 'Nothing is Real', are you nervous for your first album's release?
Definitely. I would say I'm more excited than nervous. It's been weird because I finished the record in January and handed in my homework to Universal. They tell me it's being released in July. People are like "I'm so excited, I want to hear it" and I'm like "I know! I really want you to hear it too!" and people ask why [they] have to wait, and then I tell them [I do too]! It's not just you guys!
We're really excited for it! Your album features songs you've written over two years in your bedroom. What would you like people to experience when they hear it?
I'm a very firm believer that people should be able to take what they want from the record. It was a challenge writing sad things which are sonically happy. For instance, the song Nothing is Real is about having a panic attack, but it makes you want to dance. I wanted to create a record that you could listen to at 2AM or 2PM.
You've got an interesting sound in the way of mixing electronic music and various live instruments. How did you go about discovering your sound?
I think over the course of the two years it really changed in the way I approached recording. Touch is very electronic apart from the analog synthesisers. As I grew as an artist and started playing live, I had to get a guitarist and a drummer. It just seemed crazy to me not to borrow elements of that. It was really exciting to do that.
You worked with Greg Kurstin, who's previously produced for Foster the People, Charli XCX, Sia, and Adele. How did that partnership come about and what is it like to learn from someone with that much experience?
It was really strange and I was really surprised that it happened. We had a telephone conversation before we worked together, [and] he said he was going to bring all these heavy metal samples (laughs).
We wrote some really great songs, but this meant that I ended up having to cut some songs off the record. It was a really hard thing to do because I really loved some of the things that got cut, but what is left is really good.
It would have been hard to cut such great music! Everyone here at AAA Backstage wants to know when we can expect Shura to come down under?
Shura wants to know this also! This Autumn, I'll be touring Europe and the UK so I'm hoping that after that's done I can head to Australia. I think it'll be in [Australian] summer. This means I get to avoid winter. If I could spend my whole life running away from winter then [I'd] be a really happy person (laughs).
Fortunately, it doesn't get too cold down here in winter, but our summers do get quite hot! Lastly, if you could be any kind of fruit, what would you be and why?
Fruit? I'd definitely want to be mango because it's just amazing! But I'd probably just be a banana, just because I'm so pale, like the inside of a banana. I'd really want to be something exotic like passionfruit or mango. I just realised I listed three fruits (laughs).
Shura's debut album 'Nothing Is Real' is set to drop on Friday 8th of July.