Interview: Sime Nugent from Sweet Jean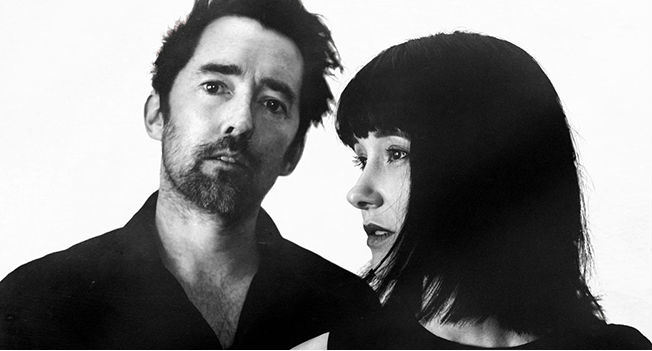 Sweet Jean are indie chameleons, first achieving acclaim for their indie-folk sound on their debut album 'Dear Departure'. Now the Melbourne pair have returned with their recently released sophomore album 'Monday To Friday', which sees them transitioning to a moodier indie-pop sound. We caught up with one half of the duo Sime Nugent to talk about their new album, changing sounds, and googling battling beasts.
Your new album 'Monday To Friday' is very different in sound to your previous releases, what led to this new direction?
Well, I think we just wanted to spread our wings a bit – nobody likes to be typecast. We like to keep people guessing.We started off playing really old, kind of gothic folk music. People were calling our last album indie-folk. We've been noticing people have been calling 'Monday To Friday' indie-pop because we left the banjo in the cupboard for it.
For the first album, we had a bunch of touchstones we were trying to fact-check. For this album, Alice, [producer John Castle], and I just followed our instincts. It came out sounding like a different kind of thing. A lot of the songs are quite layered.
We started building these sonic landscapes using electric guitar and vintage synths, then pushing the songs across the landscape, rather than sitting down with an acoustic guitar and strumming a few chords, and writing the first verse in a more linear approach. Things like that, which I think was a result of working in our home studio.
It sounds like a very different style of writing compared to the first record…
Yeah, I think so! On the first album we were writing a lot about other people, times, and places. This time, we wanted to keep it a lot more direct, not necessarily about ourselves, but about some of the things that are immediately around us. Over the course of the 18 months as we were writing it, it started to evolve with these big ideas and small ideas jammed up beside each other. There's a song on there about landing a spaceship on a comet, and there's a song about where to get a kebab at 2:30am on a Friday night.
All relatable things [laughs]…
I think that's the way our minds work a lot of the time. We're not sure if we're pointing to the moon or trying to hail a taxi. I think putting out multiple projects and evolving as a musician can only be a good thing. We're just following our instincts and trying not to sound the same all the time.
What kind of music was influencing you when you were making this album?
We were listening to things like The Velvet Underground. That's why the folk-people are sort of dropping the folk label in a hurry. There's a song on the record called Slow, which walks an interesting line between Shangri-las 50s and 60s pop, and 90s music. And I know 90s music hasn't had its moment to be cool again yet, but there are some really good sounds from that era. We were just trying to trust our own instincts, and take the songs where we wanted to take them.
Main Street is such a grand song, how did it come about?
It was actually one of the first songs we wrote. Alice wrote that. Main Street hasn't been broken since the day it was written. Alice just nailed it. It's a beautiful song! It draws on a William Blake poem, I think. I don't really know. Alice is much smarter than I am [laughs]. It was one of those songs that went really well. John knew exactly where to take it once we got it across to his studio. A lot of people have responded to that particular song.
"Monday To Friday" is a common phrase. What was the intention behind making that the album title?
We were playing around this idea pairing some of the mundane things with completely mind blowing gargantuan. 'Monday To Friday' seemed to encapsulate that when you put it up beside a painting of a tiger fighting a gorilla. When paired with that picture, 'Monday To Friday' becomes ambiguous and starts to mean different things, and we were interested in that. It's a classic phrase you're used to hearing, but no one has used it in this context before. It's not often you hear of 'Monday To Friday' being about a tiger fighting a gorilla. That's a sentence that's never been googled.
Sweet Jean East Coast Tour
THUR 21 JULY
Bridge Hotel, Castlemaine VIC
SUN 24 JULY
Wheatsheaf Hotel, Adelaide
SAT 30 JULY
Northcote Social Club, Melbourne
THUR 4 AUG
Brighton Up Bar, Sydney
SAT 6 AUG
Caravan Music Club, Oakleigh VIC
Get Tickets HERE