Interview: Sloan Peterson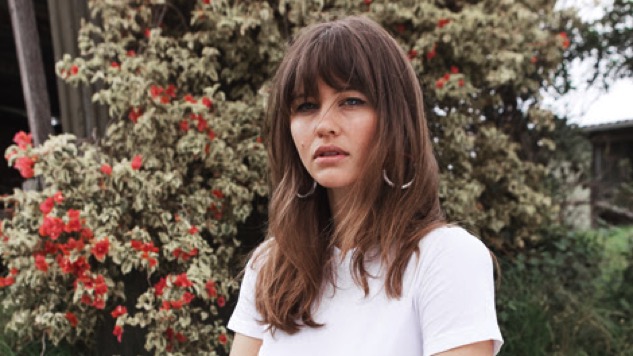 After gaining huge amounts of attention earlier this year with her debut single 105, Joe Jackson, who goes by the moniker Sloan Peterson, has since been a non-stop force to be reckoned with. With her debut, self-titled EP now under her belt, Jackson explained how she has curated her new sound, and gave us an insight into how she has evolved musically over the past few years.
You've just released your debut EP, how does it feel to be able to share it?
It feels so great. It's been a really long time coming, half the songs I wrote when I was 17, and they've been re-recorded a million times in different ways with different people. So it's been a really long journey but it feels damn good to finally get it these songs out that have been so close to me for a long time.
Was there any particular reason it took such a long time to release the songs you wrote so long ago?
Just life. I was in America for six months, I had an old band that I used to play with and I worked with different people, and basically I was just getting very distracted. I would end up playing keys in a band for someone else, and I was travelling; I moved to Melbourne, then I moved to deep Victoria where I had no phone or Internet access, so just a bunch of really random things actually. Then I was working with a guy who just wasn't right for me, so when I made the decision to no longer work with him that was when I kind of put everything in motion and realised I had to get something going. So I recorded the majority of this EP live and we just went gung-ho with it. I first recorded it two years ago and I sent it to my management and everyone, and finally got the ball running. But music just takes time, it's such a long process.
Your old band you mentioned, the Black Zeros, it was a punk band wasn't it?
Yeah it was, I still play a couple of songs I used to play in that; Ride, Rats and I Want You. All those songs I used to play, but different versions, I re-vamped them for Sloan Peterson. They used to be a lot faster and punk influenced, and the old band was actually just a two piece, so it was just me on a guitar with a drummer, then I added in a bass player later on. But Black Zeros was such a fun project, it's not like this where everything is really thought through, it was very much DIY, which is so much fun when you're just starting out.
How did you progress from more of a punk sound to what you're doing now as Sloan Peterson?
It was a very natural progression. I also got better at guitar. I had learnt like three chords and I was like, "alright I'm ready to start a band," and I had a gig within a week and I have been learning guitar while playing for people, that's been my only learning process. I think now I know what I'm playing, or if I think of something or hear something I like I can generally play along with it. So I think developing my skills that has definitely enhanced my music and getting it to where I have always envisioned it would be.
So did you originally teach yourself guitar?
Yeah. I played keyboard when I was a lot younger at church on Sundays, and I played the clarinet in the school band up until I was 14. I was always in musicals as well, so I've always kind of been involved in music in some way. Then I started playing guitar when I was 16, and I learnt The Beatles' song About A Girl, and I just taught myself. I've been getting classical guitar lessons now, but this is the first time I've had lessons, to try and get better at reading music and to basically just better my skills.
I don't play any instruments and I just can't fathom how people teach themselves. I always find it so amazing when people can pick up any instrument and figure it out all on their own.
No it's actually not hard! We want people to think that it is, but it's really not. I remember picking up a guitar for the first time and thinking I have no idea where to begin, but honestly, once you get past the awkward feeling of where your hands sit and you learn a couple of bar chords, it's so simple and everything just keeps coming after that.
You mentioned before this that you have a day job, do you find it hard balancing that with your music commitments?
It is sometimes really stressful, because my day times I'm pretty busy so I can't really have a proper, full time job. So I've been working at The Button Shop in Newtown, like I sell just thousands of buttons, and I've been here since I was 18, and there's only a couple of girls that work here and we're all creative. Our boss is so encouraging and she wants us all to really prosper and have time for our creative outlets. So a lot of the time if one of us has something come up, there's always someone that will cover you. You never have to stress about getting time off or being fired for not being there. I've been really lucky with that. I'm actually there today, I'm sitting on the balcony stroking their cat, it's like the best job ever.
You've been pretty busy this year so far, what else do you have going on for the rest of the year and the beginning of next year?
So we go back on tour with Alex Lahey, so we'll be with her for three weeks, then we're playing The Plot in November and also Lost Paradise in December over New Years. So we're just doing playing a few festivals, we might try to organise a little EP tour after all of that, but that's not conformed or anything. We're also demoing songs for the new album, I'm constantly writing so that will probably start more next year, once we get a bunch of songs together that we really like.
Sloan Peterson will be on tour, nationwide, as main support with Alex Lahey throughout October as well as an appearance at the Plot and Lost Paradise over New Years. Scope the full list of dates below.
Sloan Peterson Live Dates
WED 4 OCT
48 Watt St, Newcastle
FRI 6 OCT
Oxford Art Factory, Sydney
SAT 7 OCT
The Zoo, Brisbane
WED 11 OCT
Karova Lounge, Ballarat
THURS 12 OCT
Workers Club, Geelong
FRI 13 OCT
Fat Controller, Adelaide
SAT 14 OCT
Republic Bar, Hobart
WED 18 OCT
The Corner, Melbourne
THURS 19 OCT
The Rosemount, Perth
FRI 20 OCT
Mojos, Fremantle
SAT 18 NOV
The Plot, Parramatta
THURS 28 DEC
Lost Paradise, Sydney