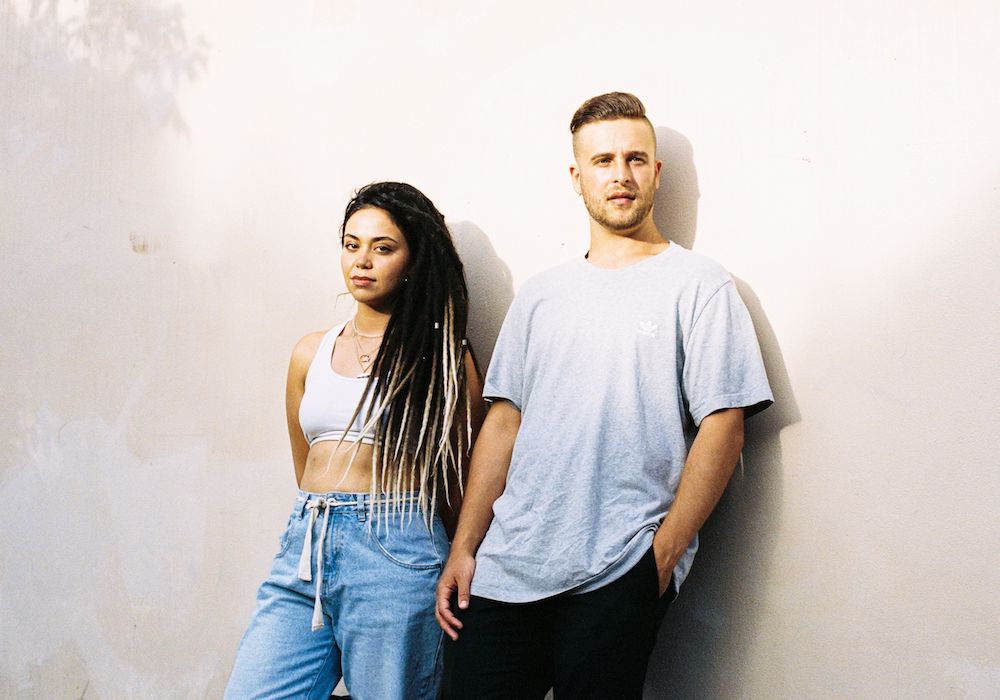 Following on from the critically praised release of 'You Know Somethin' ft Kats, Sydney musician and producer Sonny Grin has just revealed his vibrant new single 'The Rush' ft. Rissa – produced by the artist himself, mixed by Casper Tromp and mastered by Klaus Hill (Set Mo, Paces). We had a chat with Sonny to find out more about inspiration, charity work and more!
Love the new release 'The Rush'! Where did you draw inspiration from for this one?
Thanks so much! 'The Rush' was inspired by the feeling of being a teenager on your way to a party or at sunset pre-drinks with your closest mates. Times where you're having so much fun at the start of the night, you almost don't want to get where you're going. Lyrically, the track speaks about enjoying these fleeting moments and not being caught up in what's coming next.
You can probably catch that I'm a fan of artists like Kaytranada, Disclosure and Cosmo's Midnight in terms of the instrumentation style. I love that upbeat, funky sound, and those artists influence my production approach in particular.
There are still quite a few traditional elements of house in your music. Is this something that you like to keep when creating your music?
Before I started the Sonny Grin project, I spent a lot of time thinking about what kind of music I wanted to make. I have a wide range of influences that span many genres, but there's something about house music that is so infectious and uplifting. I think House's traditional elements are what make the genre so fun and dance-inducing – these elements being the tempo, consistent pulse of the kick drum, offbeat hi-hats, synths and bass lines. These iconic characteristics make the sound so attractive to me and are typically at the forefront of my mind when making a dance track. I do, however, approach some aspects of the genre differently, as I prefer not to use samples instead of playing the instrumental parts live. In combination with the key components of house, this style of production is essentially what makes up the Sonny Grin sound!
You are currently involved in some volunteer work with JSK Fund. Can you tell us a bit about the charity and your part?
I'm fortunate to be good family friends with the Kellys, who set up a memorial fund for the late John Skipper Kelly after his tragic passing in 2010. I unfortunately never knew John, but I became friends with his youngest son James at university in 2014. At the time, we had just started a band together called The Tipsy Scholars. Since then, I've become very close to the whole Kelly gang and have learned about what an incredible friend, father and man of the people John was. The JSK Fund supports young people to develop and use their skills to identify issues facing their communities and address them. They have given scholarships to young people to participate in programs that will help them develop skills to secure the rights of marginalised groups and address climate change and other environmental issues. It has been a pleasure to volunteer my time to such an incredible charity, helping to organise events and fundraising opportunities for the JSK Fund. It's such a worthy and vital cause, and the Kelly family are probably the best people you'll ever meet
Rissa worked on vocals for this track. What was it like working with her?
Collaborating with someone for the first time can often be daunting but working with Rissa was super fun and felt natural. From a producer standpoint, I tend to have high expectations of a vocalist when I work with them on a project, and Rissa met these expectations and then some. She's a seasoned pro, her voice is like butter, and she understood the concept I was trying to portray through the song. Very thankful that she came on board, and we're both stoked with the end result!
You have made appearances at a few festivals. Are you looking forward to getting back out and performing live again?
While I only launched my Sonny Grin project in 2018, I've been playing music professionally for over a decade. Makes me feel old saying that, but I've been lucky enough to play drums for many incredible artists and perform at some amazing festivals and venue during that time. Like so many working musicians, 2020 hit me hard as playing live is such a big part of my life and income. However, it has been great that I've been able to play shows with a few awesome local artists over the past few months, and I feel like Sydney is definitely on the up! It's been so good for my soul to be back on stage again and with dancing finally allowed, I can't wait to get the new Sonny Grin live show happening!
Was there anything different about the creating process on this track compared to previous releases?
This track started from a jam I had with my good mate Alex Calhoun aka Robustt. We tee'd up a few times last year and had some cracking sessions where we collaborated and made some great music. It was the middle of the pandemic, and we weren't aiming for anything in particular, more focused on creating for fun and just hanging out. I wrote the main chords over this housey drum beat Robustt started, and I couldn't stop listening to it when I got home. Usually, I write by myself in my studio space at home, so it was great to bounce ideas off another producer who has similar taste in music. I could see a lot of potential in that initial idea, so I re-did the instruments and developed a song structure. A few things were a first for me on this track; most notably, I wrote a Bossa Nova style pre-chorus to break the house beat up, which in my imagination sounds like you're stepping into a boujee elevator before arriving at a rooftop bar.
Can we expect more music from Sonny Grin soon?
Oh yes indeed! Got plenty of Sonny Grin releases in the works for 2021. I'm working on some tracks with some incredibly talented local vocalists and rappers, plus my own instrumental tunes as well. I've also just launched a new collaborative project with fellow Sydney producer Kats, which is called Nightset. We dropped out debut single 'Entry' last month, and we'll be putting out a few more tunes under that project this year as well. So, stay tuned!
The Rush feat. Rissa is available now, everywhere.