Interview: Swedish Rockers 'Everywhere'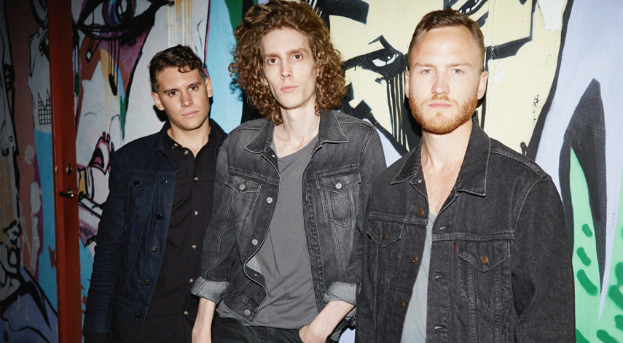 Originating from humble beginnings in frontman Max Berga's bedroom just four years ago, Swedish trio Everywhere (named after the quote "Good girls go the heaven, bad girls go everywhere" by former Cosmopolitan Editor Helen Gurley Brown), have already toured the world and worked closely with the man behind The Killer's 'Hot Fuss' and Imagine Dragons. In support of their latest single Shade at Night we interviewed the band about their musical influences, finding their own sound, and why it's hard to be a Swedish rock band in Sweden.
Shades at Night is a bit different to your debut single Eddie, the instrumentals are more succinct and build in a really neat way. Did that change come about on purpose or was it a natural development?
Thank you so much for the kind remarks! Eddie was actually written by our singer Max during his grunge phase long before the band was even formed. The actual recording itself was made a number of years ago, so the reason the two songs sound different has to do with a natural progression. However, we have also had somewhat of a strategy in terms of the songwriting and production to take the sound of the band further into alt-pop territory. That's where the music has always been sitting spiritually in our opinion!
Shades at Night sounds like a happier track with an alt-pop feel, but the lyrics seem to be about failing to impress an ex-lover, is that what the track's about?
Yes, isn't that a bit weird? People all cheer and dance until the pay attention to the lyrics and realise it's not all candy and ponies! We usually say the song is about an ex-lover with brick walls around her heart. Max also mostly wrote the track, so the experiences are all his, even if the band can relate to the problems addressed in the lyrics. For some reason Max has had a lot of crazy emotionally unavailable ex-lovers, they seem to naturally gravitate towards him, so it's not completely out of hand to assume that he may be somebody's crazy ex-lover himself! The song is not necessarily about "impressing" somebody but rather "accessing" them.
Shades at Night has some cool guitar riffs and an 80's feel, can we expect more of this sound in your upcoming sophomore EP?
Absolutely! That's where the sound is heading. We have been eating big-haired dudes and leopard tights for breakfast in order to get in the right mood.
You recorded the track with Mark Needham who also produced The Killers' 'Hot Fuss', how did he influence the sound for your new track?
Mark is an old-school type of producer, he doesn't really shape the sound that much when he works. He mainly lets the band direct the style of the track and focuses on bringing the vision to life in the best way possible. We basically went into the studio and just played the track live, and he could say stuff such as "perhaps you should change the guitar" or "work on the dynamics in that part", and so we did with him giving it either a thumbs up or a thumbs down.
You've come pretty far since Eddie in 2013! How does it feel to be getting so much international attention?
It has been great but we still have a long way to go, and it's so much work and things happen so gradually that you really don't feel the small breakthroughs as much as one might expect. We are all searching for that "Aha" moment when things just happen but the process is more like a person gaining 1 pound of weight every year due to an unbalanced diet. You really don't notice the weight gain until you look at old vacation pictures 10 years later and realise that you have packed on 10 pounds! In most cases, it's the same with the path to stardom.
The new music video for Shades at Night goes back and forth between some dark and ominous acting to colourful strobing imagery, reminding us of again of the 80's! What was the idea behind the video?
Basically we wanted it to be stripped down and simple, and shift the focus from spectacle to acting. The different colours were our way of enhancing a certain mood in the video, and also a great way to tell the story effectively. The director, Kim Lang, did a terrific job and so did the whole team. I guess the 80's feel was never something we spoke about, all the people who involved in the production of the video were so naturally tuned into trends at their core that things just gravitated towards a certain style, that [luckily] happened to correlate with the zeitgeist of the moment!
How are you guys received in Sweden compared to your international recognition?
We reached out abroad very early since people replied to our emails in places like Los Angeles and London. We had a much harder time gaining opportunities in Sweden, mainly due to the fact the musical climate [at home is] vastly different from what we do. However, we have always had a good amount of support from our audience, and since we started to get media attention abroad folks in Sweden that previously were reluctant to write about us have started to come around.
Lastly, what are three songs you guys are can't get enough of right now?
Ryan Adams' cover of Taylor Swifts Bad Blood is a killer! Another great song is RAC's One House, and finally Just Wanna Belong by Favourite Child.