Interview: The Avalanches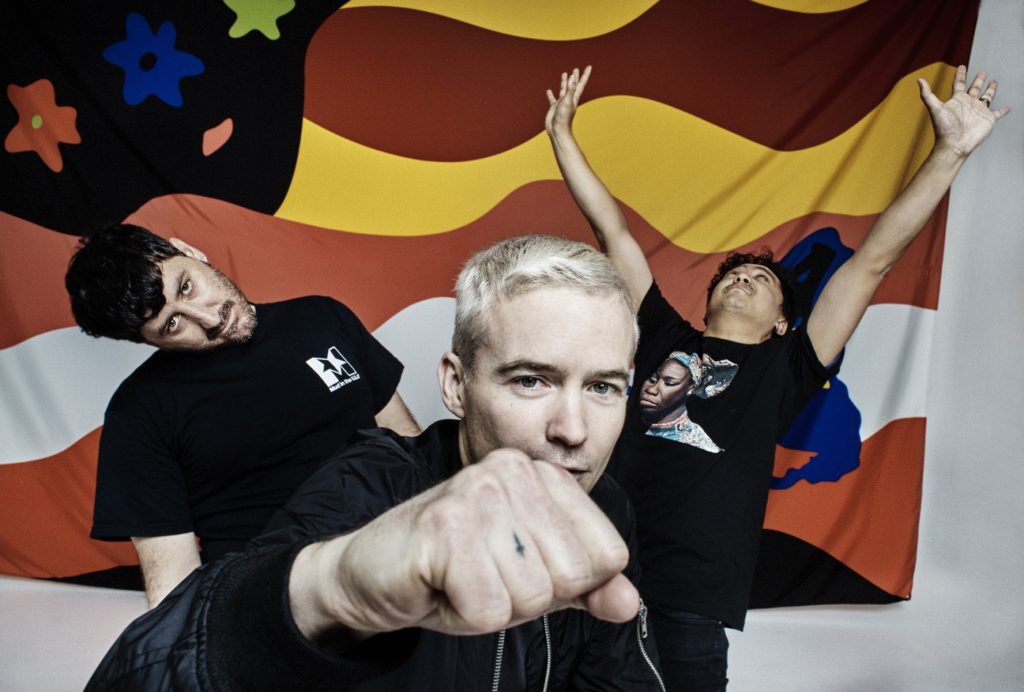 For over a decade, The Avalanches were almost a myth in the music world. Releasing one of Australia's most cherished electronic and hip-hop albums, 2000's 'Since I Left You', then disappearing for sixteen years, fans were in disbelief when the now duo announced their heavily anticipated sophomore album. Much like their debut, 'Wildflower' was a psychedelic plunderphonics masterpiece; a sixty-minute blend of disco, electronica, hip-hop which amazed fans and critics alike.
Now almost two years on from it's release and their return, we caught up with one half of the group, Robbie Chater, to talk about what he's been up to, his creative process beyond 'Wildflower', and their string of upcoming live shows.
It's been a pretty crazy last few years for the group – obviously you made your return, which really felt like the stuff of legends. What was your reaction to the comeback, were you surprised how excited and positive it was?
It's hard to describe how blown away we were, nothing's guaranteed after that long. The world moves on so fast, music changes so fast. In the end, I know it's a cliché, but it (Wildflower) became about just finishing it, and the messages we got and the way it was received was incredible. And then to be able to tour and play Europe, and have people singing along to songs from both albums, and be received so warmly, it was amazing really.
And to make your Australian live debut headlining Splendour too, that must have been surreal.  
It definitely was, and it was pretty nerve-wracking too to dive back in with a brand new show, but it was great.
In terms of that live show setup, it's still very much in the vein of the older days where you've recruited a number of extra touring members to perform extra instrumentation to the tracks. Why is it important for you to blur the line from DJ set to band show?
We grew up playing in punk bands so we just love that energy with the live instrumentation. We like to DJ as well, but we like to keep them two separate things. We did a DJ set for New Years, and when we DJ we don't even really play our songs, it's more about playing other music we love. There's also just something about the live show and the way a live drum kit for example sounds through a huge PA. Drum machines or a DJ set just can't compete with that.
You're back on the road again, what can we expect from these live shows? Are there any new aspects being added?
We're always changing it, seeing as Splendour was the beginning really. It's morphed and improved as it's gone along, we've dropped songs and added songs, but we're just much more confident now. I'm playing guitar live now, and it's not even really my instrument, but I love that. It's really just a hyper energy and a big party – all about the music and sharing that with everyone in the room.
Can we expect to see some familiar faces from your last live lineups?
 Yeah it's relatively the same, but they'll be some surprises as well!
Going more into the music, almost two years on from 'Wildflower', you've revealed that the two of you are working on new material, how is it to be working on new material again?
It's great because a lot of those last few years we were just finishing stuff, and I really missed that feeling of waking up in the morning, grabbing a coffee, picking up some old record I've never heard before and just letting it flow through you to make a song. It's that beautiful phase of making new stuff, and it's the best feeling, I love it.
In regards to your production, how do your ideas normally come about? Do you spend all day crate digging looking for samples or do you try to make things come about more naturally?
I'm trying to keep it really simple at the moment. In the past I had huge libraries of samples catalogued from over the years, broken right down to separate parts of different drum kits from different records. Now I'm just trying to flow, pick up a record and if I'm feeling it, make a song today, and then tomorrow start fresh again. Just turning off that intellectual, analysing part of my brain and just letting it come from the heart. That's going really well, we're writing heaps of stuff.
A huge moment for me realising just how you worked was when I discovered that wacky latin organ sample from Since I Left You from a record at my local op shop. What is it about finding those obscure, dollar bin samples that you are intrigued by?
It wasn't really a grand plan, part of it was just about being broke, and they were the only records we would have access to. We had literally no money, especially to pick up rare punk 45s or whatever. That was just the stuff we found, and we started to get a real kick out finding these beautiful moments in records that are often trashy, or junk, and turning them into something beautiful.
I do that less nowadays, now I would go to record stores wherever I'm travelling and buy stuff, but I do miss those op-shop records.
Can we expect the new work to be in a similar vein to the last albums, or are you trying something a bit different with this?
I think it will be different. I always write with samples, it's what I do, it's in my DNA and I can't write any other way, but Tony is writing a lot more with keys. New stuff is a lot more up-tempo though.
Seeing as you're both trying different things, do you normally work on your own music and then bring these ideas to each other later, or are you always working side by side?  
It's always separate. For me it's just a turntable, a pile of records and a laptop, so I just do that for fun. I just shoot him mp3s of stuff I've come up with, and if something stands out, he might ask for the Pro Tools session and he'll write over that and vice-versa. Then when things get more serious and the records start to take more shape we hang out a lot more. It's probably about two days a week at the moment and then the rest of the time we just write separately.
'Wildflower' boasted an incredible range of collaborators, from MF DOOM to Father John Misty – are there any artists you've been working alongside for these tracks?
There's people we're writing with as we speak, one person mainly. Songs are being developed with the artists attached as we go from the ground up, which is really cool—I can't talk too much about that though. I'm excited and I'm pretty sure a record will come pretty quickly, but I've been wrong about that before.
Just to wrap things up, other than these upcoming shows, is there anything else on the cards for 2018?
We'll be going to Japan for some DJ gigs in March, and I think we're doing a bit of DJing throughout the year in different places around the world too. Mainly keeping it pretty low-key, so we can bang the record out this year really. Not too much touring, but then back with the live bands in 2019.
The Avalanches Live Dates
SAT 24 FEB
Sydney City Limits, Centennial Parklands, Sydney
SUN 25 FEB
Perth International Festival, Chevron Gardens, Perth
SAT 3 MAR
Auckland City Limits, Western Springs Stadium, Auckland
WED 7 MAR
The Tivoli, Brisbane
SAT 10 MAR
Golden Plains, Meredith Supernatural Amphitheatre, Victoria
SUN 11 MAR
WOMAD, Adelaide
Tickets HERE