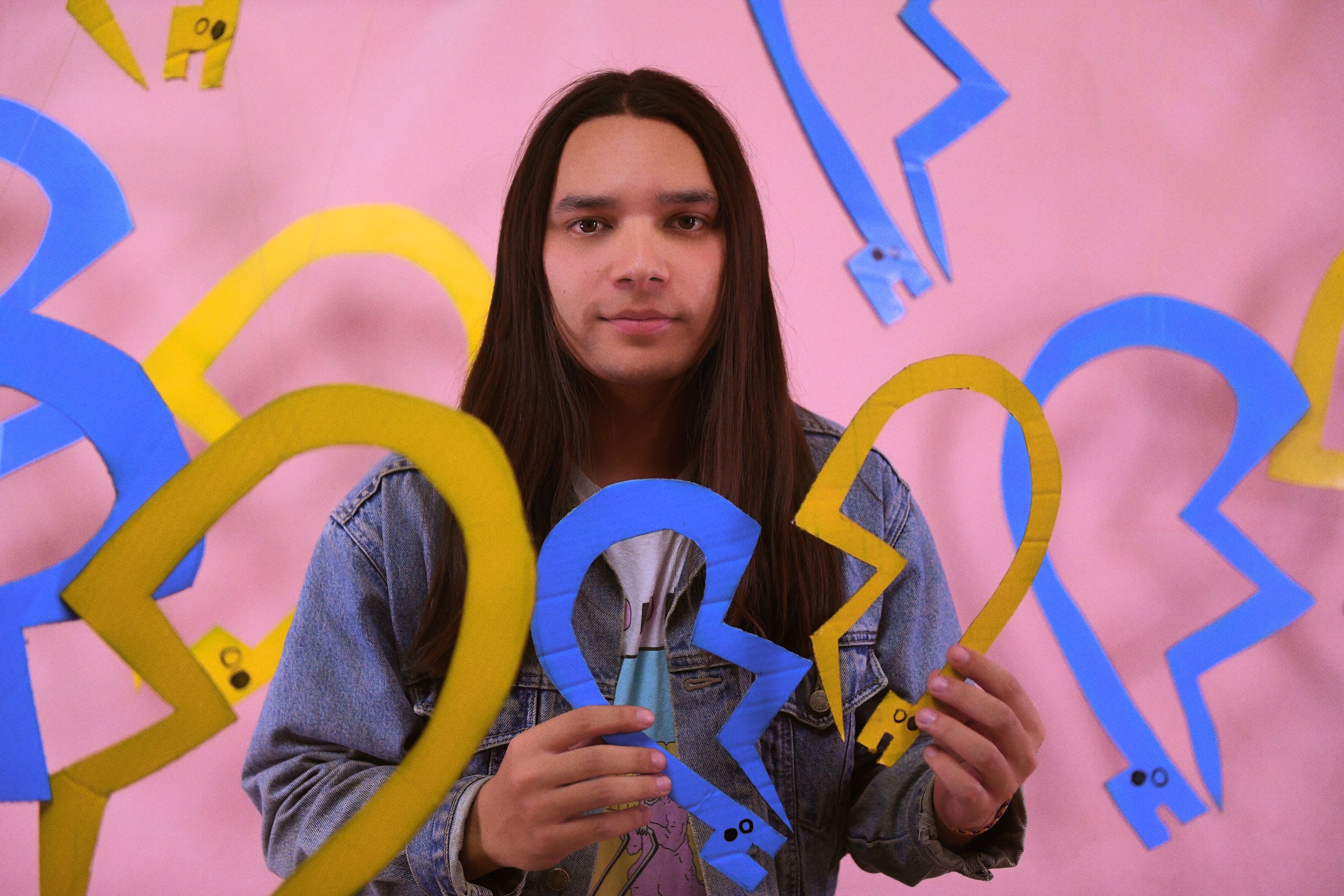 Sydney-based indie-rock artist Timi Temple has returned with another rousing anthem in 'Quick Words, Long Trouble', produced and recorded by the artist himself. We had a brief chat with experimental lord to find out more.
You described 'Quick Words, Long Trouble' as your first love/break-up song. Was it difficult tapping into themes you were yet to explore?
I feel like love is the most ubiquitously covered topic in music, across all genres, so I always gravitated away from writing what others are already doing. I like having my own spin and vision on topics, so it wasn't until the phrase 'quick words only lead to long trouble' appeared in my head that I was confident I had found a new way of talking about love and breakups. I'm a very emotional writer and once the muse kicks in, the song is pretty easily finished. I find the hardest point is tapping into the catalyst or impetus of a song.
What does DIY mean to you?
To be honest, I think DIY is about learning. It's about seeing something you want to do, but don't yet have the skills of doing, and giving it a crack yourself. I've gotten a little bit addicted to DIY in the last few years. I guess after leaving school you don't have a set path on learning and a lot of people end up wandering or meandering with knowledge. I bloody love seeing a high budget music video and learning how to recreate it with little to no budget. I also feel by creating something myself entirely there's a bit more of a legacy and pride in the final product, whatever it may be haha!
Can you tell us any distinctive memories from your sold-out East-Coast run of shows with Bootleg Rascal?
I think Melbourne was a super nice memory, specifically because it was my first show with my new drummer Cat. We had only done a few rehearsals, and everything was on edge but that turned into exhilaration for me. Playing a new show with new songs to a whole new crowd was plenty to fuel the passion fire for originals in me haha. Also seeing everyone hungover the next day at the airport was pretty hilarious.
Your last single 'Tomorrow Is Yesterday' received support from the likes of triple j, Indie Shuffle, and MTV Upload. Has that been essential for your current momentum?
All these wins are amazing for momentum, but not in the way that you might first perceive! Something that I openly discuss is mental health within our music industry. It's tough and often individuals are bottling up in fear of coming across unsuccessful or weak. I know that I don't seek validation of my art specifically, but when you do have these little praises and recognition, it helps keep the mind in check and keeps me inspired to push on! (it also helps keep my parents off my back when they see these wins haha)
Who would be your favourite artist to share a bill with?
This is a ridiculously hard question because my list is so long at the moment… I think my current vibe would be either Oliver Tree or Unknown Mortal Orchestra – or if they had a baby and made an artist, they'd be my fave to share a bill with.
Any advice for musicians or bands just starting up?
Stand on the shoulders of giants! Everything I learnt musically was from analysing other artists songs. Double down on what makes you unique and keep working towards being more unique. Don't write for someone else, or you'll have a hard time finding happiness if your music isn't 'commercially successful' – write for yourself and you'll stoked no matter what 🙂
TIMI TEMPLE
'QUICK WORDS, LONG TROUBLE' SHOWS
FRI 8 NOV | UNSW ROUNDHOUSE, SYDNEY, NSW
SAT 9 NOV | SLYFOX, NEWTOWN NSW *
FRI 15 NOV | KICK THE SCARF PARTY @ YULLIS BREWERY, SURRY HILLS NSW
THU 21 NOV | GREASER BAR, BRISBANE QLD
FRI 29 NOV | VIC ON THE PARK, MARRICKVILLE NSW
SUN 1 DEC | NORTH GONG HOTEL, WOLLONGONG NSW
THU 12 DEC | MARLY BAR, NEWTOWN NSW
SUN 15 DEC | GOOD PASH XMAS BASH, MARRICKVILLE BOWLING CLUB NSW
*Supporting WHARVES