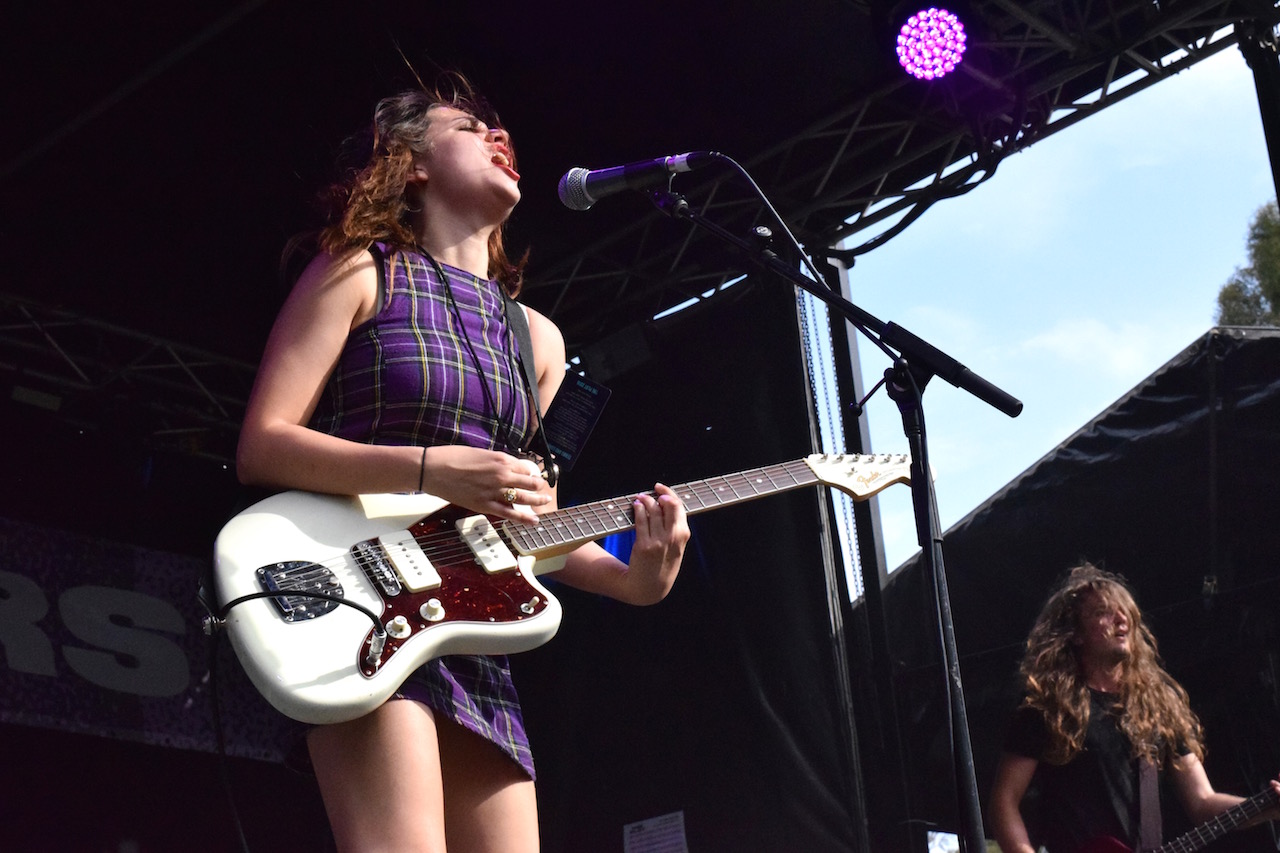 With their latest album, 'Dumb Days' due for release early September and a national tour planned, it's safe to say that Perth band Tired Lion are in for a huge couple of months. As far as debut albums go, 'Dumb Days' delivers in a big way. Heavy riffs and howling vocals litter the tracks, catching your attention from the very first note. Earlier this week I had the pleasure of chatting with percussion guru and all round nice guy, Ethan Darnell, on touring with the Dune Rats, living in Perth and what cilantro means to Tired Lion.
I was reading a press release that 'Dumb Days' is a pretty personal album for you guys, especially Sophie. Do you think that it's pretty terrifying exposing yourself to the world through music?
It's never a burden to do that, it more liberating. You get to say what you want to say through an artistic point of view. So it's not like you're putting it all out there exactly how it is, you're putting it out there in an artistic way which negates all of that pressure and takes the burden off your shoulders. Things that wouldn't be able to say to certain people or things you wouldn't want to say rather, you'd be able to say in a way that is somewhat sugar coated, but still exactly what you want to say.
Now I know you shouldn't pick favourites, but with your new album have you got any favourite tracks?
Yeah, definitely. I think for me, I love the song Camp, which was the only track that came together while we were recording. We had the general gist of it and a slight demo, but it was nothing concrete. Then when we got into the studio we all just put our little spices into it and it all just came together. It's one of those things where the fresher song or the newer song seems to instantly become your favourite, but for me, that one it still one of my favourites. There's not a song on there that I hate so it's hard to pick. This one definitely stands out the most to me.
Do you think that as a whole Tired Lion's sound has changed very much since you recorded 'All That We Didn't Know'?  
Yep, I think that's always going to happen. Every band, or you would hope that every band is growing from release to release. It's never something that we obviously set out to do, we weren't like, "Oh, we need to make a new album and we need to make it different to previous things." It just kind of happened. We still have the essence of what we'll always have which will always sound like Tired Lion; us four in a room. It's always going to be a certain sound and have a certain character, but that is always changing and evolving in a sense that it might sound a little less '90s or sound a little more '90s. I mean our main influence, because we grew up in the '90s, is definitely that genre of music. We still are very heavily influenced by music of today and things that are happening around us.
Now one of my favourite tracks off the new album is actually Japan, which is such a heavy-hitting track, especially for an opener which I thought was awesome. Is there a story behind that track?
If I speak lyrically, the term, "you need to get out of the house more often," was something that was said to Sophie by an old boyfriend when she was in a rut. That's kind of where that lyrics came from and after that she just said, "f**k it", I just want to move to Japan and start a rock band which is another part of that. I guess the song talks about 'moving on', or getting through things and how to deal with them. That was a really fun song to play and record. When I look back at that I definitely hear a different side of Sophie, in that when she sings, it's in a way that I wouldn't usually hear. I remember sitting back after it was recorded and listening to it thinking wow, I just didn't realise Sophie could do that. I've never heard her sing like that before and that's really, really cool.
One thing that really struck me on your new album is your track Cilantro. Are you a coriander fan and how did that awful herb inspire or at least get naming rights to a song?
Well that's a big debate. Sophie loves cilantro, I can go either way with it. The title came around because in the chorus we thought she was screaming cilantro. It was like a little joke and I remember Matt turning to her when they were demoing in the rehearsal studio, "Are you going to keep those lyrics in the chorus? You're saying cilantro." And we all just laughed about it; it was a big joke. We had a different title for this song and we decided to just call it cilantro, because it was funny to us.
Moving away a little bit from 'Dumb Days', do you think that being a Perth based band is a disadvantage in the Australian music scene?
Personally, my experience living so far away from everything is actually really good. I feel like if I lived anywhere else, like Melbourne or Sydney, or even just being in a bigger city would be a lot more stressful. I think in Perth, it's much more relaxed. It's really nice not being around that intensity that comes with living in a big city. For me just being able to have my own space, and being away from it a bit, definitely helps. For the type of people that we are I think it helps a lot. We're not huge party animals, so being a bit away from everything is really nice. Then when we do get to come on tour, it's always like, game on let's do it.
I managed to actually catch you guys recently at The Cambridge with the Dune Rats. What was the most outrageous thing to happen on tour with those guys?
You know, everyone always asks me that. They're like, "those guys must be crazy." They're not actually that insane as people think. The way I like to describe them to people, it's like watching a TV show or a set of cartoon characters, but that's just how they are. They're not acting, they're not trying to do something; they're just hilarious people and they have these big personas. There was definitely a crazy moment, at one of their shows. I can't remember what venue it was at, but the barrier broke 30 seconds into the set. They got off stage and then took the barrier out with security. So for the whole set the audience was shoved against the stage and they were pushing against the speakers; we had to jump on stage with the other supports—Pandamic—and push the wedges back constantly. It was funny because there were two bands on stage holding everything together for the whole set while the Dune Rats performed.
If you weren't called Tired Lion, what would your band name be?
*laughs* Oh god. I think before we were Tired Lion we were called Space Boy, and then before that I think we were called The Love Band; we've never been good at titles. We'd be called something ridiculously stupid and idiotic. Luckily enough, an old bass player that was in the band at the time came up with Tired Lion and we just went with that.
I asked Ambrose from The Murlocs this question recently, and he told me The Shit Chairs…
Well, I'm looking at a brick wall right now so let's go with, Brick Wall.
I have one last question for you. Have you got any favourite under the radar tracks or artists that you've been listening to lately?
Yeah, for me one of my favourite albums of this year is called 'Coping Mechanism' by a Perth band called Foam. That album for me ticks all of the boxes, I just love it. I've been listening to it for the last three to four months every day. It's just a really, really good album. For me they're one of the best bands in Australia at the moment and they need to get a little more attention.
I've been spinning another Perth band recently called Psychedelic Port Crumpets; there's been some great stuff coming out of Perth lately which is really exciting.
It's interesting how Perth works, all these bands start up and then all at once the whole of Australia learns about them. I feel like we just cultivate and we rehearse for five or so years, then there'll be three bands at the same level doing the same thing and then BOOM, and then the whole of Australia is just onto it. It's just this big influx and everyone's like, "Perth has so many bands right now." We've always had good bands, it just so happened that they were all ready at the same time.