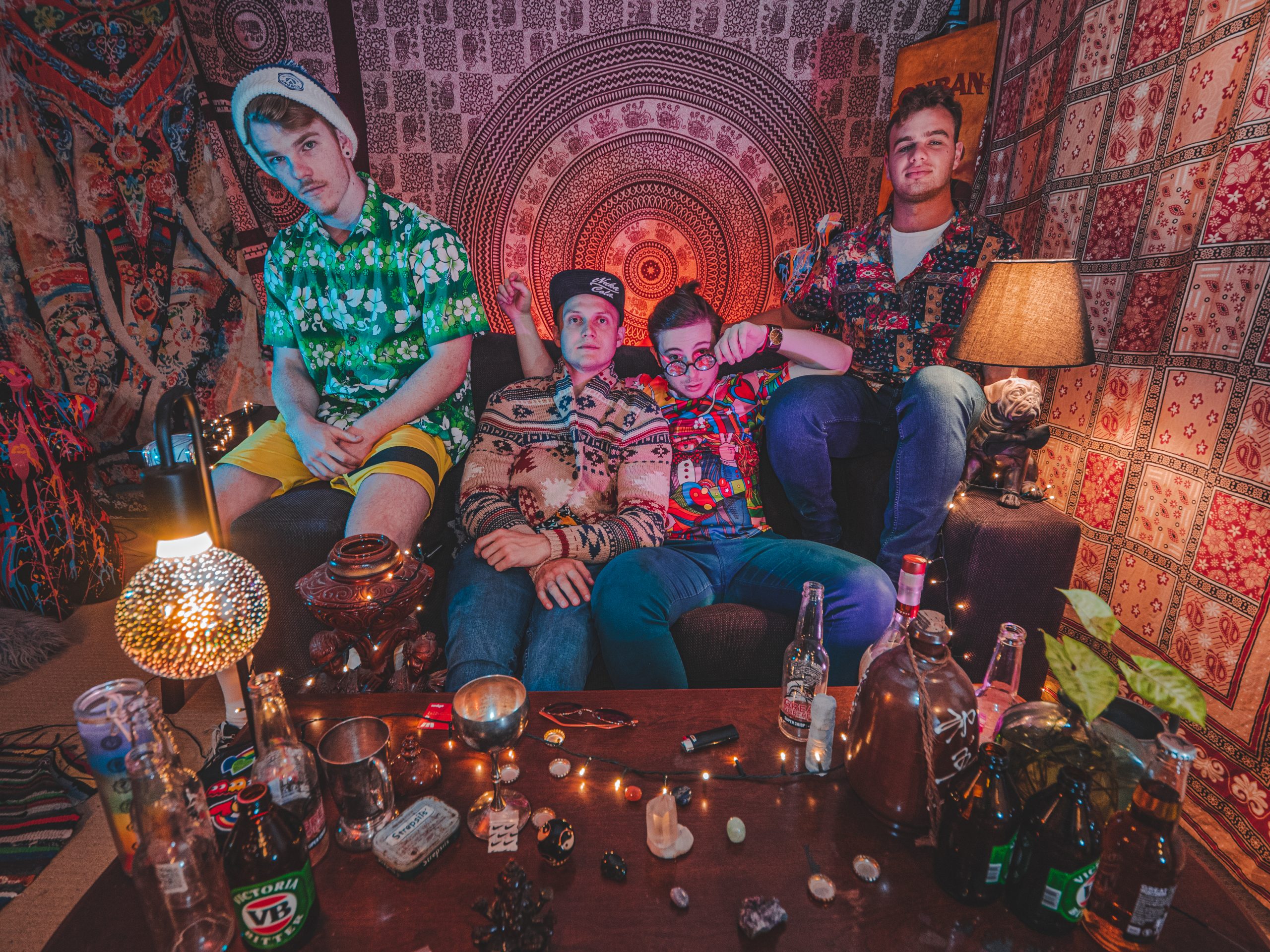 Brisbane's psych punk rock band Tripsitta recently released their debut track titled 'The Valley' and it is an indefinite summer party anthem you'd probably play at your mates house for pre's.  As the title suggests, it is inspired by the infamous Fortitude Valley in Brisbane, home to an array of amazing live music and a rambunctious nightlife.  Alongside the track is a video clip created while in isolation with help from local artist Paige Byers (Alt Art) and photographer and cinematographer Cheyne Starkie (Wild Honey Productions.)
In lieu of the tracks title, we got to catch up in The Valley with 3 out of the 4 members of Tripsitta, Jack (rhythm guitar, lead vocals), Andy (lead guitar) and Tyler (bass) for a few beers and to chat about their music, influences and staying relevant in the modern rock scene.
You guys released your debut track recently called 'The Valley', the clip was all done in iso, it's very DIY and super fun, can you tell us a bit more about it?
Jack: We did the vid at Tripsitta headquarters, AKA my place, and we wern't allowed to do a lot, we couldnt go anywhere so we decided "fuck it, we're gonna create our own music video scene and put it in our own backyard". We created all these crazy characters out of cardboard and made them look like creatures from the Valley I've seen, just horrific, crazy.
So, as we know, the song is called 'The Valley', we're out here in the Valley right now, I'm sure you have some crazy Valley stories yes?
Andy: Shit, you know when someone puts you on the spot and all your ideas just leave you…
Jack: I'm thinking about all the times I've been kicked out for just hugging people…
What are the plans for the band coming up, new music, an EP perhaps?
Andy: We do have another single coming out, we're just waiting for the right time. I think one of the biggest differences with 'The Valley' was that we had another photographer and filmmaker lined up for a different idea for the film clip. It was something similar but when COVID came along we had to alter those plans pretty dramatically. So, rather than try and salvage a lot of the ideas we had from the first one, we kind of ran with the energy and idea of it and ended up turning that into a separate story that would make more sense given the COVID situation and mention it in the video. And I think Cheyne really helped us a lot with that, getting that to come to life and come to fruition. We've got a plan to release this new video a little bit closer too, just because we know what can be done and what couldn't be done in those first few months of isolation when everything was still kind of up in the air. But now I feel like we have a sense of what we are allowed, what's safe and what's a smart thing to do and what might be a bit risque. I think that's one of the biggest things to take into the new song and video.
Going back to the beginning, how did you guys meet, where'd the name come from, what was the vision?
Jack: I was in another band which was interesting, very different to what we're playing now. I actually met a lot of the boys at university and met Tom (band manager, who also joined us) because we used to work at the same pizza shop back in the day, and we met Tyler through the JMC university page, he went to JMC too, and we said "hey someone chuck a bassline over this song that we'd written"  and Tyler's was lit, it was a proper jam. And with the name Tripsitta…
Andy: We had a bunch of names, we had a few on the table but a lot of the pill testing stuff was at that hot button pre covid, like ooh maybe the pill testers…but  thank god we didn't run with that.
Jack: So we picked Tripsitta and I remember that night it was pretty funny actually, our next door neighbour and landlord and Jesus impersonator came round with his friends, all partying, all smoking up having a good time and they were like "you guys aren't very rockstar at all" and we were like "what are talking about…?" Then someone chucked on that song 'Fried Noodles.'
Andy: It was very anticlimactic but it was beautiful.
Jack: I get a lot of inspiration from, and I'm sure all of us get a lot of inspiration from 70's rock, 70's psych rock. I also get a lot of Australian nightlife counterculture. We're very all about that and we talk about a lot of those things that people talk about on their nights out. A lot of the lyrics that we write about, especially the ones we're gonna release soon, you'll probably hear a lot of differences from 'The Valley'.  This is like almost the start of the little journey that we're going to be doing and you'll see the growth and a lot of evolution of what we talk about and what we think about but still have that amazing nightlife and party vibe at the same time.
Andy: I think one of the things we really wanted to capture especially in the field of music we're doing, whether it's the new wave of psych/rock in Australia, Tame Impala, the mid 2000's and bringing that back to fruition. One of the big things about being in a modern rock band is how you maintain an idea of relevance and… not a dated sound, but a sound that has been around for awhile. It's about taking cues from modern music and the idea of what you're talking about. Talking about things that are relevant to the day to relevant audiences especially. That's what we're really trying to aim to do, make music for our generation with a sound that may have been around for awhile for sure but it's an evolution of that and it's our own branding of that to be more individual as artists rather than trying to just be another quote on quote rock band. Like lets make something personal and interesting for us rather than trying to be a generic sound and brand.
We're going to wrap this up with a fun question and you all have to answer separately. If Tripsitta was an alcoholic beverage, which one would it be?
Jack: A rum and coke, but sprinkled with some psychedelic mushrooms mixed in.
Tyler: I reckon we'd be a fancy dark and stormy, a spiced rum.
Andy: What I'm thinking is like the last cup available in the sharehouse at a house party. You're down to the maccas glass from the big mac thing or the daffy duck cup, you know the plastic one, then it's whatever liquor you found from somebody else and some flat soft drink.
Jungle juice?
Andy: Yeah, jungle juice! Everybody had it, everybody knows it, nobody wants it, yet we all drink it baby!
The Valley is available on all good streaming sites now