Interview: Troy Rainbow from 'Fierce Mild'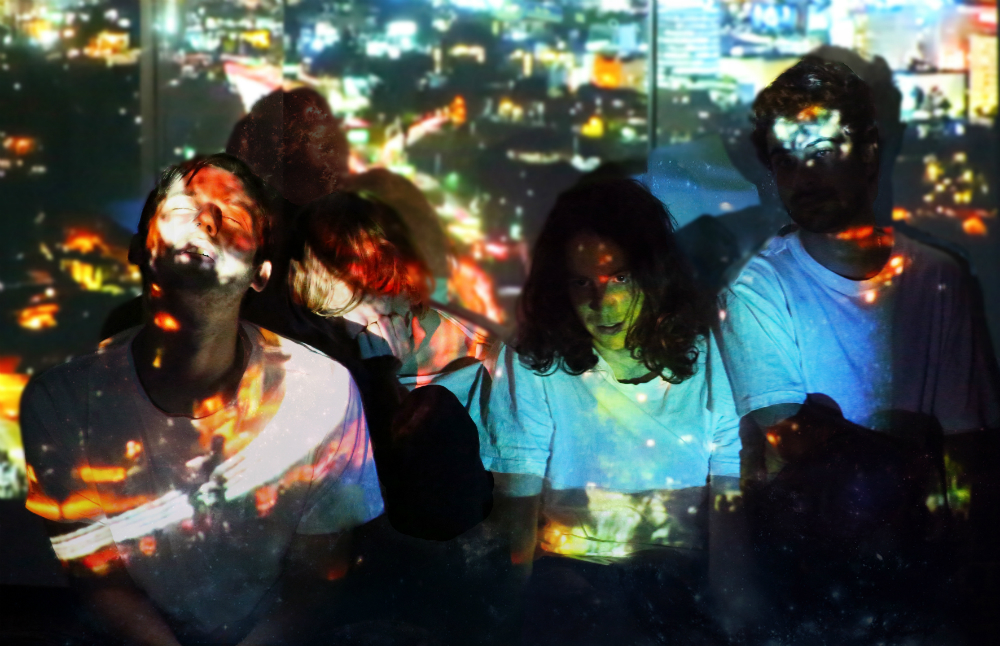 Melbourne cinematic soundscapers Fierce Mild are back with a new single Song He Never Wrote, a masterclass in mixing ambient and rocking guitars to create a spellbinding sonic adventure. We're so impressed by the new track we threw the mysterious 4-piece's frontman Troy Rainbow some questions about their origins and recent happenings to get to know them just that little bit better.
How was Fierce Mild formed?
Jake and I met through a mutual friend. We bonded over cigarettes, coffee, and cheese pies…and we played in a funk band together for a while. I quit cigarettes and we started tending towards the darker and experimental side of things. We demoed up some ideas and worked with a producer for some guidance and used session musicians for the instruments we weren't so good at.
We put an add out on Melband describing what we were doing and Butch answered the call. Butch is a name he gave himself when he was two-years-old. He's someone who believes in true callings. I'd met Roly when we were both studying jazz and we'd collaborated on some film scoring previously. I showed him the demos after a King Krule concert one night and he jumped on board.
How would you explain your style of music to someone who has never heard your music before?
There's a strong cinematic narrative to what you experience. It's a journey akin to that of a psychological thriller… We're trying to lull people in and then completely unsettle them. We try to view our music as one connected piece with many movements and tangents. Each audience member can be having a completely separate experience to the next and that's ok, but the dots do connect at many points. It's just up to you to decide when and how that happened.
What was the best and worst part of your 'In search of lost Time' national tour?
Worst part: We were stupid enough to book no accommodation.
Best part: Random people who saw us play were stupid enough to house us for the night!
What is your song writing process?
There's a big part to playing live that's very machinated. We want to deconstruct & break that down as much as possible and avoid falling into cliché holes, trying not to think in cycles or basic form (verse/chorus) and instead create pieces with a delineated structure.
We try to throw a spanner in the works through process and let the concept of the song guide us. We often write to visual images or existing phrases. One of the tracks we're currently recording for our debut LP was written start to finish from responding to a dream journal, phrase by phrase. There's no uniformity to how we make a song. We want it to be only one piece of the puzzle and make it connected strongly to a body of work. The pieces are malleable and can be adjusted to how the whole puzzle is supposed to fit together at that given point in time.
How did 'In search of lost time' come to fruition and what is it about?
The title for our January national tour was based on the work of the writer Marcel Proust and more loosely the transience of memory – when cues encountered in everyday life evoke recollections of the past without conscious effort. It's a lot of what our music is about; the way we litter the themes and allude to them in a recurring, yet different way.
How did the event Stargazed come about and why did you guys decide to do it?
We had intended to do it as a pre-tour fundraiser in a warehouse of some friends of ours. We had had live visuals at previous shows that had been received well and we had decided to work on a permanent basis with Stephanie Peters who is a fantastic artist based in Melbourne. She curated the visual element. People started getting wind of Stargazed and we actually had to upgrade the venue because it was looking way too big. The fundraiser part fell away and we were left with a proper mini-festival!
Why did you guys decide to have other acts at your music festival?
Why should it just be about us? There's a lot of self-interest that can kick around, but we've found a heap of bands and visual artists that we really love and that have their hearts on their sleeves and heads firmly rested low to the ground. We thought it'd be good to promote that!
How did you decide who was going to play at Stargazed?
A lot of listening. We didn't really want to do a call out or application process. We've played shows before with pretty much everyone on the bill at some point. We just made a mental note at the time and reached out later.
What artists are you guys digging at the moment?
Butch – The Roots, Dirty Three
Roly – Thundercat, Dosh
Jake – Glass Animals, Foals, Warpaint, Trombone Shorty
Troy – Hector Zazou, David Shea, Mothers, and I caught Goat at Meredith last year and that was pretty incredible.
Finally, did you guys ever expect the amount of support you've received from fans?
Not at all. We find writing and producing music…there's such a vortex effect about it. You lose touch with reality. Each time we get to the other side of that and are ready to actually show the world what we have, we basically have lost all perception about whether it's good or shit. The way people have reacted, particularly with Song He Never Wrote has been humbling, to say the least!