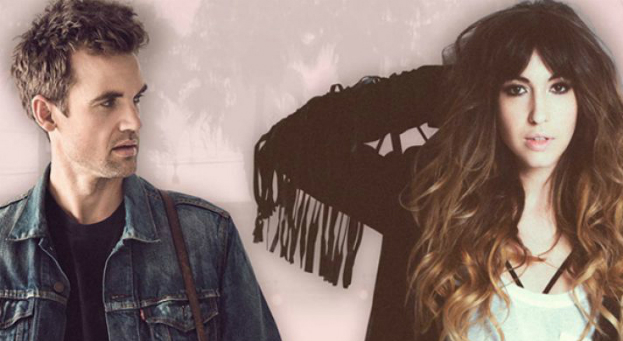 A little slice of One Tree Hill will be hitting our shores next month in the form of singer-songwriter marvels Tyler Hilton and Kate Voegele, who played Chris Keller and Mia Catalano respectively. We caught up with the male half of the duo to discuss juicy tour secrets, One Tree Hill reunions and spoilers on his next album.
We're so excited to have you over in Oz next month! I know you and Kate Voegele have toured together a lot in the past but what made you decide to join forces this time? 
Well, we found that what we did in Europe together had so many more One Tree Hill fans come out. There was something about the tour – these people got all excited and it was so cool.
I've been wanting to go down to Australia and tour forever but it was so hard to figure it out. I thought Kate and I could go together so I asked her and she said, "anytime." She's always wanted to go to Australia so we've been planning it and it's happening. I can't believe it! And the fact that we're going together is going to be fun.
Tickets are selling like hot cakes with already three sold-out shows. Did you expect such an enormous response from Aussie fans? 
I can't believe it, no! You don't know what to tell promoters down there because you've never been down there. I told them, "I think I get a lot of tweets from people in Australia." It seems like I get a lot of the gig sales from Facebook and Instagram. I don't know who comes to see me in concert, I honestly don't know.
I know you don't have a lot of time in-between shows but is there anything in particular you would love to do or experience while you're down here?
Yeah, there's this island off the coast of Perth that has these little tiny kangaroos we're going to try to go to. I really want to see that. And I've got some friends from high school who I haven't seen in so long, and also I heard there's this place where you can strap onto a bridge and walk across it.
Sydney Harbour Bridge!
Oh my god, I think that could be really cool. But I don't know! I don't know much of what to do there. I'm hoping I will get some suggestions from all you guys when I get down there. We might not even get to see anything, it crazy.
Other than the hits, what can fans expect from these shows?
Honesty, it's just a lot of hanging out. Kate and I usually play the show together with our acoustic guitars, singing each other's songs, telling stories and just joking around with each other. It's really casual…and our band is going to be great. We'll be taking requests and really try to get to know all these fans for the first time. Hopefully it will be a long relationship and we'll be coming down there forever.
We hope so! Do you have a favourite Kate Voegele song you like to perform? 
Yeah, we do Hallelujah, which is a Jeff Buckley song that she sang on One Tree Hill – we sing that together and I love it. There's another called Caught Up In You. Also, I have her sing When The Stars Go Blue, which I sang on One Tree Hill and she just kills it!
Do you and Kate play any pranks on each other while on tour? 
(Laughs). We're not really pranksters. If anything we always look out for each other because both our worlds are always changing so I think we're really good allies.
I do make fun of her because every time we walk into a hotel together she's carrying these huge suitcases, a huge backpack and a huge guitar. I literally think she's carrying three times her weight in luggage everywhere she goes but she's such a tough girl and always handles it. When I see a walking pile of luggage I know that must be Kate underneath it.
I loved your single Overtime, which you released a few months ago; is a new album on the cards in the near future?  
Oh yeah, I've got a new album and I'm so stoked about it! It's probably my favourite thing I've ever worked on. I'm actually having a hard time not just dumping it on the Internet right now but I'm going to try to do it right. I really want it to be perfect and I've got a really cool vinyl package for it so it might not come out until January, but man, I'm so stoked. A lot of the songs on it I wrote with Kate and we were talking about putting one out on Spotify just before the Australian tour. 
How awesome! Is there anything you can reveal about the style or overall vision?
I started writing this record when I was doing a bunch of other work –writing a script, working on a TV show and writing some country songs for other people. I was doing everything but working on my own album.
Whenever I had some time off my friend and I would play together – he was Miley Cyrus's guitar player – and we just started writing songs, joking around. It was just something to do while we were catching up, and man it sounded so cool. I don't know why but the only thing I could think of was I wasn't trying hard at all.
I've played it for a few of my friends just to see what they think and I told them, "it's okay if you don't like this." But a bunch of my friends have put it forth and think it's the best thing I've ever done and it's their favourite record of mine. That really complimented me because I love my new songs and I thought it was such a cool record. I'm always trying new things but the fact they responded to this one matters so much to me. Hopefully everyone will think it too but either way I'm so stoked about it. 
Have you come up with a name for the album?
Yeah, I think I'm going to call it 'City On Fire.' 
Last month you performed at the One Tree Hill Fan convention; what was it like being back with the gang again? 
It's always cool. We see each other probably once a year at least – we run into each other in town or at one of those One Tree Hill conventions. It's so great! Chad Michael Murray and I were always really close so it's great to meet his family and his two little kids. The people I grew up with – watching them grow up and have kids is crazy. We were all so crazy when we were young and trying to help each other out and now they're parents and it's just wild.
It's been said your One Tree Hill character Chris Keller was based on your real life as a musician; did the producers have you in mind for the role from the start?  
I don't think they did, actually, I think they were writing Chris as older and they were talking to other people. I think they were just looking for a way to write a musician onto the show because the creator wanted it. I was probably a terrible actor and didn't know what I was doing but they loved the song I had called Glad – that was on my first record – and I think they really wanted me to play that song on the show.
Would you ever sign on for a One Tree Hill movie reunion?
Of course! It would be so fun. You never know, life is so random how it works out. I never thought I would return for Season 9. If for no other reason it's like a victory lap of your high school. Imagine if your high school called you when your 30 years-old and asked if you would come back for another year to hang out I would be like, "hell yeah!"
What does the next few years hold for you? 
That's a good question. I always check in with myself about that. Right now I can't think about anything else apart from my new album. I've always wanted time to finish the mixing and to just put this album out. After that I want to tour the world. This will be the first year that I'd have a record out that I'm also not on a TV show so I might have time to do it. But in the meantime I've been meeting with a lot of people about the possibility of other TV shows to jump on and other movies. I've been reading some amazing scripts, so I don't know. There could be some really exciting things out there but for now nothing's definite except putting out this record.
Tyler Hilton & Kate Voegele Australian Tour Dates
SAT 2 DEC
Fly By Night, Perth
WED 6 DEC
The Gov, Adelaide
THU 7 DEC
The Basement, Sydney – SOLD OUT
FRI 8 DEC
New Globe Theatre – SOLD OUT
SAT 9 DEC
Thornbury Theatre, Melbourne – SOLD OUT
SAT 9 DEC
Thornbury Theatre, Melbourne (Matinee Show)
SUN 10 DEC
The Basement – Sydney
Get Tickets HERE