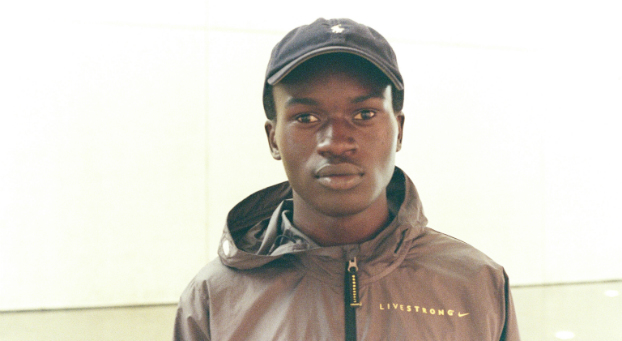 UV Boi has risen from his bedroom to become one of Australia's most formidable producers. If you've never heard of UV Boi before, his Soundcloud is definitely the place to start since it's straight fire from beginning to end. We had a chat with the burgeoning producer about his features, his inspiration, and how he goes about creating his tracks.
You're in the middle of your Australian tour, how has it been so far? Has there been any standout moments?
It's been amazing. Lots of fun, I get to spend some time with my good friends Collarbones and Gill Bates, and Villette is coming through soon. Its just been so much fun and the shows have been amazing. It's been great to meet the fans.
Has there been any standout moments?
I think Melbourne was a standout show, so far. It was just so much fun!
Just had a good energy to it?
Yeah, everyone was really responsive. Really awesome to see everyone have a good time!
I've always been curious, how do you decide who to feature on your track and how does the collaboration come about?
I'm really selective with who I want to feature on my music, but it jut all depends if there song writing and their voice fits exactly what I'm trying to express. And sometimes, it just comes naturally. Like, with me and Fionn [Richards], I met him at a friends, like performance, acting show, and we just hit it off. I listened to his music, I liked it, I sent him something and he sent back exactly what I was wanting. Like, I didn't need to give him directions or anything, he just knew what to do. And those are the type of collabs I really like; we create what we want, we each create our part and the result is what we both wanted.
So how did the collaboration with Ryan Hemsworth come about?
With Ryan, Nina Las Vegas was one of the very first people who were really broadcasting, or pushing me to the masses and everyone, and Nina being like, so influential, Ryan just happened to come across me through her. And Nina linked our emails together and we spoke and hit it off and Ryan just said, "hey do you want to make a song?" So it was really simply just him asking. And me being such a big fan, I couldn't say no.
Who would be your dream guest to feature on your track, if you could have a choice from basically anyone?
I say this all the time but I'd really love James Blake, but that's kind of a long shot, but you know I can dream…
You almost exclusively use an 808 when producing beats, what made you drawn to that?
I'm not too sure really, before I started UV Boi, I tried a different bunch of genres, I experimented, and I happened to just find this new sound and I fell in love with it, and I just continued to follow the sounds and add my own variation to it and expand with all these other sounds and sort of draw them all together.
What were some albums that influenced you as a producer?
Well, not really albums, but artists…
Yeah, that's probably easier.
Yeah, Chromesparks is a really big one who really influenced me to make more melodic type of music, more like synth driven, he was a really big artist for me. I also was listening to Hardstyle when I was younger so that influenced me a lot. And as of recent, James Blake again was another big one, who [made me] want to create this music that was strong in song writing, but it was like, so minimalistic. And had the emotion in it without even having to try as much, I suppose.
What is your process when you create a new track, is it methodical and planned or does it come from you freely?
I really like it to flow freely and naturally, like if I'm feeling something and I want to write about, I'll just let it go and let it sit and see what happens, I suppose.
So you don't really sit down at once with all the parts already written out.
Yeah, I mean, everything normally happens at like four A.M in the morning when I'm sitting in bed and I'm like, extremely tired, y'know, about to doze off. And then all of a sudden I'd be like, and then I'd just create something and from there, I don't go to sleep for the next couple of hours.
That's usually the best way to work in any field. You make all your tracks from home, what kind of gear do you use in your home studio?
I've got my Prophet 08 synth and I got a couple other instruments I use for the live show, but it's mostly just my Prophet, my midi keyboard, Ableton, Garageband.
Oh, so you use live instruments for your live show?
Yeah, so my live show I got my Prophet 08 obviously, I got a midi keyboard I run other sounds from my computer, I got my SPD drumpad, and a few other devices I use to control and modulate sounds. But yeah, this new live show is my most exciting one, I suppose. I like to evolve each new show and see where I can take it.
So it'd be different from say, your live show at Splendour last year?
Well it's similar. Similar in that I had my keyboards, but this time I have a few more instruments I use up there, and now I use vocals on stage too. So that's something new.
Oh, so you think that will affect your recorded material going forward, like implementing more vocals?
Yeah, well at the moment I am working on new material for, I guess, the sequel to this EP that I just released and yeah I'm definitely having more song writing for myself and try some vocals on this new record.
UV Boi (Remaining) Tour Dates
SAT 23 APR
Mammoth Mane Stage, Brisbane
FRI 29 APR
Transit Bar, Canberra
SAT 3o APR
Oxford Art Factory, Sydney
SAT 7 MAY
Flinders Social, Townsville
Get Tickets HERE