Interview: Luke Boerdam from 'Violent Soho'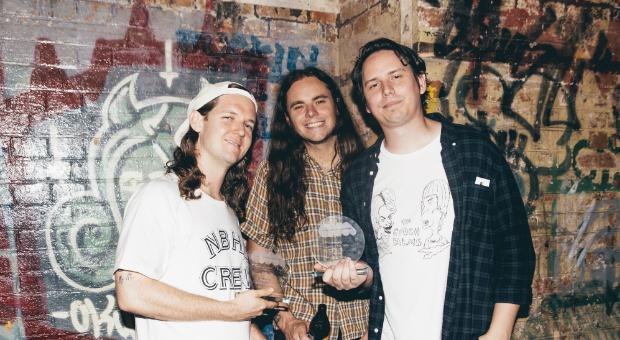 It's been a relatively slow burn to success for Brisbane rockers Violent Soho. Forming in 2004, the 4-piece released two albums before finding critical acclaim and a national audience with their third album 'Hungry Ghost'. Three years after 'Hungry Ghost' Violent Soho have released their fourth studio album 'WACO' to even greater acclaim, debuting at #1 on the ARIA Album Chart. We caught up with frontman Luke Boerdam to talk about what makes 'WACO' tick, how it feels to find success after such a long run, and his opinions on the music industry.
Congrats on the new album and the success of your tour, you guys are kicking ass! To jump right off into the deep end, we know your latest album 'WACO' is named after the city where a pretty hectic shoot-out between the FBI and a cult leader went down, so why call the album 'WACO'?
Ahhh, I just felt like there was a bunch of names on the short list for the record and WACO was around early on, and I just picked it watching some weird crimes of the century documentary on Netflix. I don't know, I'm just kind of drawn to the word itself, but the story behind it's pretty compelling and it just seemed like a really interesting metaphor for, y'know, a lot of the songs on the record. The record deals with control and illusion and people trying to grasp their own reality and trying to control it, and I guess [WACO] it's an interesting metaphor for these kind of illusions we create for ourselves in so many ways. Once we had the record and listened to it start to finished WACO just seemed to reflect, that so well and just give the album a really good identity to put, y'know, that whole collection of songs, start to finish, it just felt right. That's why we called it WACO.
With the title track of the album WACO, I just have issues picking it apart, your metaphor for WACO, as your lyrics say "I'm stuck in WACO" or "I'm in WACO", is that being in that place of delusion?
Yes. Yeah, hit the nail on the head. Yeah, I guess we talked about that in 'Hungry Ghost', we kind of scratched the surface on that whole concept that 'Hungry Ghost' came from the idea how you're left with this skeleton because how you have a whole lack of authentic experience and we live in this fake reality and for so many reasons. 'WACO' is kind saying that same thing but digging deeper and looking at what we're being fed and it's a pretty heavy critique this time around.
It's a bit darker and heavier, both lyrically and musically. So yeah, that song itself really sums up a lot of what the whole record is about. It was the same with 'Hungry Ghost' on the last record, we had that song finished and the album wasn't called 'Hungry Ghost' yet, but once we had the record done it just worked so well for the record as a whole. Same with WACO once that track was done lyrically and had it all wrapped up it just felt like such a good title. It was so minimal and simple because we really wanted to separate y'know, we wanted a separate record [to 'Hungry Ghost'], we really wanted to draw the line and bring on something new. So 'WACO' just seemed to be such a strong and simple concept to do that well.
Are there any particular tracks you're most proud of on 'WACO'? I'm really digging WACO and Blanket.
Awesome! I really like that you like WACO, because it's my wife's favourite song and she asked me this morning, "Have you heard much from WACO, is anyone liking that song?" And uh, not really! triple j didn't feature it on the feature album and a lot of reviews seem to be skipping over it, but it's one of my favourites too. And uh, Blanket, yeah that took a lot that song. It was one of the first demos. It was really hard to chase it up in the studio, but now I'm stoked with it. It just took a lot of work to get it to that point where everything fit in place, but now across the band it's one of our favourite tracks. I actually really like…I'm a sucker for the softer ones just because there's such a point of difference, I really like Low, just because I like songs that go long and have a lot of dramatic changes and I love surprising people. Low comes out of nowhere then builds up to the climax then drops back down to a bunch of layered atmospheric swells, so that's my pick at the moment. But you've got to remember I have been dousing these tracks for eight months, I think I just pick that because it's such a point of difference.
The final track on the album Low is a lot slower, more melancholic. How much of yourself, or your other band members, do you put into your music? How much of your feelings and experiences bleed into your music?
Oh! It used to be… its funny because it raises an interest point because when I used to write personal songs… Judas Stole My Girlfriend, it's a great song but it's pretty simple. It's a real true narrative of a story, some suburban story and a lot of kids could relate to it. Whereas now I feel when I bring in these more odd concepts. Low I got the idea for the lyrics when I was walking up the street. There was this auction on and they were auctioning off this old 50's house which is like a duplex, and it had so much history and it was just being auctioned off. I found the whole experience bizarre, hundreds of people throwing millions of dollars at this place and still to this day nobody lives in this house. Like, I walk by every second day and still no one's there.
This whole experience of this auctioning off, there's something dark about it. Humans revolving around it and kind of just fighting over property and it's just like wow, I just found it really dark and just sad. All that history and memories lost and the way we value things, I feel like that more strongly resonates where I want my music to go. Even though it's not personally about me or about my personal feelings I feel it more representing my vision of the world than those personal stories did eight years ago. Even though it's nothing to do with me in particular, I feel like that's more strongly associated with how I see the world.
I feel in those softer songs you get more space to do that because you get a slower tempo and usually get more lyrics in. The way I see it, your music is your chance to paint your vision of the world…the only chance you get to do that is through art or music. It's the only time you can try and truly reflected and evoke that emotion and actually express something in a true and honest way.. A lot of personal feelings go [into lyrics] even though they're not personal stories, it's more how you see the world.
It must be really comforting and exciting for you when so many people resonate with the words that you're writing and the music that you're making, how do you feel about that?
It's odd in a way. It's amazing obviously, because when you start a band it's a dream, imagine playing this music in front of thousands of people and now it's actually kind of happening. It comes back to you, its surreal more than anything because from your point of view these songs – I talk about these heavy concepts – they're still just a bunch of words I've thrown together written in some bedroom where ever. These songs start in a bed room, then they go through a studio and they kind of take on a whole life of their own. It's really odd to have them thrown back at you. To see, kids resonate with them so much and for people to just get it.
It's just surreal and on top of that the part I really enjoy the most is like 'fuck yes' a rejuvenated belief in the world. It can get pretty dire when you're trying to push music, which you've been doing for years and people don't connect with it and you see EDM music take off in the charts. You can start thinking this is what it's like now but the truth is there's so many good bands out there and so many good songs. It's just renewed my belief that there are people out there who search for good music and buy good music, not that we're the only good music, I just never would have thought a band that's this heavy, with all guitars straight up rock band would be able compete on that level in this day and age. I thought years ago that age was over and that would never happen again. I'm just more happy that we can use this to bring out more local bands and get them involved and spread the word about these awesome bands.
The Laneway line that we just did just blew our minds because there's a stage that all day was just guitar bands the whole time, from start to finish. We hadn't seen that… I don't think we've ever seen that since we started touring, we usually go on a festival and there's one or two other bands that play guitar, and the rest are electronic acts, and not that they don't make interesting music and don't deserve to be there but it kind of felt like that's where the mainstream has gone with what they're listening right now and that's music, that's how it goes. It's just so exciting to see so many kids back into guitar bands, awesome.
Talking about the Laneway line up, I was actually there and I reviewed it, it was such an awesome show, what bands from that line up, especially the unearthed ones, did you really like or would like to give a shout out to?
Blank Realm and High Tension are my pick. A lot of the days I didn't get to see a lot of the earlier acts just because of the way the flights worked out, the way it works with travelling you don't usually get there until about 4 or 5pm. All the acts that I saw live were amazing. I had a chat to Zak, he's a really nice guy, got along well with Methyl Ethel I think they're showing some promise going down the whole Tame Impala/King Gizzard route, of like some really cool psych garage rock sounding stuff, they wrote a pretty killer record and yeah High Tension, they've been around for years, they've got something so undeniable unique with Karina up there singing and screaming – it's an amazing live show and their music is so heavy. Again, a band like High Tension getting on the Laneway line up I could see that happening a few years ago so it's so good to see so many bands in that genre getting pushed up, it's great. Royal Headache too, of course, that goes without saying.
Will Waco be the next single or music video?
We actually have no idea, it's a kind of benefit of picking the third or fourth single is we get to see what people think, we won't just go on popular demand or anything. Covered in Chrome for instance, we didn't know that was going to be the single and DZ Deathrays, because we're on the same label, they just bugged the shit out of Yohan like 'you're an idiot if that's not the next single'.
You get so stuck in your little cave for 8 months and that's your perspective of the music but once it's out there you get all your mates out there telling you, like you just told us, you really like WACO so maybe. We actually have no idea, in fact on triple j and rage are telling we've got to do another single for rage or triple, and we're like we don't know, maybe we should know what it is, but its early days and we've still got a few months for the next single to drop.
Speaking on music videos, in your filmclip for Like Soda the band has a pretty flirtatious day with some ladies at the local bowls club. I've heard they were an interesting group of girls; can you tell me more?
They were just nuts, they were honestly just super flirtatious and dirty. I mean that in nice way, because I think what they were doing was just doing their job, because they were proper paid extras. Usually we'd go get a friend's grandma's or our own mums in but with the content it'd just be too bizarre if it was our own mums. So we got some paid extras, and they've been in spec savers ad, they were extras in Pirates of the Caribbean, like the new one on the Gold Coast, they told us about that. We don't know if they were just getting in character but they were just extremely flirtatious and constantly wanting to hug us, it was just really bizarre. They were really nice; they weren't too dirty but some of the stuff they were saying was like whoa.
I instantly thought, you know that famous brawl with the American sailors in WWII, all these American sailors docked in and there was this huge brawl. And I kept thinking these were the chicks there, they were the ones flirting with the Americans because they would just be on top of their game. It was amazing.
The tour sold out so quickly, the Melbourne show within 10 minutes, that must be pretty satisfying, what is up there with the most rewarding or satisfying experiences you've had as a band?
I still think the show we did at Splendour in the Grass for Hungry Ghost is still in my opinion it was really gratifying it was still unexpected, we thought we'd get a crowd, the tours going really well, but then we walked out and there was 20,000 people or something, it was just absolutely epic. It was really gratifying after 10 years as a bands, 12 years since we started jamming. It was amazing, it was crazy, it was a really good show and I always think back to that. It was one of the best hours of my life, getting to play the songs live and hearing them back life. Because that's where songs live, you put them on a record and everything but when you play them live that's when they're really experienced and its fun for us to play it out
This next one's a bit lame, but I made the connection; speaking of Hungry Ghosts have you seen the new Ghostbusters trailer and what do you reckon?
I actually haven't seen the new trailer, isn't it all chicks? Which I think, I saw a snippet and think it's awesome. I love that chick who did Bridesmaids, I think she's awesome, she's a legend.
Okay! So lastly, you're playing at the Tivoli in May with DZ Deathrays and Dune Rats, I'm bloody keen, can we expect anything hectic with the three of you at one venue?
Probably, I'm scared myself. Shane and Simon party like motherfuckers and Dune Rats party even harder like mother fuckers, I just don't know how I'm not going to lose my voice on tour, hopefully none of that happens but its Dunies and DZ if there's anyone in a room who makes you get up and party it's those guys. Either way, it's going to be a fucking awesome night, I'm just scared that people's ears are going to burnt out before our set, because if you've got an open and those two bands, if I was a punter I'd be like oh I'm done, DZ were great.
It's going to be a rad night and a rad tour, I can't wait. To tour with a lien up we've been trying to get together, DZ first suggested this since we first got back from the states. They wanted to put this line up together and so we've always kind of joked about it, but it finally worked out perfectly with those guys doing some singles and they do a lot of international touring that's always stopped us in the past for all bands to be in the country and to be releasing music all at once.
Your tour mates Dune Rats and DZ Deathrays have both hilariously put up Red Light Green Light videos, how far away is Violent Soho's?
Ohhh, I don't know. I don't know what kind of drugs or alcohol we can do to beat it, because if ones done alcohol and ones done weed, that can only lead us to do something heavier and that's just dangerous. But I remember thinking red light green light freaks the crap out of me, I don't know we'll see.
Violent Soho 'WACO' (Almost Sold Out!) Australian Tour

TUES 10 MAY
The Tivoli, Brisbane
WED 11 MAY
The Tivoli, Brisbane
FRI 13 MAY
The Tivoli, Brisbane
SAT 14 MAY
Forum Theatre, Melbourne
SUN 15 MAY
Forum Theatre, Melbourne
MON 16 MAY
Forum Theatre, Melbourne
THURS 19 MAY
Thebarton Theatre, Adelaide
FRI 20 MAY
Metro City, Perth
THURS 26 MAY
Enmore Theatre, Sydney
FRI 27 MAY
Enmore Theatre, Sydney
Get Tickets HERE