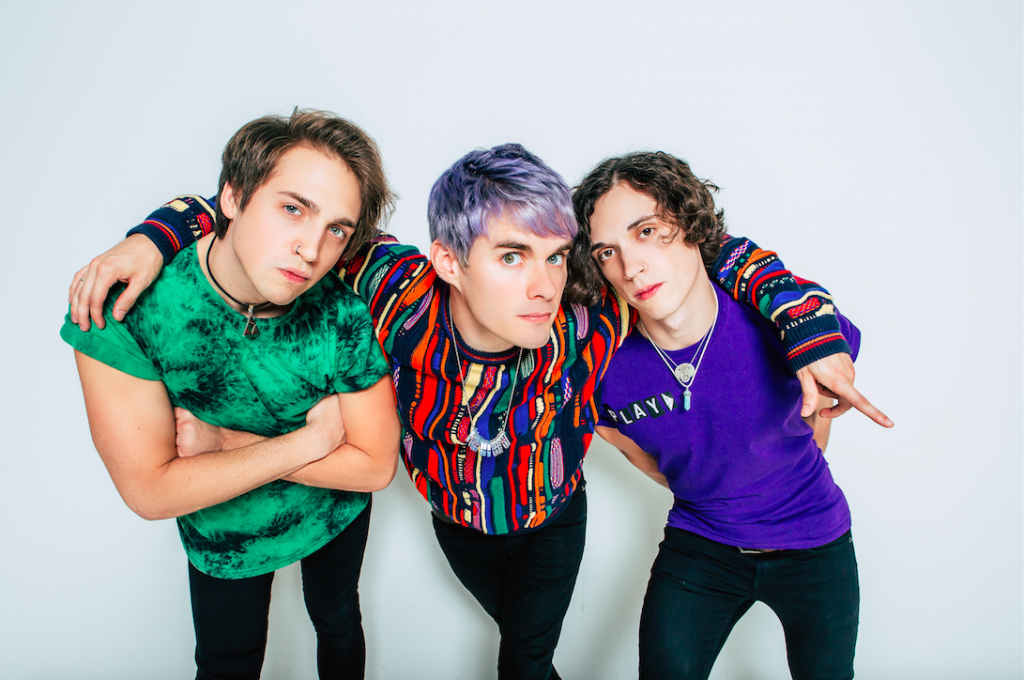 With Good Things Festival only days away, Waterparks are a young band on the rise you'd be stupid to miss live. With a sound spanning multiple genres and an audacious style, we thought it be fitting to catch up with lead singer Awsten Knight and chat about what influenced Waterparks diverse sound and why writing a 'standard' album bores him to no end.
2018 seems to have been a hectic year for Waterparks. The album earlier in the year and touring and a heap of new fans along the way. The right question to ask is, how's it all been man? Has the roller coaster slowed down or has it all been flat chat?
It's been pretty busy cause even if in off time I've been extremely busy working on different things! As soon as Warped Tour was done, there was one day where I kind of got my shit together and then the next day I drove to California and moved there. And that was my first time moving out in general, I feel like I haven't had the time to really do it. And then, as soon as our Europe tour was done, I came back to California and have been working on things that I can't really talk about yet!
I'm interested to know, your sound is quite unique in the way in combines and features different genres. Who were some of your influences growing up?
Ooh, well the thing is it's changed a bit as I've gotten older but what I used to hear all the time as a kid was my Dad's obsession with '80s music and The Beach Boys. So there's a lot of Van Halen and a lot of Beach Boys, which I think is where I get all my harmonies because our producer is always like, "god dammit another one," and I just say, "yep," because I just want to stack all these harmonies together. Try to just make it super layered, a big wall of vocals and that's what they do so I think that's probably a big influence. Then the bands I started getting into early on, maybe late Elementary School I got really into Sum 41, Good Charlotte, Blink 182 and then it progressed into rap and pop and things like that so I guess now we're pulling from literally everything?
'Entertainment' has seemed to really propel you guys 'up the ladder' I guess we'll call it, from your point of view, is the fact that you do dabble in all sorts of genre something that has helped Waterparks stand out?
Yeah, I honestly I think that's a big part of it. I think the imagery and sounds do play a part. Honestly, I want us to be as stylistically diverse as possible. I don't want someone to listen to us and go, "oh that's a pop-punk band," or a rock band, I want people to think that we are a band that does literally everything. Like can do everything and does do everything you know.
When you were first starting out, given the density of the scene and the amount of bands jostling for spots on bills, was it a conscious decision to have a slightly different sound or was it just a natural collection of your influences?
Oh yeah I mean I definitely didn't have tours in mind, it always just me going "I really like this" or "I like these genres" and I wanted to make music in this realm and I guess as long as people go see you, you're going to get tour offers. Really all people care about is bands that can draw. Cause all people want to do is fill up rooms so if a bigger band is looking around for an opener, really all they're going to do is get sheets and look at numbers. And I guess that's why I love selling out shows so much, we just got news that on our American tour, Orlando, Bloomington and Cleveland have all sold out and I get excited about that.
But the choice to have a bunch of different styles is about trying to avoid making a 'standard' album that's just one feel or texture, it's so boring you know. Like, if you like other things and are capable of doing other things, why would you not? And it's great for us because we get to be on a lot of different lineups, we can cater set lists to different genres.
Does it frustrate you when you see bands pigeonhole themselves in that 'standard' one genre sound?
I guess if you're good at what you're doing then cool but to be totally real, if you're trying to be a pop punk band, you're not going to be better than Blink (182) or Jimmy Eat World or Good Charlotte, those releases that came out twenty years ago that will go down in legendary status, why are you trying to compete you know?
And in no time at all you guys will be venturing back down south for Good Things Festival. Have you had much of a chance to suss the lineup out? Who's on the radar to check out on the day?
I'm going to watch Babymetal. End of story. I keep watching their YouTube videos and I don't know what's going on but I love it.
You were here earlier in the year, were there any highlights from the last trip you're keen to revisit or are there any new spots in Aus you're keen to see for the first time?
See I don't even know what I missed because I was so focussed on koalas last time. I told our tour manager "all I want to do is hold a koala, I don't care what else happens". I got to hold one so that was awesome. Dude everyone is so pretty out there it's really upsetting. It went through phases, I'd see weirdly attractive people and I'd go "oh god" and then keep walking and just gradually getting depressed cause everyone was so much better looking than me, it was like Grease. It was back and forward and loops around and you're just tired cause everyone's so pretty.
So would you go as far as saying Aussies are more attractive than Americans?
Yes, without a doubt.
Sh*t Question Pile: Good Things Edition
In the form of a rhyming couplet, describe a Waterparks, festival show.
We're going to watch Babymetal, I'll give Otto a flower petal, I hope he takes his shirt off, god I hope Otto takes his shirt off.
Would you rather: Be a member of Babymetal or All Time Low?
Mmm see I think I'd be kicked out of Babymetal cause don't they kick them out after they're like 16 or something? So for longevity's sake I'll go All Time Low.
Would you rather: have Corey Taylor guest vocal on Stupid For You or guest vocal on Pretty Fly for a White Guy during the Offsprings headline set?
Oh my god, how could you not guest vocal for that song! I would guest vocal with The Offspring for sure!
Good Things Festival
FRI 7 DEC
Flemington Racecourse, VIC
SAT 8 DEC
Parramatta Park, NSW
SUN 9 DEC
Brisbane Showgrounds, QLD
TICKETS