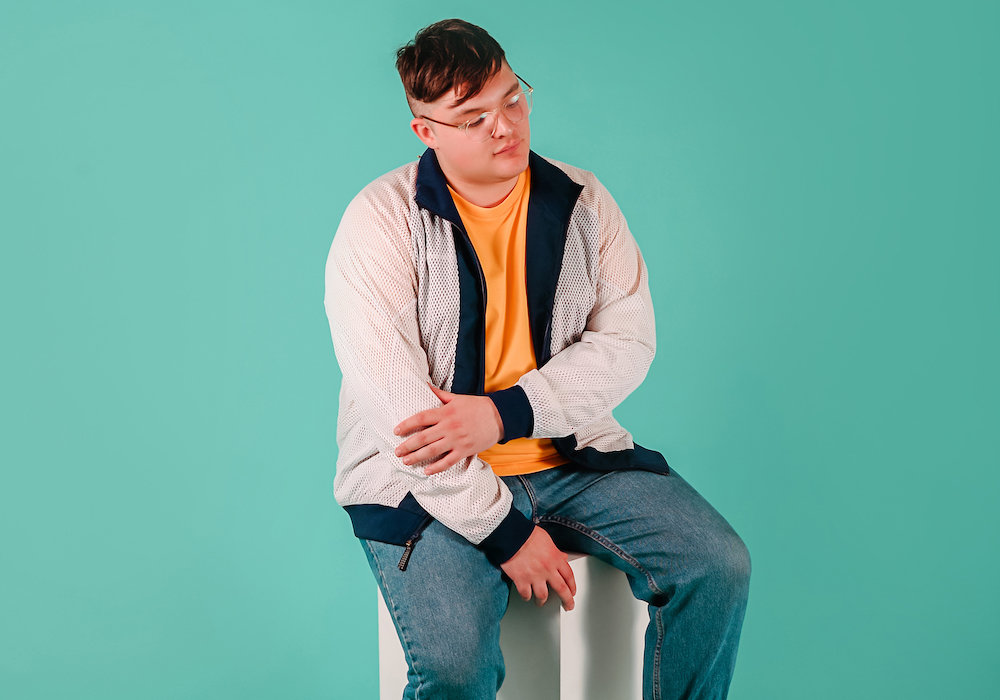 Melbourne-based artist Wolfjay has just revealed their stunning new single 'Together' – produced by Wolfjay themselves and Hayden Jeffery (Woodes, Golden Vessel). They perform at Bigsound next month
'Together' has such a nostalgic atmosphere to it. What was your writing process?
I wrote the lyrics around the middle of November in 2017 when the Australian same sex marriage plebiscite happened. It was a big moment of validating a lot of the ways I had been feeling since I was a teenager, and finally being able to bring them to the forefront and celebrate it.
It was this long process of slowly going further and further back in time and realising all of the things I'd been beating myself up about were actually me trying to come to grips with my identity, and then telling myself that all of those things were actually totally valid and not something to be ashamed of.
My whole approach to the way Together feels and sounds and moves was to try and write the song the pop punk obsessed teenage Wolfjay would of been drawn to, and give them an opportunity to hear themselves in something, to let them know they're not alone in the world — something I would send back in time to their light blue iPod Mini for them to stumble across while riding their bike around the neighbourhood trying to work everything out.
How rewarding does it feel seeing this track receive so much love?
The response has been so incredible! I feel like it's the most honest representation of me as a person that I've shown in a song, so to see people loving it is so warm and lovely. It's been such a wild experience.
You're playing at Good Intent's 1st Birthday before heading to BIGSOUND in September, what can people expect from your live show?
I'm really excited to be bringing the new live show I've been working on for the last year, it's got a bunch of new songs in there and a lot of moments. I've been working with percussionist Andreanna Massacci on the live set for most of this year, and I'm super proud of it. There's lots of guitar, there's lots of feelings, and there's lots of momentum. It's an absolute thrill. I'm so excited.
Do you have any guilty pleasures?
Honestly, I really love Plum Sake. There's a ramen place near my house that has the best sweet plum sake, and it's just the greatest thing in the world. I don't really drink alcohol, unless it's plum sake. Plum sake has permission to fuck me up whenever it feels. Hot damn.
What impact do you want to have on people with your music?
I always try to make sure that my songs feel hopeful. I want people to be able to listen to my music when things maybe aren't going well and have hope that things could get better — which I've learned is easier said than done. It means that everything has to be 100% sincere and earnest, and that's hard because it makes you vulnerable, but I think it's worth it. I want to believe in people, and I want them to believe in themselves.
Can we expect more new music from you this year?
We've got something lovely coming on August 23rd, but I don't want to spoil any surprises! It'll be worth keeping an eye out, that I can promise.
WOLFJAY
TOGETHER TOUR DATES
THU 29 AUG | THE GASOMETER UPSTAIRS, MELBOURNE VIC
SUN 1 SEP | GOOD INTENT 1ST BIRTHDAY, SYDNEY NSW
TUE 3 SEP | BIGSOUND @ THE FLYING COCK, BRISBANE QLD
THU 5 SEP | BIGSOUND @ THE FLYING COCK, BRISBANE QLD
FRI 13 SEP | THE STAG HOTEL, ADELAIDE SA