Interview: Zac Carper From 'FIDLAR'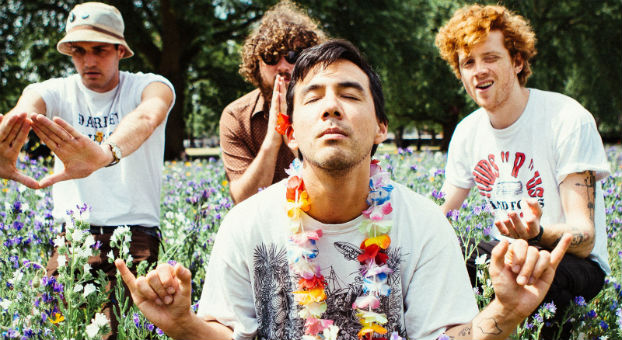 FIDLAR, which stands for "Fuck It Dog, Life's A Risk" in case you didn't know, is not your average guitar strumming band. Off the back of their second album release 'Too', FIDLAR are back in Australia to bring their foot stomping set to Laneway. We chatted with FIDLAR frontman Zac Carper, who has arrived early in Australia to help produce for The Dune Rats. We're not not gonna lie, we were worried that given FIDLAR's larrikin nature we wouldn't be wild enough to interview any of the guys. Thankfully, Zac is a total lad and was super easy to talk to, even with the 'Dunies causing havoc on the other end of the line.
So, I hear you're with the' Dunies lads right now as like a producer?
I am. We're doing some stuff and it's gonna be sick.
Awesome, so I'm guessing that's going really well?
It is! But it's a lot of work, you know and it's not like we have that much time, but we have enough time. We're working like 12-14 hour days, just trying to get as much done as possible.
Producing for the Dune Rats, how is that process different or similar with your sort of process for FIDLAR?
It's different when it's not, like, your song. But it's still the same, I mean, it's the same thing but it's still the whole studio kind of thing, hanging out in the studio and recording, stuff like that. But the difference is they're an actual band and we're building the songs up. That's the fun part for me, that's why I like to do it! It's not like touring and stuff. I love touring, but it's kind of a secondary thing. I love making records!
Yeah, I suppose you've done the huge anxiety inducing process that is the second album release, so I'm sure you've got a lot of wisdom you can impart onto them.
Oh yeah, this last year I've produced like five bands or something. So I've been learning a lot about that whole thing and also just helping them be them [while] helping them be more than them…challenging people and stuff like that! I think that with FIDLAR's second record and everything it was kind of a different approach for us as well and kind of a different vibe and a different thing, but we needed that thing!
Yeah! So, you guys are coming out for Laneway, and the last time you were in Australia was 2013 for Splendour in the Grass. In terms of the band, how do you think you guys have changed or matured since the last time you were here?
Yeah, I don't know. I'm not really sure, I know for me I've chilled out a little bit more…I used to do a lot of speed. So I've chilled out a lot! I mean we were like 18, 19 when we started, so you're just a different person when you're that age.
(At this point the Dune Rats enter and start harassing Zac whilst he is on the phone)
Shut the door you idiot! God! You wanna listen to my interview?? Oh my god, close the door, sorry!
No, it's alright, roommates and all, I know what it's like!
Yeah, well you should try being roommates with the Dune Rats…
I feel like that would be a lot more hardcore. So yeah, definitely more chilled out since last time?
Oh yeah, well we're certainly different to like doing hard drugs at like 20, 21, that has a different vibe than if we were like 30 and shooting heroin in a bathroom, you know what I mean? There's a different vibe to that. I'm not saying don't do drugs, I'm just saying that like, for me, I want to go down a different road.
So out of curiosity, with the 40 oz. On Repeat video, which is hilarious by the way, how did you pick those specific music videos to mimic? Was there a short list involved?
There was a long list. But basically me and my brother-in-law just went through and were like, "okay what are the ones that we remember that stand out?" We wanted to pay homage to the ones that we grew up with. Especially growing up in the 90s, we wanted pick the ones that were important to us.
Britney Spears was very important to me as well…
Yeah, exactly, that was an important video clip.
Some would say it's life changing. Speaking of songs on repeat, because I know I had that song on repeat a lot, what sort of songs or albums do you chuck on repeat?
Hmm let's see…I've got into some reggae stuff. Reggae is like a good vibe for like road trips. I've actually been listening to Bruce Springsteen a lot. Pretty good, he's got a lot of fucking records man.
Like his earlier stuff?
Well yeah, I just started from the beginning. I still listen to like Green Day and Blink 182 all the time. The 'Dunies actually got me onto that Violent Soho band, they're really awesome. I'd never heard of them, but I guess they're like big in Australia. I've been really impressed, I was like "fuck, this is amazing music", and their videos are great too. Oh and of course, the Dune Rats. I LOVE THE DUNE RATS! I had to say that out loud so they can hear me…
Speaking of Australian music, I don't know if you know but you guys are up for spots in triple j's Hottest 100 with 40 oz. On Repeat and West Coast, which is exciting!
Oooh, really? I didn't even know that.
Yeah, people can vote for you to be in the Hottest 100. So, evidently you guys have been very well received in Australia, did you ever expect that?
('Dunies come in for round two) I'm sorry. What do you guys want exactly? Just let me do my thing…alright, get out of here! Sorry, what was that last question?
That's okay, I was just asking, FIDLAR is obviously well received in Australia, did you expect that at all?
Oh no, we had no idea. We didn't even know anything about Australia and then we got to come out on these crazy trips and play festivals. I remember we played Splendour and we all got our own hotel room. We usually share one hotel room with like six dudes, you know? It was so different and awesome. It's weird and it's great. It sort of makes sense though doesn't it? Like, I'm from Hawaii so it's similar to Australia with the beach… it's kind of like that culture.
Back to the Hottest 100, do you have any favourite releases from last year?
I don't even remember what came out last year! I don't know, I mean there is a couple of bands from America. I really like this band, I think they're from Toronto actually, called Dilly Dally. They're like a real grungy grunge band. I like some of that electronic stuff that's come out too, I think that's pretty cool. But I've been working so much that I'm not really on it with the new music.
Who are you looking forward to seeing at Laneway?
We'll definitely be checking out Violent Soho, and our friend Metz will be playing so that'll be fun. I don't know what else. What I really wanna check out, which the Dune Rats told me about, the silent discos?
Silent discos are rad!
I've never been to one! I've gotta go.
Yeah, they're awesome, you just chuck on a pair of headphones and away you go.
I'm definitely down for that.
Got any plans for Australia day?
Oh yeah, I hear I'm getting lined up with a kit.
Do you know what's in the kit?
I know I got a hat, but other than that, they're keeping it pretty quiet.
So you'll be wearing this all day?
Oh for the entirety of the rest of our stay in Australia for sure.
Well, now I expect to see that hat at every Laneway show. Alright, thanks man, I hope you have a good one!

You too, take care!
FIDLAR Live At St Jerome's Laneway Festival
FRI 5 FEB
Adelaide – Lionflour Stage 4:00pm – 4:45pm
SAT 6 FEB
Brisbane – Never Let it Rest Stage 4:55pm – 5:40pm
SUN 7 FEB
Fremantle – Ferris Bueller Stage 3:00pm – 3:45pm
SAT 13 FEB
Melbourne – The Very West Stage 5:35pm – 6:20pm
SUN 14 FEB
Sydney – Garden Stage 3:00pm – 3:45pm