Jackie Brown Jr Bring Sax Appeal With Latest Track "Sauvignon Bogan"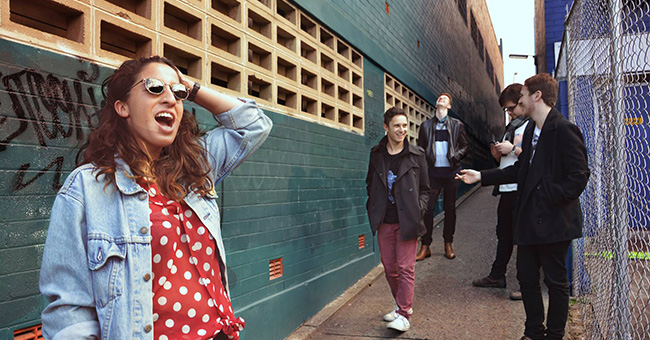 Self-described "Pulp Fiction Soul Rockers", Jackie Brown Jr are bringing some funky fresh vibes with their latest track Sauvignon Bogan. First and fore mostly, this is a great title. Mainly because it accurately describes how you feel after saying "Sav Blank" to a French person when discussing wine you like (you probably wanted to say goon, but that's not quite classy enough).
This track pairs the husky soulful vocals of lead vocalist Maddy Mallis with some killer rapping from drummer Rhyan Clapham, whose style is very reminiscent of Urthboy. With a chunky bass line and some silky smooth guitar licks, this track is heavy laden with quality instrumentals.
There's a big mix of style and influence going on here, some RnB, some soul, some funk. It's a great mix and provides some serious groove for the listener. It also features a freaking saxophone solo, once again proving that this instrument has been underutilised since the 80s. Everyone should get around the sax, Sax for all!
Truthfully the track is all about coming to terms with the world, but there's an element of coming to terms with your own Australianess. Honestly, this is about as Australian as it comes when it comes to RnB, it references vegemite, and 'Home & Away'…there's a reason bogan is featured in the title after all. All in all it's a charmer of a release.
Sauvignon Bogan's sister single Lake Loser is a slightly more mellow track, but with the same jazzy vocal stylings and an awesome horn section. Jackie Brown Jr are kind of like a warm hug. They're groovy as anything with their boisterous brass section but also provide a certain Australian nostalgia with their lyrics.
Sydneysiders can crack open some Sav Blanc and catch Jackie Brown Jr at Sad Grrrls Fest later this year, info below!
Jackie Brown Jr Show Dates
THURS 18 AUG
The Mercantile Hotel, Sydney
SAT 8 OCT
Sad Grrrls Fest – The Factory Floor, Sydney
Get Tickets HERE