Joel Leggett Shares New Single, 'Losing My Mind'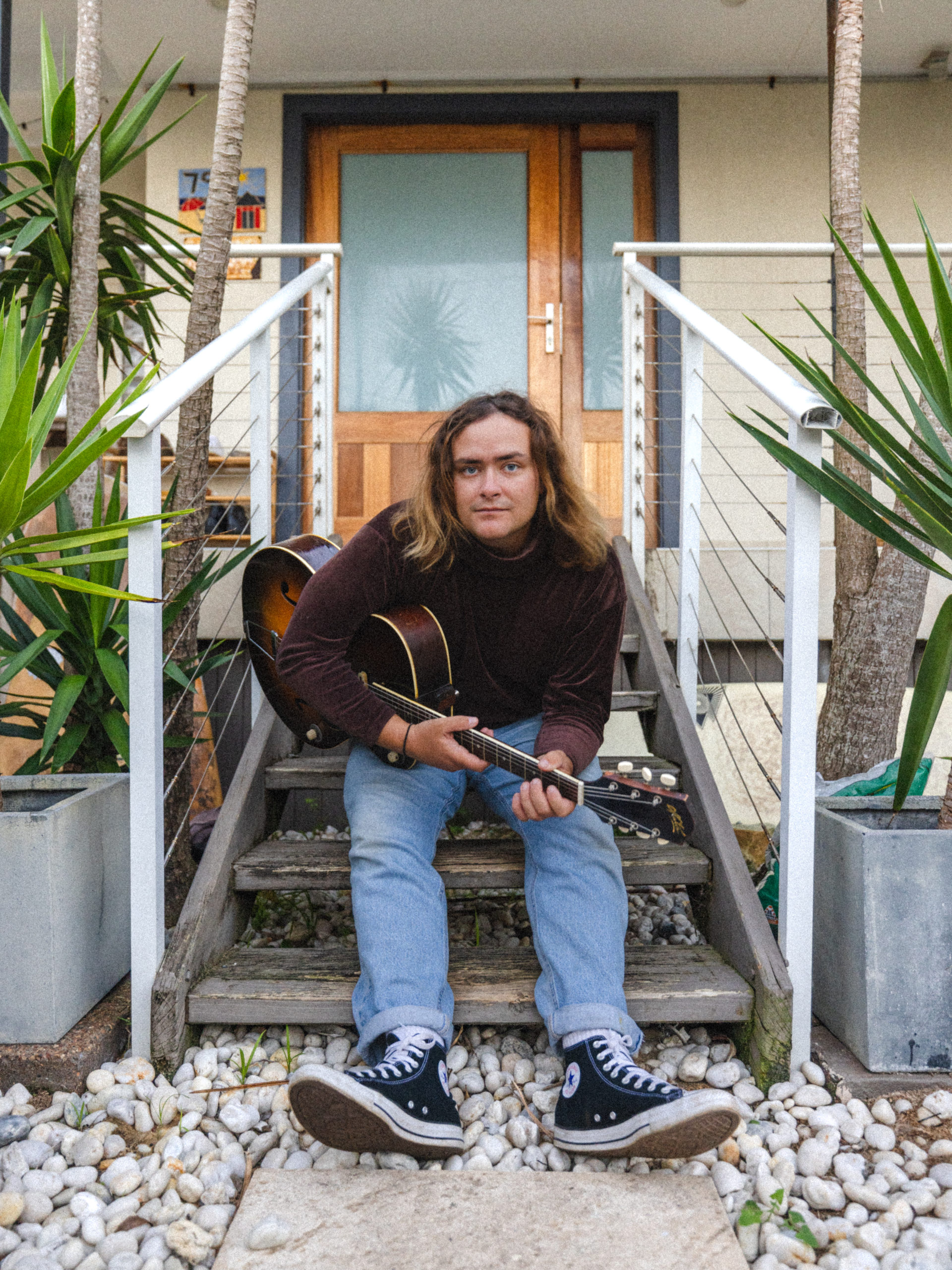 Darkinjung/Central Coast-based indie-folk artist Joel Leggett has just returned with his heart-warming single 'Losing My Mind' – produced by Joel's long-time friend Manning Allen-Scott at Alleyway Studios in Cavanbah/Byron Bay.
Losing My Mind is a wholesome, organic cut that exudes fuzzy and inviting energy while engrossing the listener emotionally with Joel's effervescent vocals and sombre lyrics. Rolling, cosy floor toms build a serene foundation as finger-plucked guitars and delicate piano charm. Deft backing vocals, unique percussion and twanging banjos splendidly round out a gorgeous mix that feels wholly effortless and authentic.
Joel talks about the inspiration behind 'Losing My Mind':
"The track was recorded over two days and depicts a specific time in my life when I suffered from social anxiety due to the pandemic. Not being able to leave the boundaries of my home was almost impossible due to lockdowns and curfews. During and after the pandemic, I struggled with getting out and meeting people. Catching up with friends and being in large groups was hard because I had this mind chatter telling me I shouldn't be doing these things. I got so used to spending time with my own thoughts, and sometimes it felt uncomfortable. I felt stuck in my own home and stuck in my head; that is where this track came from."
Accompanying the release is the picturesque music video, shot across Cavanbah/Byron Bay. It follows the track's lyrical themes, juxtaposing being stuck inside with the freedom of the boundless countryside and quaint rivers. Joel adds, "I thought dancing around paddocks and hanging out around freshwater streams would be a beautiful way to spend your day if you weren't stuck at home. Funnily enough, we also ran into Pete Murray while recording this; very inspiring!" 
To coincide with the release, Joel will support The Dreggs at the Metro Theatre in Eora/Sydney and The Cambridge in Mulubinba/Newcastle, before playing Glenworth Grazing Festival in Darkinjung/Central Coast. He'll then embark on his own headline shows at The Junk Bar in Meanjin/Brisbane, Livid Skateboards in Boorloo/Perth, The Workers Club in Naarm/Melbourne, Grace Emily Hotel in Tandanya/Adelaide and Low 302 in Eora/Sydney. This continues from playing to capacity crowds across Australia's East Coast and sharing stages with beloved Australian acts San Cisco, The Dreggs, Pacific Avenue, Didirri, Alex Lahey, Kim Churchill and Ziggy Alberts.
JOEL LEGGETT
TOUR DATES
* Supporting The Dreggs
FRI 9 JUN | METRO THEATRE, EORA/SYDNEY NSW *
SAT 10 JUN | GLENWORTH GRAZING FESTIVAL,
DARKINJUNG/CENTRAL COAST NSW
SAT 10 JUN | THE CAMBRIDGE HOTEL, MULUBINBA/NEWCASTLE NSW *
FRI 16 JUN | THE JUNK BAR, MEANJIN/BRISBANE QLD
SAT 1 JUL | LIVID SKATEBOARDS, BOORLOO/PERTH WA
THU 6 JUL | THE WORKERS CLUB, NAARM/MELBOURNE VIC
THU 20 JULY | GRACE EMILY HOTEL, TANDANYA/ADELAIDE SA
FRI 28 JUL | LOW 302, EORA/SYDNEY NSW