Lepers & Crooks Release Must Watch Video Ahead of EP Tour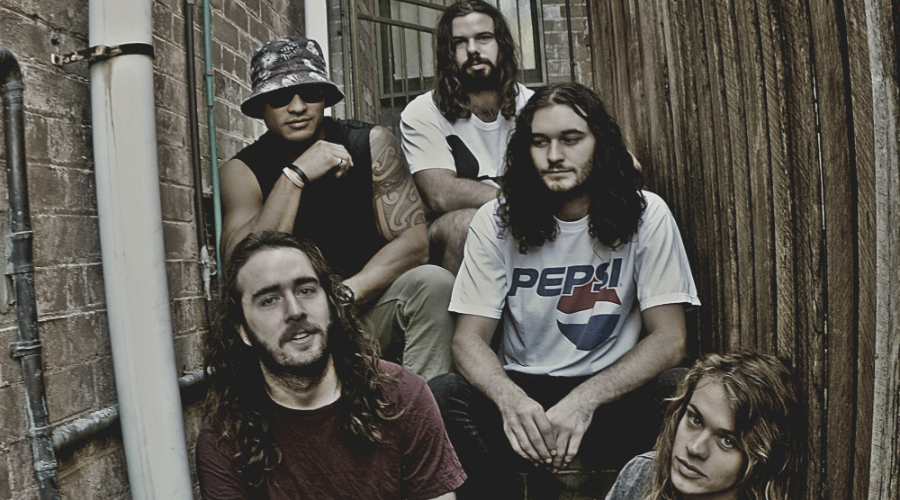 It's been an impressive start to the year for Lepers & Crooks! The Sydney 5-piece have just finished recording their EP 'The Heathen Circus', released a new single, and are set to tour our sunbaked land in May and June.
Their latest single Let You Go channels the classic Aussie rock vibe. It's got it all, from catchy backing vocals, swearing, whimsical lyrics, rockin' riffs, and a wah-wah solo! The accompanying music video, directed by Danielle Payne, is a confusing wild run through dark streets.
The video follows a cross-dressed lead vocalist Sam Baker in a perceived prostitution deal in dark streets late at night.  The video cuts back to Baker and drummer Damien Jones, who seem to be a couple, arguing and downing VB tinnies. Baker then runs away after taking the money from a man (you can figure out the context).
As Baker runs he passes a road worker dropping the bundle of money on the sidewalk and jumps over a homeless man . The video ends as the homeless man is hit by car with the road worker helping him by giving him the lost bundle of money. Baker and the other band members are left tossing hands up after realising they lost the money.
The band will begin the 'Let You Go' East Coast tour from early May at the Oxford Art Factory in Sydney and ending in late June in Canberra.
Check out tour dates and the music video for Let You Go below!
Lepers & Crooks 'Let You Go' Tour Dates 
SAT 14 MAY
Oxford Art Factory, Sydney
THUR 26 MAY
Sooki Lounge, Belgrave VIC
FRI 27 MAY
Workers Club, Melbourne
SUN 28 MAY
Baha, Rye VIC
FRI 3 JUNE
Federal Hotel, Bellingen NSW
SAT 4 JUNE
The Northern, Bryon Bay
SUN 5 JUNE
Sounds Of Sunday, Gold Coast
FRI 10 JUNE
Pacific Hotel, Yamba NSW
SAT 11 JUNE
Crowbar, Brisbane
SUN 12 JUNE
Peregian Originals, Sunshine Coast
FRI 24 JUNE
Rad Bar, Wollongong NSW
SAT 25 JUNE
The Basement, Canberra
Get Tickets HERE