Life On The Road With Bryan Adams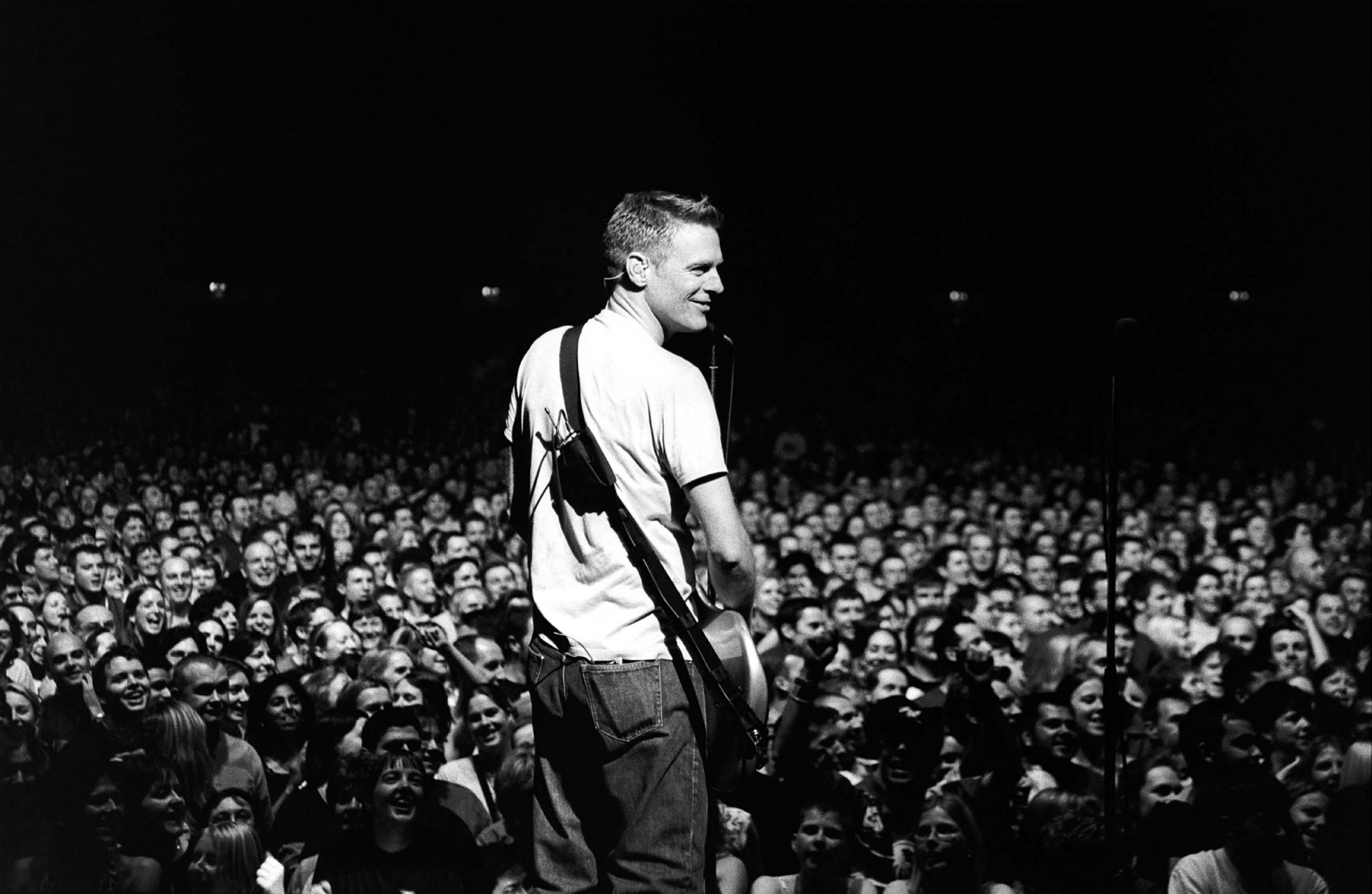 For a fan to follow their idol it can almost become like a biblical experience—the experience being the operative word here, this is what a fan lives for. Follow me on a journey around Australia as you experience first hand what it's like for a fan on the road with Bryan Adams.
For those of you who may not be familiar with the Canadian rocker, he has had a career spanning almost 30 years with a string of hits from the '80s songs such as the ever so catchy Summer of '69 through to other rockers such as Cuts Like a Knife, a ballad called Heaven and a more recent revival in the '90s with the hit single from the soundtrack to the movie, 'Robin Hood Prince of Thieves', Everything I Do (I Do It For You).
The latest album release titled 'Ultimate', released November 2017, has brought together all these epic hits from over the years and brought him back to our shores for a much earlier than anticipated tour, so it was time for fans to commence preparations for the tour.
It didn't take long for social media accounts to go into overdrive with shares and re-tweets, broadcast text messages being exchanged with every Bryan Adams fan in Australia and around the world. This time it was a short tour, but was sure to be a memorable one. Some places were more remote than others, for fans there is no journey too near or far.
Planes, trains and automobiles we would get to the gigs by any means, from tickets, to flights, to accommodation we were on top of this like the veteran concert goers we were. It's all about strategic organising, one thing fans knew how to do and do well from having years of practice. If a tent was our only option for accommodation, then so be it!
We were happy to travel, especially somewhere new—it's just what fans do, right? All part of the adventure with a bit of sightseeing thrown in along the way. A good night's sleep was in order before day one of the tour was to commence. Our first stop was Queensland at Bribie Island's Sandstone Point Hotel with a rumoured four-thousand people going to be in attendance.
It was day one of a four-show Australian tour—we were ready and pumped for the first gig. The ticketing for this particular gig was general admission and no allocated seating but we were up for the challenge. Some fans had turned up early anticipating a large crowd even though this was a mid-week gig. So they could obtain that elusive front row position; waiting in the stifling heat for the gates to open, consuming countless bottles of water and then finally the moment had come. We had planned our strategy, the gates opened; this was a heart stopping moment for fans and it was go, go, go. The goal was front row for all of us and front row is what we got. Mission accomplished!
Perth band Thirsty Merc were the first ones to take the stage supporting Bryan Adams on his Australian tour and did not disappoint playing an array of hits such as Someday, Someday. A request for Tommy and Krista yelled out at every show (almost like it was scripted that way) and In the Summertime—a fitting song for Queensland considering the weather was in the high thirties. An old favourite also played was a ballad called 20 Good Reasons. Together for fifteen years now, this band showed the crowd they still got it. These guys presented so much raw energy and enthusiasm and this seemed to transfer onto the crowd. They had the crowd singing and cheering for more. For a band that seemed so underrated, these guys were just as good as any A-listers.
In Victoria, we were treated to a rare performance from Australia's own Daryl Braithwaite who had the crowd singing and all of them up on their feet to classics like his '90s hit The Horses and older numbers from the '70s such as Howzat from his days with the band, Sherbert.
The moment had finally come. The silhouettes of five gentlemen walk onto the stage, the lights came on, the screams let out from the crowd, a heavy guitar riff rang out and then we heard that unmistakeable husky voice.
Bryan and the band finally take the stage, opening with a rousing performance of One Night Love Affair that starts with a guitar riff only a fan would recognise. We all sang along in full voice to epic songs such as Go Down Rockin' that have become an anthem for Bryan Adams and his career—demonstrating the sheer determination he has as an artist about his craft, with lyrics like, "If I'm gonna go down, I'm gonna go down rockin, I aint gonna slow down, I'm gonna go down rockin." It's quite the punchy number, with the hint of a rockabilly sound to it.
New ballads were sung such as Please Stay off his latest release 'Ultimate', which yields an interesting clip of two people with planets for heads. As we watch the footage projected onto a large backdrop screen, the rest of the crowd may have been quiet, hanging on every word but it was us fans, again, singing along in full voice from start-to-finish. It was quite a stripped down song that really showcases this man's vocal range and unique voice.
Old hits and unmistakable ballads such as Everything I Do (I Do It For You), are always a crowd favourite and Heaven was a hit with fans. The reaction from Bryan was one of astonishment as he now became the audience member. The crowd took centre stage; he didn't know when it was his moment to come back in taking in this beautiful performance by the audience, he was in awe.
Can't Stop This Thing We Started was also on the bill from the '90s album, 'Waking Up The Neighbours' and a favourite with us fans. This song had become our anthem because, as fans, we just couldn't stop this thing we started.
We all know that a Bryan Adams performance just wouldn't be complete without the crowd favourite, Summer of '69. As those first few chords are played, it's not hard to figure which song it is—anyone that knows of his music knows this one! Who needs a microphone when you have your very own crowd in full voice belting out the lyrics with the help of some scantily clad images and lyrics projected on the big screen behind the band. It almost feels like an epic carpool karaoke.
It's Only Love, a duet originally sang with Tina Turner, has become the song where the stage is stolen and the limelight is on lead guitarist, Keith Scott. With his epic guitar solos and his wonderful antics and acrobatics with his guitar, he swings it around and breaks into these mind-blowing guitar riffs. He whips the crowd into a roaring frenzy as they watch in wonderment at the awesome display of prowess. Keith Scott was the man of the moment!
Who could forget another crowd participation number, the song 'Cuts Like A Knife' and its elusive chants of na na na. It's another song that really feeds on crowd participation. Bryan pushes the crowd to their limits with this one because near enough is just not good enough. With fans in full voice we try to engage the crowd with us and sing along.
Bryan Adams always engages with the crowd which is what a good artist does. His friendly banter often demonstrating that Canadian sense of humour with the crowd each night breaks up the setlist. From sharing his learning of Australian sayings with us all, to humour at the Australian accent and how Aussies pronounce Bryan so differently and his amazement at the change in the weather coming from steamy, sweltering Queensland to a cold, wet Victoria.
You'll often know a Bryan Adams fan when you see them; they're usually the ones down the front wearing a ragged old Bryan Adams shirt they got from a previous tour that's seen better days or a limited edition '80s tour shirt that they scored from the fan club back in the day. They're usually the ones yelling out obscure song requests, holding up rare vinyls, random signs or fist pumping along to almost every song. They know every action and every little characteristic.
Touring can be a nerve racking, anxious and tiring time not only for the artist, but for fans as well. Wondering how we are going to make it to front row at every gig, to worrying if we might be late to the gig because our flight was delayed or our flight being cancelled to scrambling to find another one on the day of the gig to traffic delays on our way to the venue. These are just a few things to contend with.
The plane flight can become a little stressful sometimes with delays which becomes a problem especially if it's the day of the gig but when you get delayed on the tarmac with Bryan and the band on the same plane well that's not so bad!
Fans have to contend with security as well at a gig and this tour was no different with security asking everyone to move back to their seats. But what makes a Bryan Adams gig different is when a remark is made by Bryan for the crowd to move forward and fill the gaps. This is where he gains a lot of respect from the crowd, as he believes in his audience—being able to have a good time and enjoy themselves at his gigs. Like the lyrics to his song Kids Want to Rock: "Kick down the barricades, listen what the kids say, from time to time people change their minds, but the music is here to stay, I've seen it all from the bottom to the top, everywhere I go the kids wanna rock." And that we did!
Sleep is also one of those luxuries we don't often get either. Sometimes you might be lucky to get a bit of a kip on the plane between gigs. While on tour you truly do live the rock star life, which means for some of us: late nights, long days, flight-after-flight, unpacking, re-packing, and living our life out of a suitcase. You need to be able to go the distance and be mentally prepared before a tour.
The fan experience also often encompasses each other's feedback and thoughts on the gig with discussion after the show on the performance. Which one do you think was the best? What was your most memorable moment? Discussion about the gig can go on for hours after the shows, often going back over footage or images taken throughout the show and swapping with each other. It can be a further bonding experience as a fan.
As we tour around with Bryan and the band, we also have to anticipate the weather with different venues, some being open air and pack accordingly e.g. rain jackets and ponchos, maybe wellies if it's Victoria and shorts, singlets, sunscreen and hat for Queensland.
Then there's the wonderful selection of food at the venues—deep fried goodness at ridiculous prices. Like a burger: the only thing remotely healthy at $14.50. Yeah, think I'll pass. Needless to say, we were well over eating chips after the tour.
Often, as fans, we like to keep with the theme of the tour and stand out. Like my friend who always carries around a sign with the number 9 on it, ready for the song Cloud Number 9. Or myself, who decided if we needed raincoats for the gig they must be bright orange to go with the colour of the new album cover, of course. And some funky shades keeping with the theme of the Ultimate album cover and this will often get an acknowledgement from the man himself—especially if you happen to be front row, or within the first five rows anyway.
The hardcore fans will wait after the gig for Bryan and the band or wait back at their hotel but we decided this tour sleep and food was a better option. We had already met the guys numerous times before. I asked myself, are we just getting old?
I have been asked, "Don't you get sick of hearing the same songs over and over." My answer to this is, "No, as a fan you can never get sick of hearing the same songs." It's not always about following Bryan; it's about the atmosphere, the experience and the friendships that have been made over the journey.
When you're on the road with Bryan Adams and the band you also get to meet so many like-minded people along the way and your circle of friends grow, so many new friendships are made and I think that's one of the great things about touring as a fan. You also build moments that turn into memories that will last for a lifetime some in your head, others if you're lucky in the form of a photograph. You share stories and laughter and by the end it's like we've all become one big family, The Adams Family.