Live Nation's 'Ones To Watch' Gears Up For BIGSOUND Addition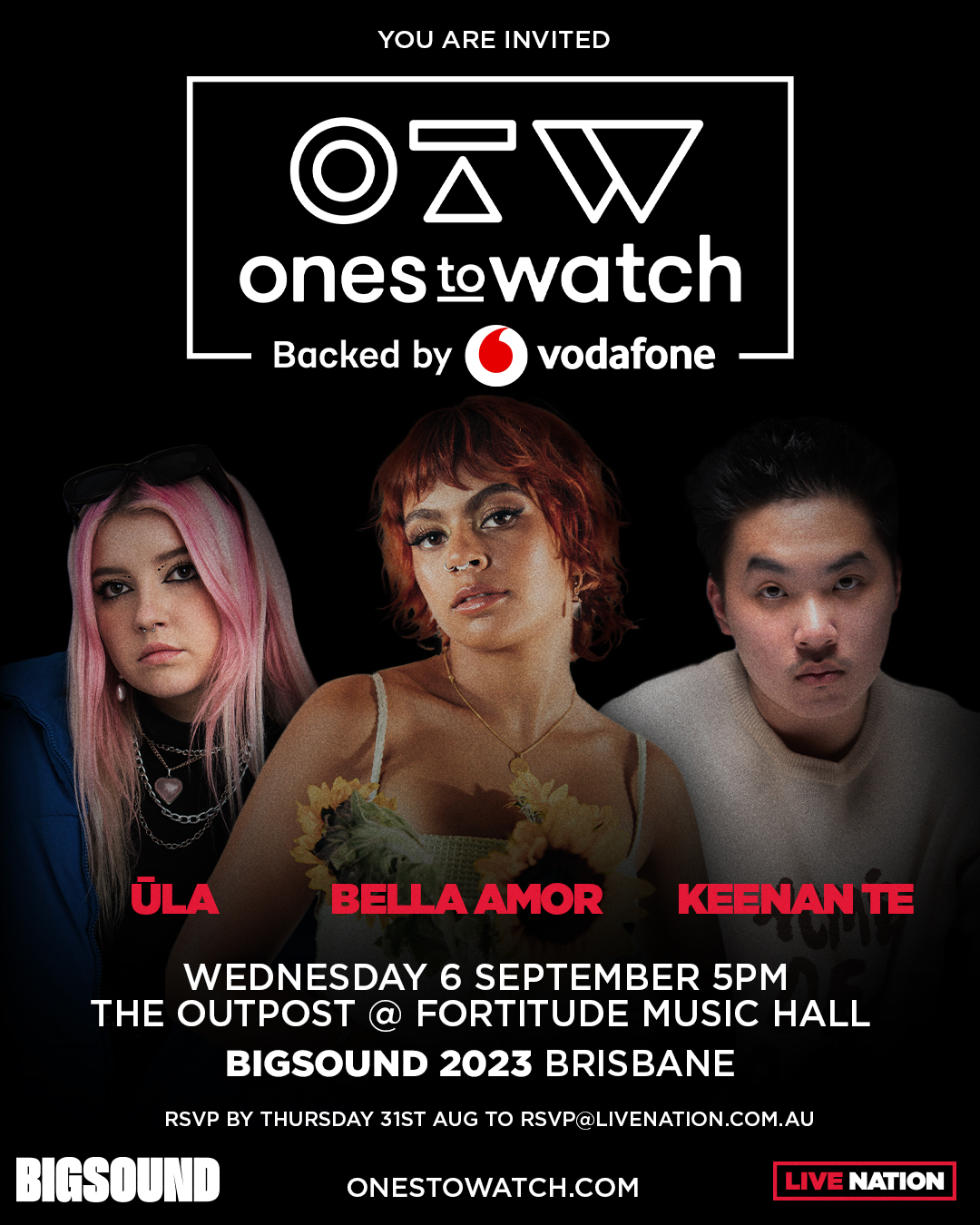 The ONES TO WATCH live music discovery series by Live Nation has witnessed a tremendous year, especially in terms of spotlighting remarkable Australian talent. As 2023 moves into its latter half, the momentum shows no signs of waning. Excitingly, a fresh chapter of the series is set to unfold in Meanjin/Brisbane, coinciding with the BIGSOUND event scheduled for September 6th. This announcement adds to the series' already impressive journey of uncovering promising musical gems.
Amidst the backdrop of the Australian music industry's premier conference and showcase festival, Live Nation is set to infuse its unique essence into BIGSOUND. Introducing ONES TO WATCH Backed By VODAFONE, Live Nation seizes the grand stage at the Fortitude Music Hall, offering a dynamic platform for the forthcoming trio of exceptional artists. This stage serves as their canvas to vividly illustrate why they stand poised as the imminent trailblazers deserving of undivided attention.
Taking the spotlight at the upcoming ONES TO WATCH, are three exceptional artists: Ūla, a pop sensation hailing from Sydney; bella amor, an indie-pop luminary captivating audiences on the Gold Coast; and Keenan Te, a Melbourne-based pop maestro renowned for his songwriting prowess. Together, they weave a rich tapestry of diverse pop expressions, each bringing a distinctive angle to the Australian musical canvas. With their commanding stage charisma and undeniable musical finesse, Live Nation is brimming with anticipation for the promising journeys these artists are poised to embark upon.
With an impressive following surpassing 1.6 million, Ūla emerges as a magnetic force—a multi-talented artist and performer who has undeniably captured the industry's attention. Her innate musicality and instrumental prowess create an aura that industry insiders are taking note of. Her music, amassing an astonishing 13.5 million streams thus far, stands as a testament to her appeal. Ūla's journey includes sharing stages with acclaimed acts like Amy Shark, The Veronicas, and Tyne-James Organ, a testament to her swift evolution as a performer. As she meticulously refines her debut EP, anticipation builds for the moment this musical endeavour is unleashed upon the world.
Originating from the sun-kissed shores of the Gold Coast, bella amor has ignited a spark of intrigue within both the industry and her growing fanbase. It was her track 'Beauty,' making waves back in 2020, that first piqued curiosity. Drawing inspiration from the soulful resonance reminiscent of artists like Matt Corby and YEBBA, bella amor fuses these sonorous depths with her own incisive and clever perspective on the complexities of young adulthood. Her musical journey unfolds through captivating vocals and a distinctive songwriting style. Noteworthy singles like 'can't get laid' and 'all my friends are high' from 2022, along with the recent 'Sentimental' of 2023, stand as testaments to bella's artistic prowess. Each composition serves as a vessel for emotional exploration and unfiltered observations on the tapestry of life.
Nurturing his musical inclinations from an early age, Keenan's journey began within the walls of his Melbourne bedroom. Armed with the skills of both guitar and piano, he honed his songwriting craft. The turning point arrived in 2020, when Keenan's TikTok performances gained momentum, introducing him to the world. Swiftly amassing a staggering 1.7 million followers and an impressive 5 billion views on TikTok alone, his star was on the rise. Notably, his magnetic presence drew the attention of global luminaries including Meghan Trainor, Addison Rae, and Dan + Shay, a testament to his cross-generational appeal. Keenan's original creations, notably the 2021 release 'Dependent,' have propelled him onto the international stage. Accumulating over 100 million streams in the past year alone, he skillfully weaves his unique songwriting influences into every composition. As he readies new musical projects, the anticipation surrounding Keenan's near future is palpable.
Exclusively by invitation, ONES TO WATCH unites a select gathering of influential industry figures and professionals, all eager to witness the remarkable talents on display. Beyond the captivating performances, this event serves as a nexus for artists to forge vital connections and carve out meaningful pathways within the industry's intricate landscape.
Demonstrating a steadfast commitment to nurturing these emerging artists, Live Nation proudly contributes $10,000 to each participating performer, earmarked for curated touring endeavours. This financial infusion encompasses a range of opportunities, from compelling showcases to intimate club shows. Live Nation's unwavering support ensures that the momentum ignited by ONES TO WATCH continues to surge, progressively propelling these artists toward thriving careers.