Live Review: Albert Hammond Jr. w/ Clews @ Factory Theatre – 24.07.2018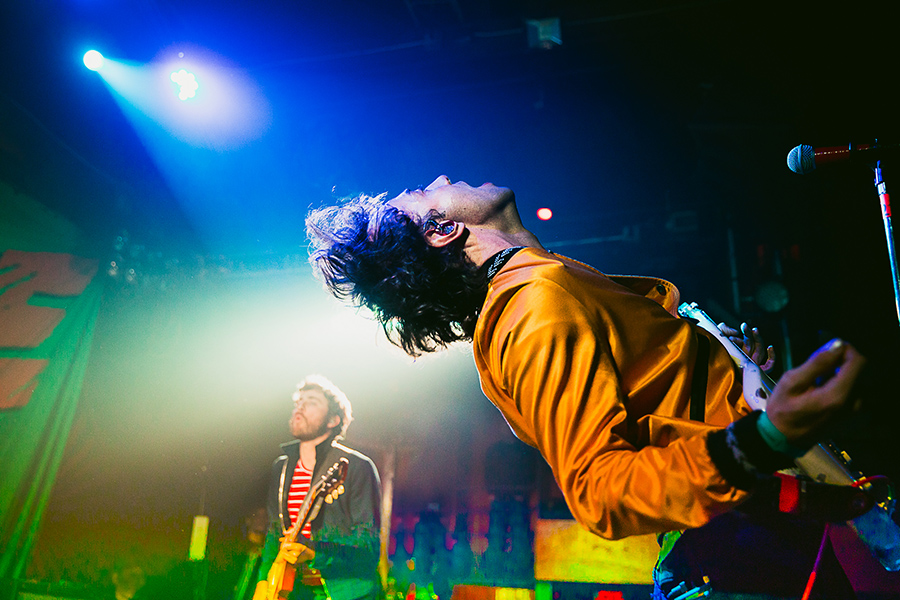 Some of us weren't able to go to Splendour this year and we are dirty AF about it. I mean, probably not as dirty as the punters that went but you get the idea. There are only three things that can help calm those nasty Splendour withdrawals: a complete social media blackout for the entire week, either avoiding triple j altogether or listening to triple j around the clock for those insane live crosses (I can't make up my mind as to whether listening was a good or bad idea but admittedly I kept going back for more, MORE!) and finally, the Splendour Sideshows. I feared that my situation was beyond help by the time Tuesday rolled around until: enter Albert Hammond Jr.
I was lucky enough to catch The Strokes member perform at the Factory Theatre in Sydney on the back of his fourth solo LP, 'Francis Trouble', that was released earlier this year. My friend and I entered the quirky little venue and hit the outdoor bar before heading upstairs, beer in hand, to check out Aussie band, Clews.
As soon as they hit their first note, I immediately realised that I'd forgotten my earplugs. God dammit!!! RIP my eardrums. Clews' stage composition was super cool, with two badass lookin' chicks with guitars standing on opposite sides; and here comes a super non-feminist statement—damn they looked hot. I mean I know it doesn't matter how they look and we shouldn't really be passing comment on their appearance but they were kind of matching in grey jackets with black tops and shorts and just looked killer up there. Their boss outfits also matched their boss performance.
The crowd were lapping up their second song New Age before they slowed it down with Teeth, where they were able to really show off their vocals while the drummer took five. The song had a slow build until finally the drummer cut back in. After the—for lack of a better expression—drop, Lily did some mini Angus-Young-meets-Katy-Steele type jumps while playing; absolutely dominating the stage.
Delivering hard on the stage bants front, Lily mentioned that they were about to play Hollywood but that, "Grace wasn't ready." Already a couple of Newtowners down at this point I yelled out, "God dammit Grace!" and they had a laugh and handled my shitty heckle like absolute legends. I then realised that there's a very real possibility that I'd get kicked out before AHJ even takes the stage so I thought I'd better pipe down and leave the noise to the professionals.
After a conveniently timed (for my bladder) interlude after Clews' set, the horde erupted as Albert Hammond Jr. appeared. Following a brief discussion about the Aussie winter we're currently experiencing, AHJ opened with the catchy bastard DVSL. He was wearing the absolute shit out of a shiny, gold suit and swung his mic around so casually, as though he's been doing this for 20 years. AHJ was often cracking jokes between songs and is quite the funny dude it would seem (in fact he went on 'Tonightly' with Tom Ballard while in Oz and you should check it out if you want some lols).
He played Set To Attack, which is so extremely Strokey; curiously, a lot more so than anything being put out by Julian Casablancas and his Voidz. AHJ then dropped down into the crowd and all I could see from my vantage point was his head bopping up and down every now and then, plus a roadie on stage who appeared super concerned about cords and shit I guess.
AHJ hydrated before launching into Caught By My Shadow off of his last album, 'Momentary Masters'. This song features one of my favourite lyrics, "Two wrongs don't make a right. Three rights make a left." Super accurate observation, Albert. Love it. After slowing slightly for Strangers, he mentioned that his hair feels fluffy. Oh, Albert bringing that super-relatable content. His bass player kicked her shit up a notch momentarily during Side Boob—I feel as though she lost herself for a sec which was fucken brilliant to watch.
He dedicated his next track St Justice to Taco Tuesday, which ironically opens with the lyric, "Something you said to me. But I can't explain it" I mean,  Taco Tuesday is super awesome but was a totally random/inexplicable dedication here.
Nek minnit he's up on the speaker for Far Away Truths and then the crowd cheered hard for GFC and sang along to Rocky's Night Out. After Screamer he made a pretty decent attempt at an Aussie accent while interacting with the punters up the front who soon turned on him after Carnal Cruise because he announced that the next song was going to be the last. This was met with a chorus of, "Fucken bullshit!" Albert had a laugh at the reaction, even repeating it himself.
He "finished" with In Transit, which is from his debut album but also shares the name with a hilarious documentary that any fan of The Strokes should definitely have seen by now. The bass player was receiving praise from the crowd as she departed the stage, while the crowd were chanting, "One more song!" over and over. Well, it worked as the drummer returned to the stage and went to town on his drum kit before the rest of the band followed shortly after.
They played a few more songs, including Tea For Two and a cover of Guided By Voices' Postal Blowfish; before he was asked to do a 'shoey' out of a random Converse sneaker that had made its way on stage. A cultural incongruence was extremely evident here as Albert thought the crowd wanted him to sign the shoe. Yeah nah, mate!  We want you to chug a tinnie from the shoe, you bloody chazwazza.
His actual final song was Muted Beatings, which without even realising he had delivered to his Sydney crowd in spades. Top that night, Splendour chumps. Kendrick who?