Live Review: Alice Cooper w/ Ace Frehley & Strangers @ Brisbane Entertainment Centre – 25.10.2017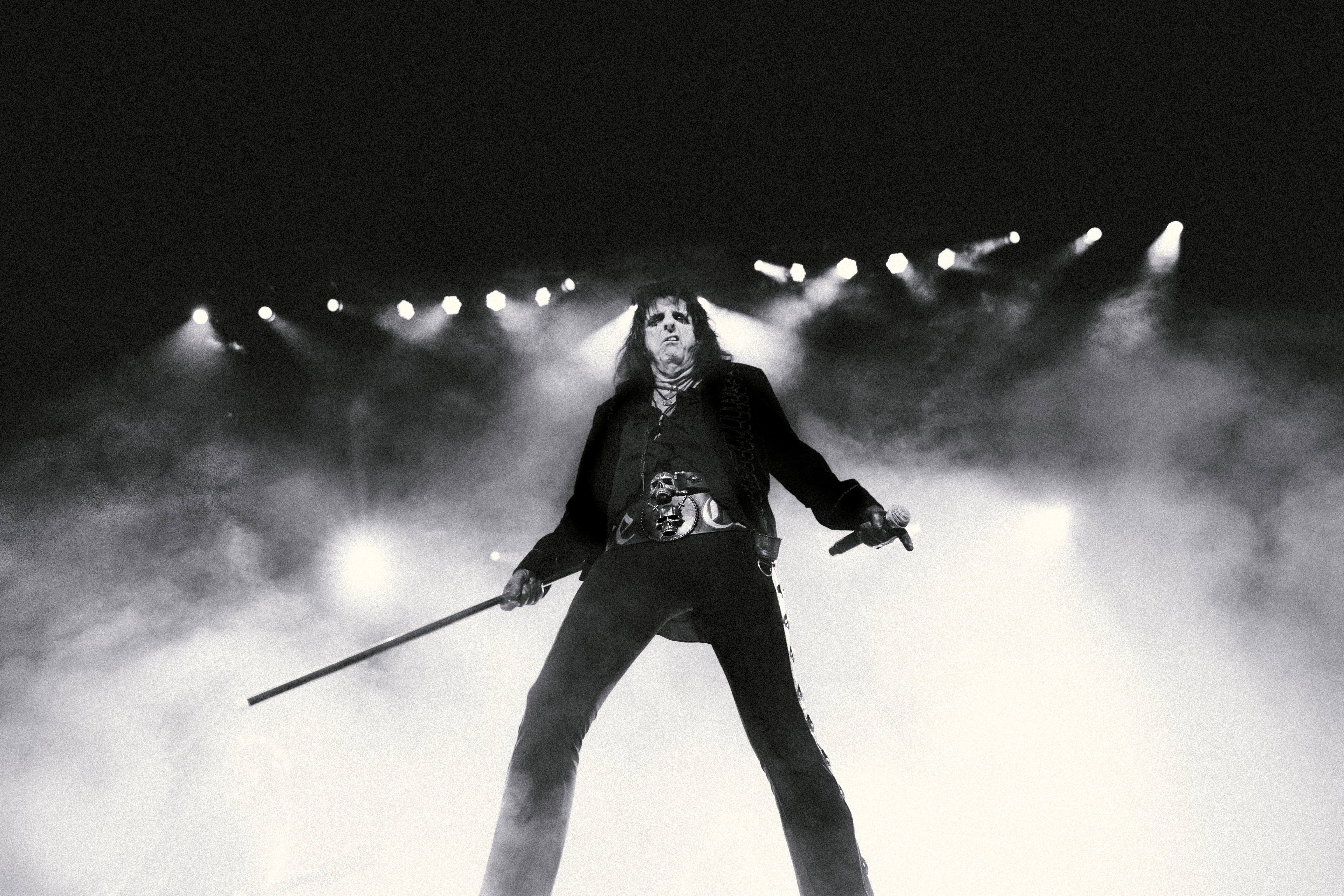 The doors are closed on arrival. Fans mill about, anticipating their upcoming experience. After rushing to enter, we're surprised to find the entire floor space covered in seating, a very civilised affair for a rock 'n roll show. A Strangers banner hangs above a stage stacked with quad boxes.
The lights dim and Sinatra's classic Strangers in the Night heralds the first act, four denim-clad Melbourne lads opening with an explosive rock sound. Essentially, three beards, a moustache and an incredible head of hair, they're an energetic group reliant on rolling toms, heavy bass and thick distortion laid under sparse discordant melodics. Strangers reward the early audience with a sound not unlike a heavy Birds of Tokyo. Beyond aesthetics, Strangers make effective use of harmony on octaves and fifths while dialling back treble from distortion for a Kyuss-like feel. The set flows from a couple of powerful opening tracks into more conventional, upbeat rock, and Closer to Nowhere is a definite highlight. It's entertaining and keeps the energy moving as the room slowly fills. Strangers close out with their heaviest track of the set, a Tool/Deftones-like piece that doesn't fail to impress.
Ace Frehley's banner replaces the Strangers' during intermission. Drums are now perched on a six foot tall riser, and a spruiker appears to announce Ace's arrival to the stage. A familiar lightning bolt sits on his guitar strap, straddling a velvet jacket to complement indoor aviators over his eyes. Using a wall of Marshall and Ampeg stacks, Ace and his band slam through Hard Times and Rip It Out with gusto. This is good-time rock and roll at its best. From a distance, you'd be forgiven for assuming they're one of many American groups in terms of fashion, sonic approach and song construction. Ace himself plays appears as '70s-inspired rocker replete with starry jeans, flanked by a goth-punk, and a bearded blonde surfer type wearing a cut-off jacket. However the professionalism is exemplary. It's definitely a show fans would be proud to see.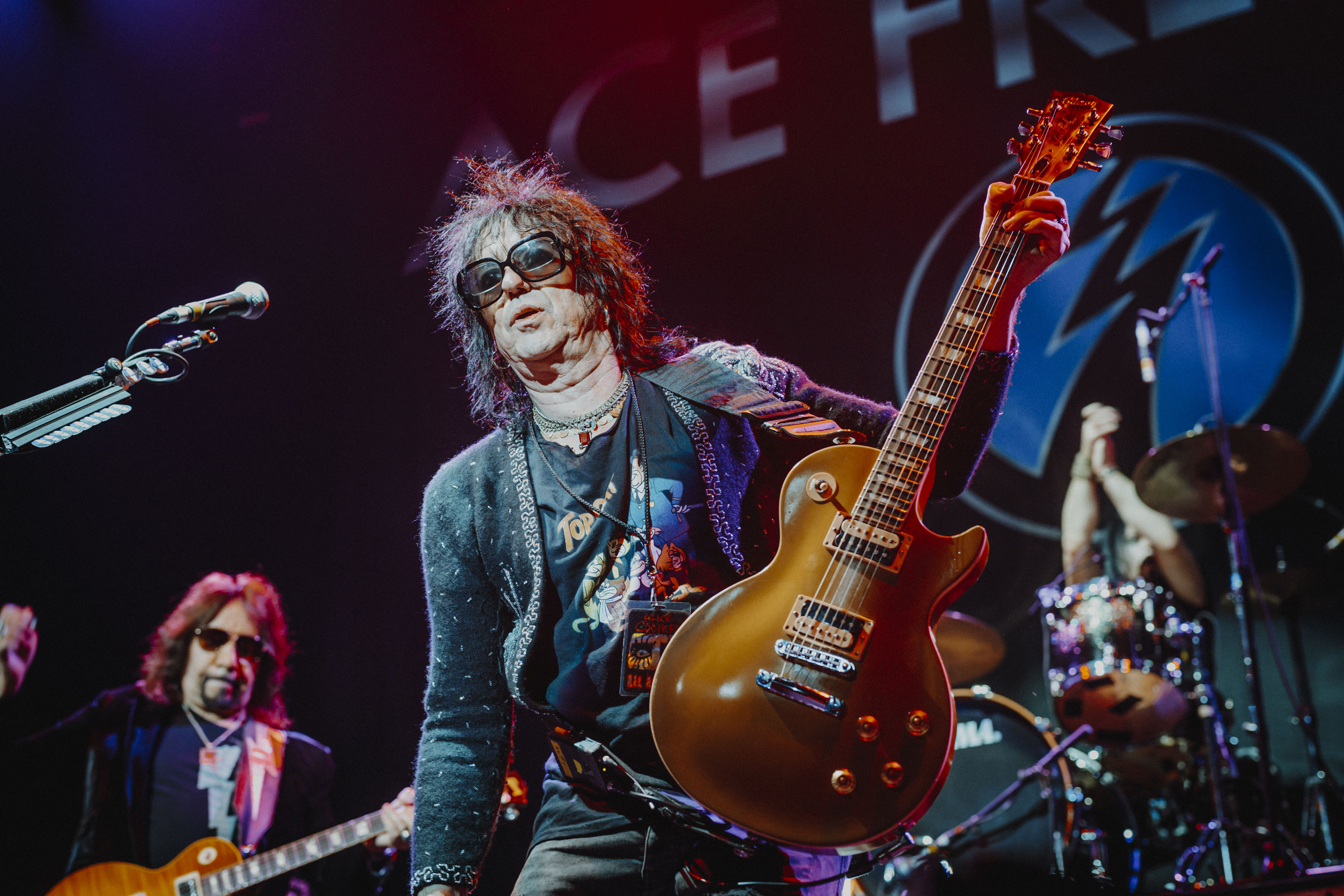 Ace steps away from lead vocals on several songs, allowing drummer Scott Coogan and bassist Chris Wyse to shine in their own right. Some visual highlights include a guitar wired with flashing lights, and another that literally smokes during one of Ace's many lead breaks. Another interesting moment comes in the form of a blistering bass solo, explored as the rest of the group leaves the stage for a quick timeout.
Overall, it's a well spaced and structured set, allowing everyone some airtime. Conversely, Ace's own solitary moment feels like forever, an impressive but meandering lead break with occasionally painful distortion settings. The show is inarguably entertaining, yet Ace Frehley offers no fresh perspective or new tracks. He knows his instrument and isn't afraid to go wild across the fretboard, but he's there to give his crowd what they expect. The set ends with Detroit Rock City and Ace is ushered off stage by his band members.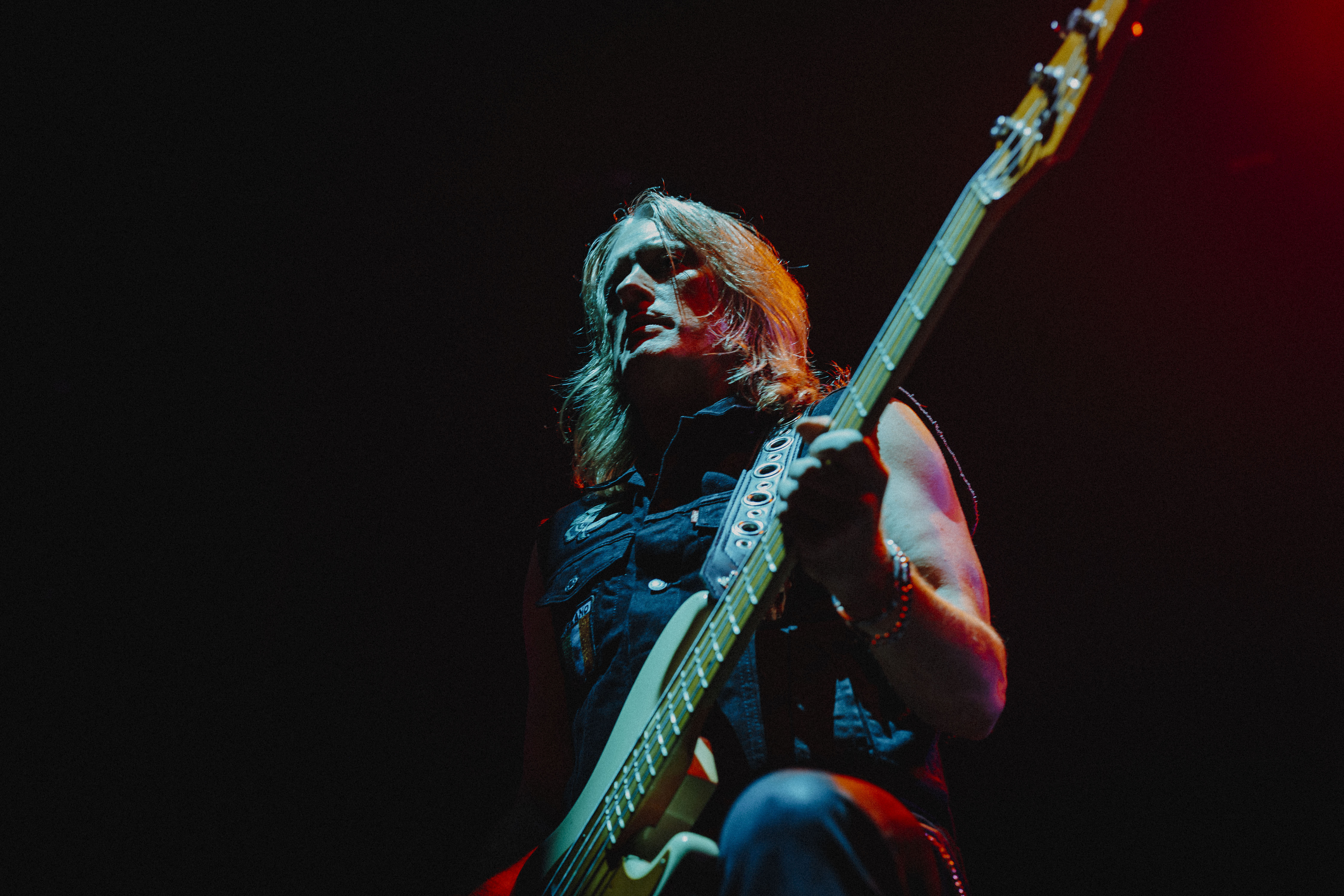 Ace Frehley's banner is replaced with an enormous backdrop featuring Alice Cooper's trademark eyeliner. A spider takes the place of each pupil. Piano washes through the venue, Steven underpinning a typically creepy announcement of Alice Cooper's arrival. Steven fades off, replaced by Rammstein-esque distortion and thunderous beats as the Grandaddy of Goth enters under falling sparks and smoke. Brutal Planet hits with force, followed quickly by No More Mr Nice Guy. All told there are six people on stage and the sound is enormous.
Between songs, a trickster pops out of a box to give Alice a jacket change before the show starts up again with Under My Wheels. Alice Cooper is a consummate performer, and the only act of the night to feature a female musician (Nita Strauss) in his lineup. The choice is wise as her guitar work and presence are nothing less than fantastic. Confident in their capacity to bring a modern twist to old favourites, they move on. Department of Youth is a goosebump-worthy moment, the audience singing along and fist-pumping. We're all aware of his age, and although his movements are a little slower he holds himself in regal grandeur, showing off a power stance and pointing down to the crowd.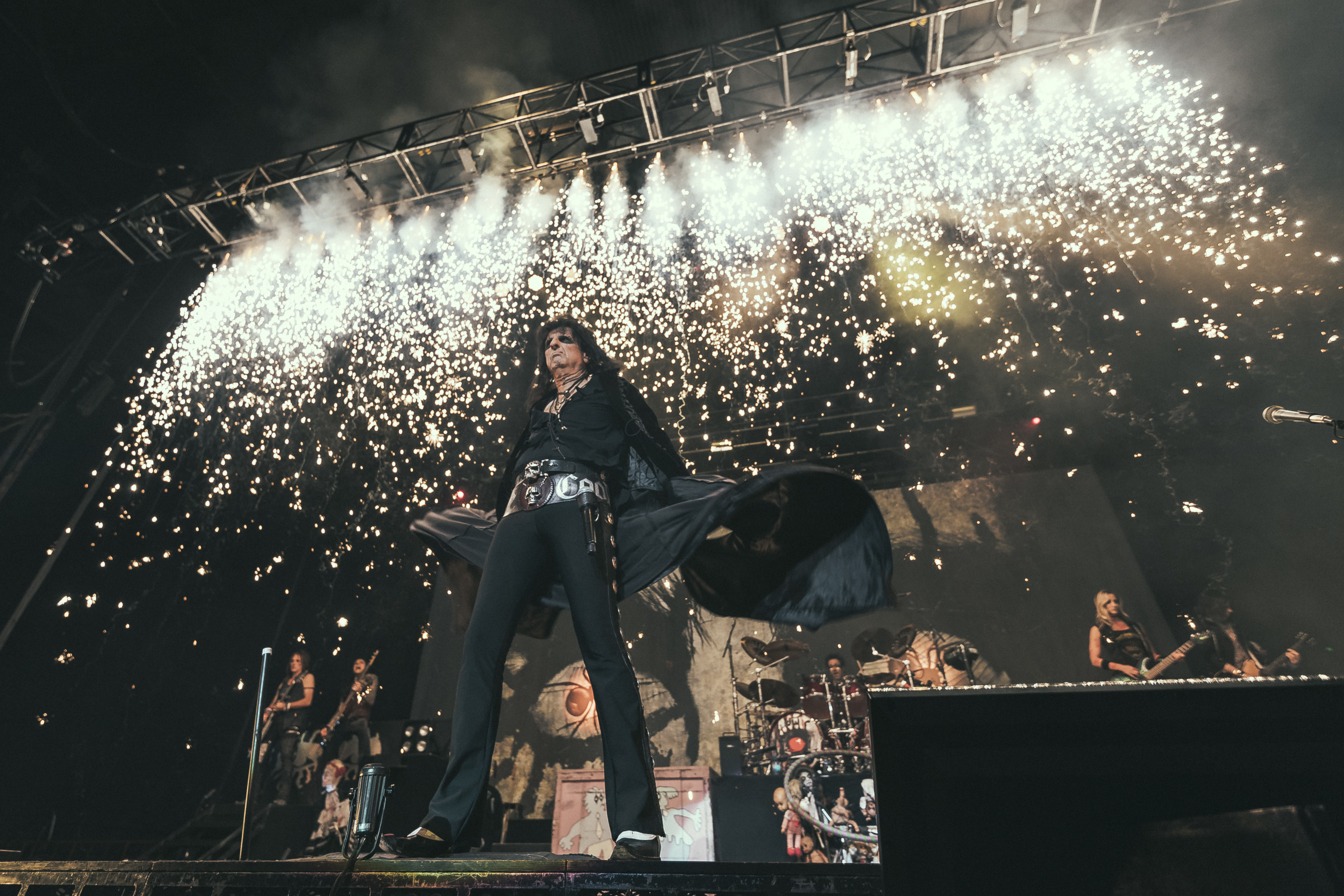 The next level comes during Billion Dollar Babies. With smoke geysers, clown heads adorning the stage and yet another gorgeous jacket, his crowd gets a little wild despite the seating. There's a fiendishly powerful drum roll that just nails the feel of the song in a grandiose manner. Then quite suddenly Alice is front and centre, brandishing a freaking rapier, having skewered a bunch of money on the blade.
Further along, Alice Cooper gives full rein to the talent of Nita Strauss, leaving her alone on stage. She presents a blistering, extended lead solo because basically she's incredible. This leads into Poison and every person in the crowd clapping along. This follows with a super sexy bass and drum solo, complete with some truly exceptional drum tricks.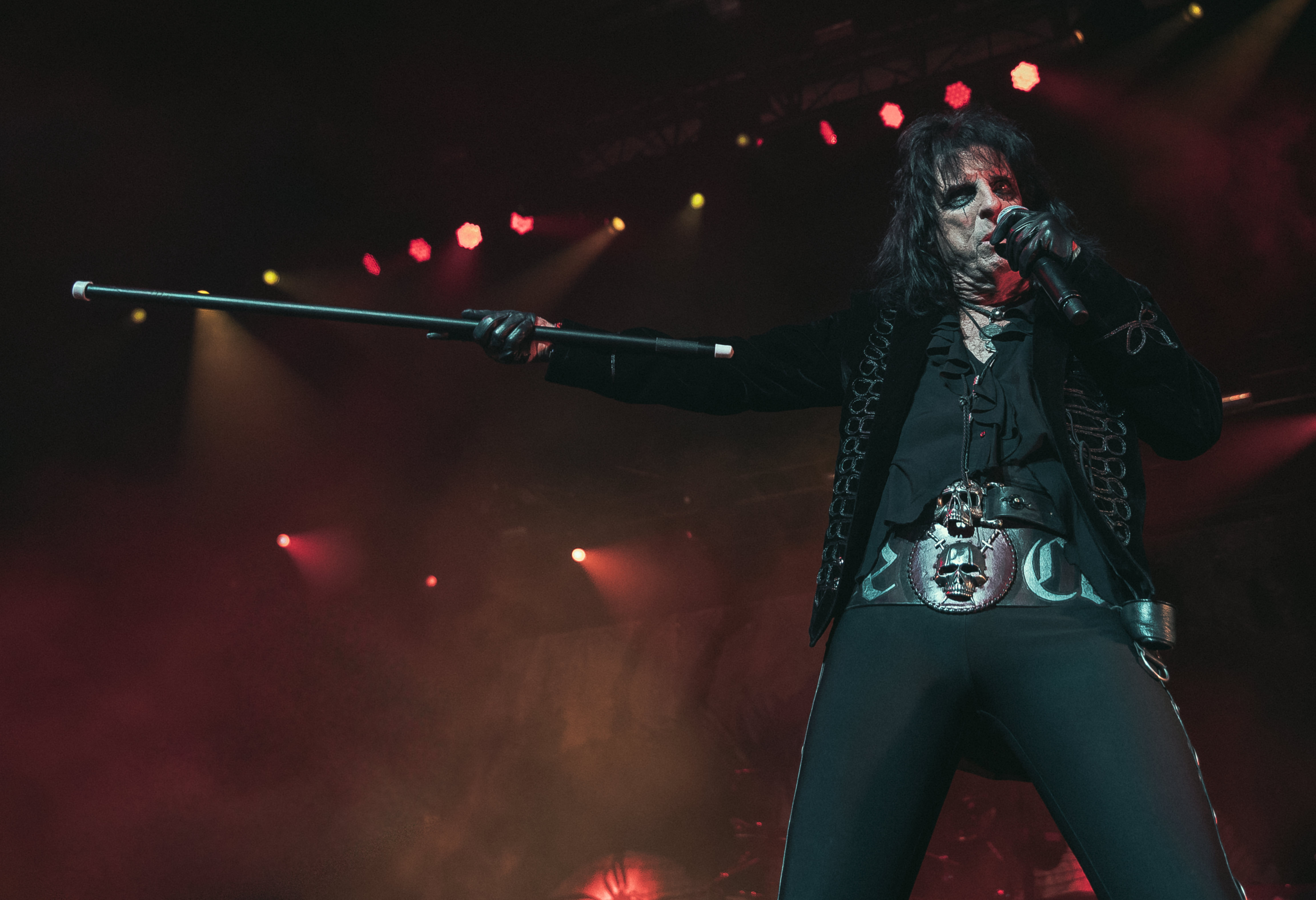 In terms of visual impact, the second half of the show is where it really begins. A machine is dragged on stage and the man himself returns in a bloodstained medical gown. They leap into Feed My Frankenstein and rock the hell out of it. Alice Cooper dons a gas mask and amid strobes, smoke and thunder, descends into the the machine. He's replaced by a twenty foot tall Frankenstein rampaging across the stage, a vocal octave drop and a thoroughly impressed audience. He follows up by producing a life-size corpse doll as they punch out Cold Ethyl. He sits 'Ethyl' on his knee, then dances her across the stage, the entire scene becoming weirder and cooler with each passing minute. The song ends as 'Ethyl' is tossed in a box, and Alice takes to sitting on a trash can.
An intense highlight of the second half and indeed the entire show is Only Women Bleed. Strange, sad and touching, a truly timeless classic delivered as a full piece instead of a previously familiar medley component. It's pertinent that he substitutes 'he' with 'I' in the line 'he smokes and drinks and don't come home at all'. The windup girl returns, this time a live performer draped in chains. To end the song Alice Cooper stabs the windup girl in the heart, making a strong visual statement.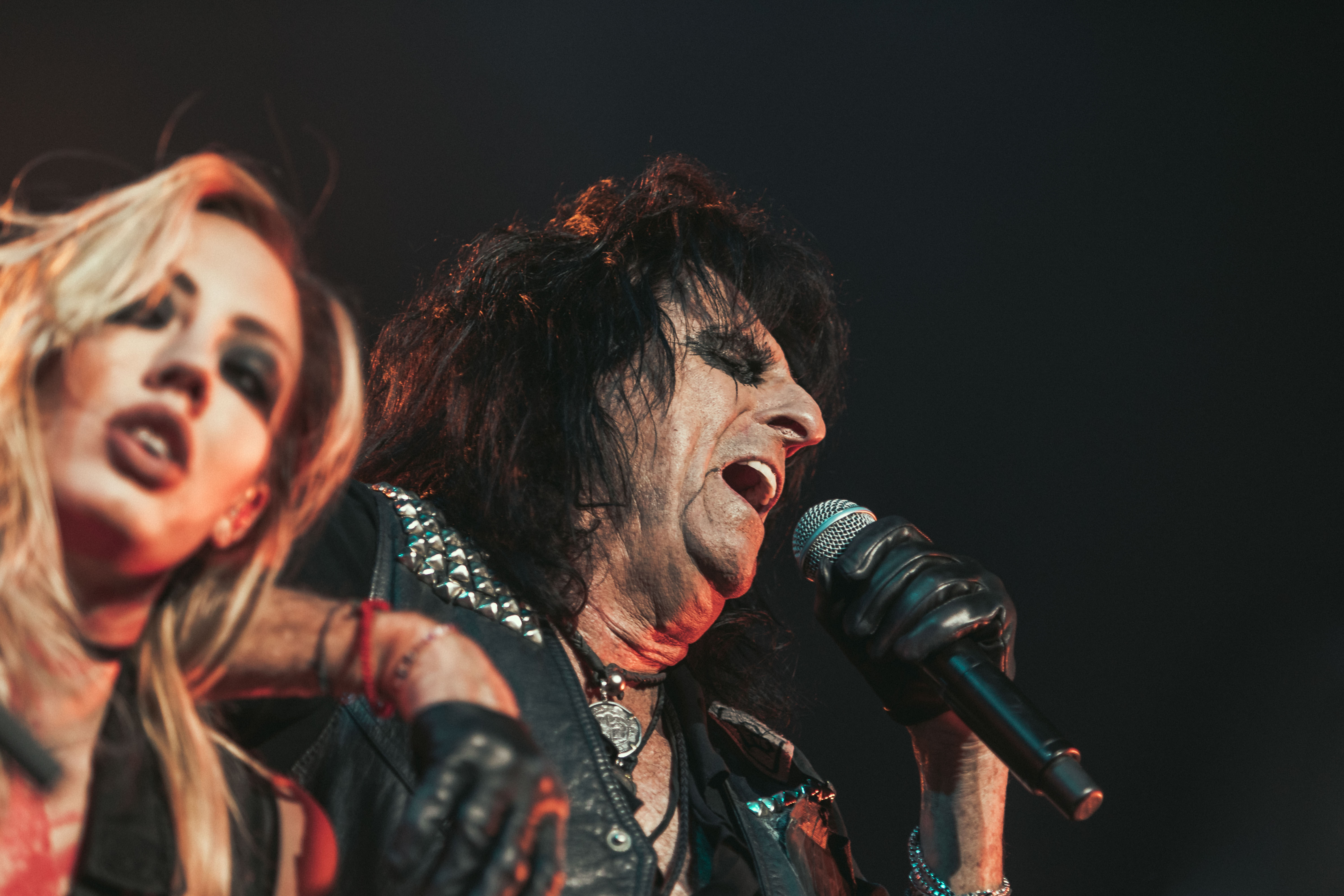 From one drama to the next, the original Psycho soundtrack slashes our ears as Alice is strapped into a strait jacket. A dead nurse stabs him with an oversized syringe, heralding the Ballad of Dwight Fry. He dramatically frees himself from his bonds but is ultimately captured again and dramatically guillotined. The head is brandished to the crowd as I Love the Dead kicks in. The head vanishes and Alice returns brandishing his own head. Eighteen begins without delay and the audience roars. He triumphantly brandishes a crutch, leading the crowd in chorus amid a wash of smoke and fireworks.
The band exits, the claps begin and an encore is upon us. A piercing school bell rings, bubbles blow out across the audience and Schools Out is the track of the moment. Ace Frehley reappears on stage to lend a hand to an already incredible aural and visual feast. Even then we're not done, at least until Alice Cooper slashes open some giant balloons with a sword, releasing confetti onto the crowd. Amid a final medley incorporating Pink Floyd lyrics, he announces each band member, before ending the performance with a climactic School's Out singalong. It goes without saying the Alice Cooper Show has been a confronting visual and aural pastiche, but for fans, tonight will be remembered for many years to come.
View our gallery from the night HERE.
View our gallery from Alice Cooper's Melbourne show HERE.