Live Review: Alison Wonderland @ Enmore Theatre – 07.12.2018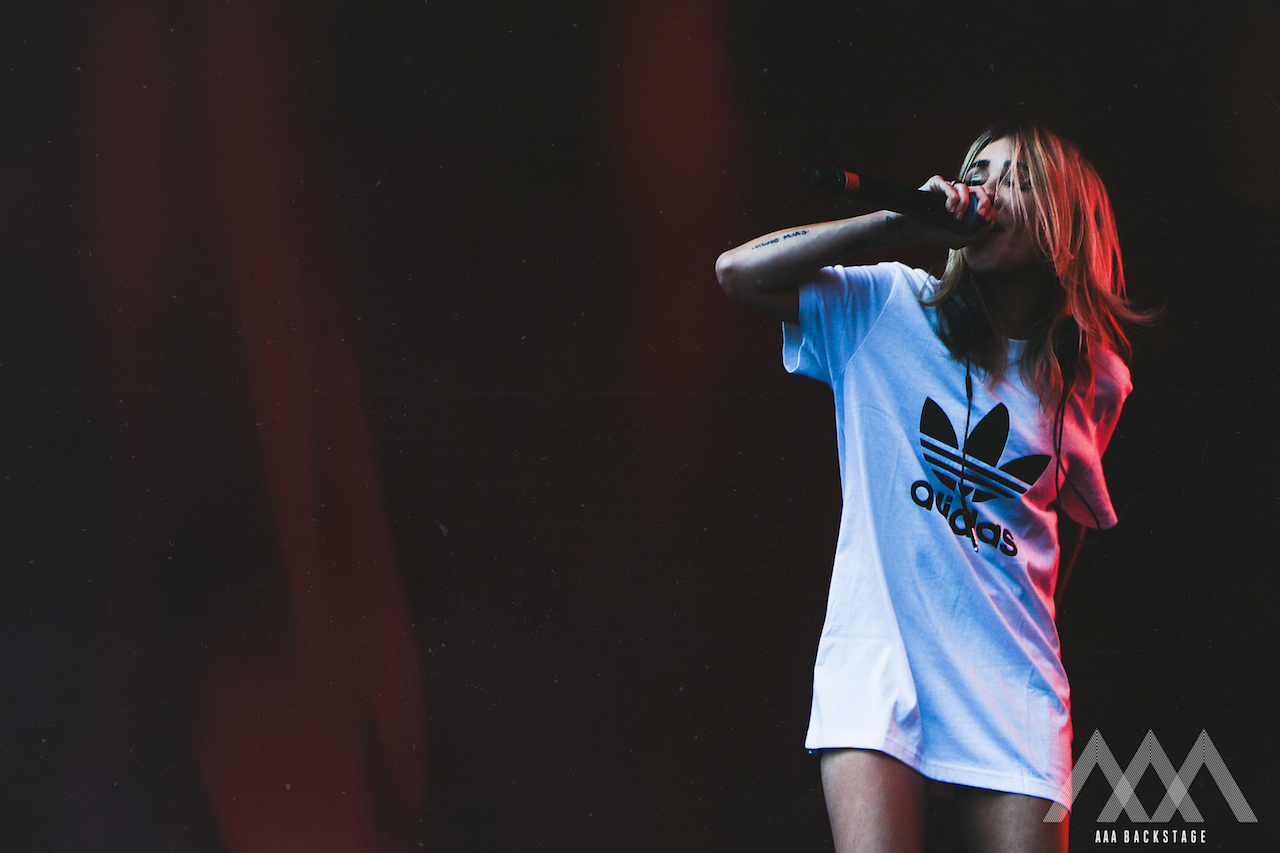 Sydney electronic export Alison Wonderland's 2018 has been predominantly spent in the States, with gargantuan sets at Coachella (where she was the highest billed female DJ in the event's history) and EDC Orlando among the DJ's 2018's US live milestones. As the year closes out, the thirty-something DJ has returned to home soil, to share her US Dance Chart-topping album Awake with her Day Ones back in Australia—marking a full year since her first Australian headline tour appearances during The Scarehouse Project tour in late 2017. After the brave ingenuity of her original Warehouse and Scarehouse DIY concept shows, a series of go-to theatre venues struck one as a rather safe venue choice—characterised by far less hype and excitement—but nonetheless, a sizeable crowd turned up and filled the lower half of Newtown's Enmore Theatre on Friday night, ready for Alison Wonderland to 'take them to Church'.
The excited eyes of an eager crowd—including a pit of under 18s who made their stake on the front row early—lit up as the AW signature pentagram flickered away onscreen, building anticipation in the minutes leading up to the DJ's appearance.
The show that followed was comprised of just under two hours worth of AW originals, remixes and artist favourites, all mixed with effortless finesse and intention by Wonderland. Whereas in previous years, remixes and other people's tracks took up the bulk of her set time, tonight's show was noteworthy in that AW played mainly her own music.
And, while many were intrigued to see just how AW would broach 'Awake' in a live format—given the fragility of the album's content, not just in terms of the vulnerability exposed in the narrative, but the increased vocal work from AW herself—any audience doubts were put to rest as AW demonstrated a deft and creative approach to the translation of 'Awake' into a live format on Friday night. While she didn't sing entire songs completely unaided, relying on a backing vocal track, she stepped out from behind the decks frequently to perform front-on on the lower stage, and did a great job balancing singing and DJ'ing. She didn't attempt to portray herself as a vocal powerhouse, and yet, using performance tools and her own star-power and close relationship with her fans, successfully highlighted her songwriting strengths, and created moments of real meaning. A key example of this being during Easy, when AW sung into a microphone on a stand with barely any accompaniment, before taking the mic off its stand to kneel before her front row and sing to them directly—the crowd's love for AW in this moment was very evident. Likewise, during Good Enough, that saw her pull out an electric cello to play a few introductory bars, before returning to DJ the track's meaty climax.
The show's pacing was also terrific, with AW continually playing dark and light moments against each other. Rap songs and Rage Against the Machine were broken up with melodic electronic, pop songs were given edgy re-workings. Par example: three quarters of the way through the show, when AW followed up a string of fast dense rap and trap tracks with a warm, considered moment, a slow mash-up of Massive Attack's Teardrop with Lido's Bill Withers' Ain't No Sunshine cut, drenching the audience in orange lights and sunset visuals, that edged perfectly into her own original, the Lido co-produced Hope – Interlude. Or the DJ delighting her audience with the inclusion of her recent Ariana Grande God Is A Woman remix—that she premiered not too long ago in her EDC Orlando set—where AW buffs up the angelic original into an anthem-sized showdown. One of the brightest, most relatable tracks on the 'Awake' album, AW's rendition of Church was a show highlight for all present—including a disbelieving AW herself, who was clearly taken aback by the crowd singing her own lyrics back at her, and pulled out her phone to film—later taking to her Twitter to say it was, "the best feeling of all time," and she doesn't usually film herself during a show but, "needed proof because I thought I was imagining it."
The 'Awake' tour production amplified the show tremendously. Evident was the amount of planning and conception that had gone into this show—the visual aspects of the show were a triumph. Two large, centrally-positioned tiered flats, the upper a three-sided booth, elevated the DJ, with all operating as surfaces for projection mapping, with these surfaces pitted against the depth of a back-wall screen; this stage design allowed projection interplay between the three different surfaces throughout the show; resulting in some mind-bending visual moments. Throughout the show live, footage of Alison Wonderland in action on the Enmore stage was thrown back up onto the screens, Wonderland's figure was mirrored and warped with a playful dynamism that had me fondly reminiscing the glitchy visuals from noughties online Youtube DJ mix series, Just Jam. One reproduction saw her silhouette backed against hyper-colour arrangements, echoing the trippy rainbow tie-dye aesthetic of her merchandise art.
Also epic, was the theatre exploding into a starry nights' sky during a mix-up of Flume's Never Be Like You with RÜFÜS DU SOL's Innerbloom. The stage design and projections were complemented by a dynamic lighting show, rich with diverse, thoughtful and exciting moments—a series of standing lighting strips positioned at varying height intervals across the length of the stage beamed out different laser arrangements throughout the show. A Matrix-like grid of neon green lasers mapped the crowd during Fisher's Losing It, intensifying the rave experience for those in the thick of it, while a kaleidoscopic rainbow array of twirling lasers made the AW horn-heavy remix of Dua Lupa's New Rules that much more exhilarating, the lasers encapsulating the venue's volume and bringing a touch of those much-missed warehouse rave vibes back to the Enmore.
The humble AW maintained an open dialogue with her hometown audience throughout the set, offering easy-going chat and consistent gratitude for their fandom, relaying fun anecdotes about tweeting Ed Sheeran and her song Cry's viability as an aphrodisiac ("this song gets you laid!"). While her overall physical energy didn't seem as hysteric, as usual, AW did clamber up atop the decks a few times during the set to rile up her crowd and get them clapping—although there was far less head-banging and arm flailing, which is completely understandable. Alison Wonderland can leave the wild antics to the next generation of DJs—she doesn't need to stand up on the decks to get people's attention anymore: her music stands up for itself.