Live Review: Baskervillain "It's A Love" Single Launch @ The Foundry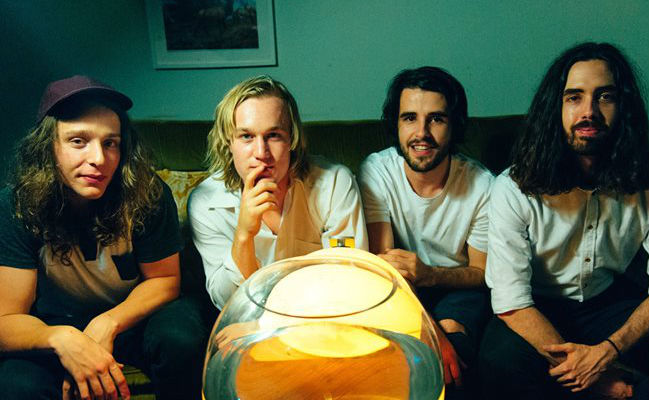 Psych-blues rockers Baskervillain have been rolling strongly around Brisbane's music scene for a while now, quietly winning over a strong base of fans and a very healthy reputation as an amazing live act. As such, an array of Brisbane's 'hipster' crowd, women in flowing lace dresses, and local music connoisseurs slowly filled The Foundry during the two support sets. Most conversations seemed to centre around "How f*cking great are Baskervillain?" even before the band jumped on stage. Unsurprisingly, this sentiment absolutely rang true as the quartet (plus some friends) delivered what has to be their best show to date.
Without fanfare, frontman Tom Spurgin announced the start of Baskervillain's set through soulful raspy vocals and a jagged guitar line. By the time the smokers came in from The Foundry's balcony a saxophone took over Spurgin's melody, evoking plenty of "woos" from the crowd. Sporting some "Led Zepplin hair" (according to my plus one), Baskervillain then jumped into a series of upbeat riffs overlaid with piercing saxophone and guitar melodies.
The injection of rock saw bassist Jack McKenzie get a serious headbang going while Spurgin wowed the crowd with his guitar work, which was all slightly humorously countered by drummer Lachlan Giddings who's demeanor remained calm and collected.
"…they pulled off something that should've sounded wrong…but instead sounded SO right."
Bitter Pink was introduced with an absorbing bluesy reverb guitar line, which before too long had the crowd happily bopping along. Wish You We Gone took everyone in the crowd who hadn't seen Baskervillain before by surprise, as McKenzie delivered a soulful vocal performance that would easily blow Matt Corby away. His rich, powerful timbre drew attention to the vocals rather than Baskervillain's impressive dual guitar attack, with their fans in the mosh providing plenty of backing vocalists.
Wish You We Gone slowly descended into an angsty psych-rock jam, which thanks to some sexy sax and keyboard parts gave Baskervillain, for just a few minutes, a very cool jazzy vibe. After such involvement in the song, there was a rapturous applause when Spurgin finally introduced 'Benny' on the sax and 'Benny' on the keyboard.
Naivety saw Spurgin once again take the vocal lead with a powerful vocal performance accompanying a very cool vibrato chord progression. The song's deep groove instantly had The Foundry's floor creaking under the crowd's jumping. The chorus exploded into a soupy mess of overdriven goodness topped by McKenzie's gloriously soulful "woahs", before dropping into a vintage Tame Impala-esque bridge full of phaser and brooding saxophone melodies. An atonal jam then developed, showcasing the excellent musicianship of each member of Baskervillain, as they pulled off something that should've sounded wrong…but instead sounded SO right.
"…Mahler ripped a sweet lead break before the song descended into an epic The Belligerents-esque headbanging outro."
McKenzie took back the mic for a significantly faster track, which finally evoked a smile from Giddings as he nailed his drum fills. Guitarist Daniel Mahler, who'd been relatively quite so far, took charge of a beautiful guitar melody and phrasing while Spurgin countered with an effective use of his delay pedal. Keyboardist 'Benny' also enjoyed a tidy solo to conclude the song.
After a fast country-blues number and an epic psych jam which ended in a crashing solo from Giddings, the crowd went wild as McKenzie announced, "Here's what you're all here for, this one's It's A Love". Even though it's one of Baskervillain's simplest songs, It's A Love shows the quartet can write and perform a quality song that's catchy and absolutely attractive to those outside of their hardcore fanbase. No need for fancy fretwork from Sprugin and Mahler or mind-blowing psych layering, this track screams 'summer holiday' and is an effortlessly instant winner.
They rounded out the set with new track Panama, which fell a little flat until Mahler ripped a sweet lead break before the song descended into an epic The Belligerents-esque headbanging outro. Shouts for an encore seemed to fall on deaf ears until Baskervillain returned (without the two Bennys) to end with a fantastic cover of Alabama Shakes' Heavy Chevy. Jack McKenzie absolutely nailed the song's soulful vocals, while Spurgin got some mean guitar faces going during his soaring guitar solo. The cover was the perfect end to a set everyone at The Foundry wished would never end, can't wait for the next single gents!