Live Review: Beddy Rays Tore The Roof Off Elsewhere, Surfers Paradise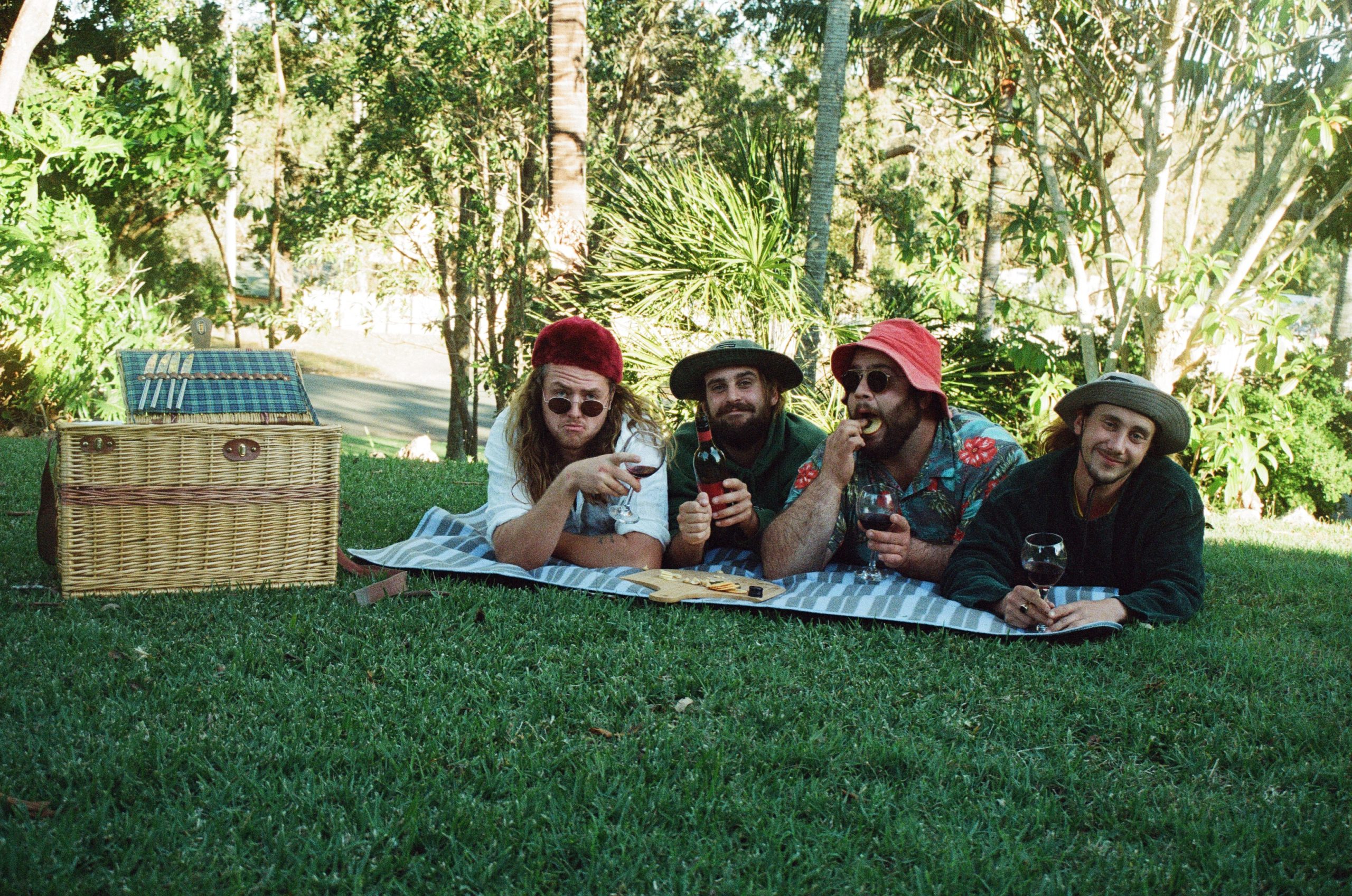 Boys and girls … we're fuckin back.
The epicentre of the Gold Coast's serotonin heat map couldn't have possibly prepared itself for what would be the best gig since the spicy cough hit. Elsewhere's symphony of swinging jaws took a backseat, as a pub rock assault showed the glowing squares whose boss.
There's a rumour goin' round. This is the closest anyone has come to Sharkies since Woollies filled her up with pokies, frozen seafood, and shitty cocktails no one wants.
Chutney
Throw a bunch of Goldy natives into a blender with early StiFi's, a habanero chilli and dress it up in a Broncos jersey. Chutney. The boys jump out of the gate with a calm composure. Consolation Prize warms up the frigid punters. All to relatable contrasts of falling into a mundane social life coupled with a reminiscing hungoverness hammers home amongst the like-minded crowd. Genie's Lamp has a bit of go to it. Mid-set addition Romance & Intrigue hits with an unabashed looseness so aptly reflected by the VB fuelled choir in attendance. Closing out with a ripsnorter in Outcast, the joint bounces, green tins rattle off subwoofers, and believe it or not … locally notorious early-peaker Ned Stevenson is still vertical.
T'was bloody lovely boys. Critics review four stars out of five, and that's unheard of.
Radolescent
The euphoric assault Radolescent unleashed upon Elsewhere reminded many punters of a father's belt. Picture if Bryan Brown substituted Jason Statham for the lead role in Crank, but was impaired with a reliance on VB and speed. Straight out of the gate, the lady and gentlemen of Radolescent radiate pure octane. Early vintage Drug Fiend leaves little in the way of grey area. Dedicated punters slam dance in unison. Recent cut Couch proves that COVID didn't fuck everything. Undoubtedly, the Radolescent mob has a hat to throw in the ring of great music released post the Chinese clap.
406 completely strips all hope from seccies as punters mosh in a slamming forte. The band's quintessential tune is echoed with extra decibels from their growing fan base. Look. I understand this is a bold claim. And I further understand that I'm fucking up the tense of the review to make it. But it needs to be said. Calling Out was the best tune of the night. Do yourself a favour. And to tidy her up, the Goldy crowd abidingly peaks upon the remark, "1, 2, FuKu" as the band bursts into the arm bending inducing anthem Fuku. Just excellent behaviour boys and girl. Got the jump, led the whole way, hit the turn and put on the afterburners. Back em every start. Brilliant
Beddy Rays
The Beddy Rays boys are sitting on a fuckin rocket at the moment. Breaking the 100, selling out shows left and right, an alleged substantial increase in decibels on recycling bin day, and they bloody deserve all of it. Opening with debut vintage Coming Home, the boys' signature bittersweet demeanour is greeted with a warm reception. If you were holding a drink, it's now all over the ground, as 100+ like-minded battlers let loose of their demons. If ya weren't warmed up, you are now courtesy of the infectious surfy grooves of Sway. Most recent cut Wait A While has legs. Straight positivity soaked in sun and Tun. Great stuff gentlemen. The signature seediness of Kicked hits a nerve to say the least, while mid-set addition Better Weather pushes the aching voices of the dedicated choir in attendance. Noughties anthem Valerie slaps just as hard as it did at your high-school graduation. A brief snippet of Highway To Hell is eagerly greeted, yet cut short, as the now despair ridden Elsey natives realise the best show since COVID is about to end. Beddy Rays' dedication to their sound cannot be faulted. Their bittersweet portrayal of the mundane is nothing short of beautiful and speaks volumes for their recent success, evidently far from overnight.
There's only one thing left. Sing it with us … I wanna spend my lifetime/drinking beers in the sunshine/on an ocean hillside/ and when I'm old I'll be a Sobercoaster.
That's Me Done
This crowd surfing fuckwit – 2
Elsewhere security guards – 0
And that's the way we fuckin like it.